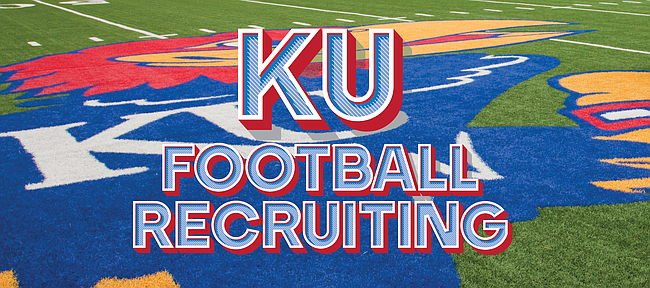 The Kansas football program is now poised to bring in two first-year quarterbacks in time for spring practices. Conrad Hawley, a state title-winning QB from Ray-Pec High, in Missouri, announced Tuesday he plans to not only sign with the Jayhawks but also enroll early.
Just like Indiana prep QB Ben Easters, who signed with KU in December, Hawley will enroll for the spring semester and be able to train and practice with the Jayhawks throughout the next several months, leading up to the 2021 season.
Rated a three-star prospect by Rivals, Hawley made his plans public on Twitter.
"I cannot wait to bring winning back to Kansas," a note accompanying his announcement concluded, along with a "rock chalk."
Listed at 6-foot-5 and 220 pounds, Hawley led Ray-Pec to the Class 6 state championship this past November. He also won the Simone Award, given annually to the top high school football player in the greater Kansas City area.
According to what Hawley told Jon Kirby of Jayhawk Slant, as he made his college decision his final three choices came down to KU, Missouri and Purdue, and he also had a preferred walk-on spot with Alabama to consider.
Obviously Hawley had a good source, former Ray-Pec teammate turned Kansas receiver Luke Grimm, for information about KU football and how the program operates under head coach Les Miles. But Hawley also got to know offensive coordinator and QBs coach Brent Dearmon well during the recruiting process, Hawley told Jayhawk Slant.
"And they've shown me that they have all the tools to help me be successful and help change the program around," Hawley said. "I want to go there and bring life to Kansas and get to the league."
With the addition of Hawley, KU now has two of the top local high school players in its 2021 recruiting class, having already signed three-star Lawrence High standout Devin Neal, a running back.
Hawley said KU recruited him harder than any other program. He also reportedly had scholarship offers from Akron, Missouri State, Northern Iowa, South Dakota and Tennessee-Martin.
"They've been there the longest," Hawley said of the Jayhawks, "and they made it apparent that they want me to come work my butt off and see what happens in the fall of my freshman year."
KU has now added two commitments since the end of the early December signing period. Hawley gave his verbal pledge to the Jayhawks 10 days after the coaching staff, with the help of receivers coach Emmett Jones, landed a commitment from highly touted four-star receiver Quaydarius Davis, from Dallas.
KU already signed 20 high school seniors during the early period in December. They currently have four unsigned recruits in the 2021 class.
Unsigned KU football Class of 2021 recruits
(Rivals rankings)
• Quaydarius Davis — 4-star Texas prep WR
• Kameron Grays — 3-star Alabama prep DB
• Garfield Lawrence — 3-star Texas prep DE
• Conrad Hawley — 3-star Missouri prep QB
KU football Class of 2021 December signees
√ Ben Easters — 3-star Indiana prep QB; 6-3, 195
√ Omar "O.J." Burroughs — 3-star Florida prep S; 5-10, 167
√ Cam'Ron Dabney — 3-star Georgia prep CB; 5-10, 175
√ Corey Robinson II — 3-star Georgia prep OL; 6-5, 270
√ Majik Rector — 3-star Texas prep WR; 5-9, 152
√ DeVonte Wilson — 3-star Florida prep CB; 6-3, 192
√ Kelan Robinson — 3-star Texas prep WR; 6-2, 183
√ Tommy Dunn Jr. — 3-star Texas prep DL; 6-3, 277
√ Deldrick "D.J." Withers — 2-star Arkansas prep DL; 6-4, 245
√ James Wright — 3-star South Carolina prep S; 6-1, 195
√ D'Marion Alexander — 3-star Texas prep LB; 6-5, 215
√ Trey Staley — 3-star Georgia prep LB; 6-2, 200
√ Mason Brotherton — 3-star Arkansas prep TE; 6-4, 242
√ Devin Neal — 3-star Lawrence prep RB; 5-11, 208
√ Jayson Gilliom — 2-star Georgia prep S; 6-2, 190
√ Andrew Simpson — 3-star California prep LB; 6-1, 220
√ De'Kedrick Sterns — 3-star Texas prep OT; 6-4, 272
√ Larson Workman — 2-star Texas prep OT; 6-5, 270
√ Tanaka Scott Jr. — 3-star Alabama prep WR; 6-4, 192
√ Edwin White — 3-star Alabama prep S; 6-0, 196