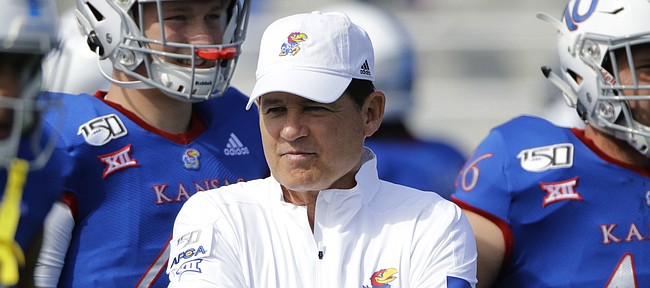 Now the head football coach at the University of Kansas, Les Miles during his tenure at LSU faced allegations of sexual harassment and reached a settlement with one former student intern, according to reports that surfaced on Wednesday.
Miles years ago reached a settlement with a former LSU Athletic Department student intern who accused the then Tigers head coach of "hitting on her," according to a report from The Advocate and The Times-Picayune.
Additionally, USA TODAY reported LSU put together an internal investigation in 2013 to look into allegations that Miles sexually harassed and made sexist comments about student workers. USA TODAY reported an outside law firm's investigation deemed he acted improperly, but LSU never appeared to punish its head football coach.
News of the settlement came to light, per The Advocate and The Times-Picayune, as LSU's handling of sexual misconduct and domestic violence complaints has been investigated in recent months, all stemming from a USA TODAY report in November regarding those issues on the LSU campus.
LSU's vice president of strategic communications, Jim Sabourin told The Advocate and Times-Picayune that LSU learned of the settlement through its own internal investigation, but LSU was "not a party to it."
Via phone call, The Advocate and Times-Picayune reported, Miles denied harassing the student about a decade ago.
"That's not true," Miles told the Louisiana news outlets.
KU responded to the Journal-World Wednesday afternoon regarding the report, via Dan Beckler, KU Athletics' associate athletic director for public relations.
"The University of Kansas is aware of a media report today involving KU head football coach Les Miles. We have spoken with Coach Miles about the allegations in the story and will continue to gather information that is made available to us. KU was not aware of these allegations when Coach Miles was hired in 2018," Beckler said.
"Because this involves Coach Miles' former employer and predates his time at KU, and because we do not have factual knowledge about details of these allegations, it is not appropriate for us to comment further," he concluded.
The Journal-World followed up with further questions for Beckler, but he reiterated Kansas Athletics wouldn't be issuing any more comments on the matter.
Beckler was asked whether Miles is still handling all of his typical football responsibilities while KU gathers information about the allegations. Additionally, he was asked whether Kansas Athletics is confident Miles appropriately understands the seriousness of sexual harassment and whether the coach has conducted himself appropriately at KU.
A request for comments from Miles made by the Journal-World received no response. Questions directed to Miles through the athletic department included whether he participated in the settlement detailed in Wednesday's report, as well as whether he understands the seriousness of sexual harassment and whether he has exhibited appropriate behavior since he became the football coach at KU.
KU Athletic Director Jeff Long hired Miles to take over the struggling football program in November of 2018, a little more than two years after LSU fired Miles four games into the 2016 season. Miles signed a five-year contract with KU that could keep him in charge of the Jayhawks through the conclusion of the 2023 season.
Questions from the Journal-World directed to the office of KU Chancellor Douglas Girod didn't receive a response Wednesday. Among them included whether the chancellor thought KU had enough information about the allegations involving Miles, and whether KU is seeking out additional information on the matter.
According to The Advocate and Times-Picayune's report, the settlement doesn't turn up in searches of Baton Rouge court records.
Per USA TODAY, its reporters requested records regarding LSU's internal investigation of Miles this past December, but LSU didn't release them, pointing to the former LSU coach's "right to privacy" and "attorney-client privilege."
The national paper also reported that in court documents Miles' attorneys argued the details of the investigation needed to stay private because the allegations made "were found to be without corroborative evidence" and the process "did not result in any discipline or finding of wrongdoing."
USA TODAY shared that it sued LSU in January for a copy of the investigation report, and days ahead of the first hearing on the matter Miles' attorneys intervened by filing paperwork. A judge granted a temporary restraining order, USA TODAY reported, that barred the records' release until a decision was reached.
According to USA TODAY, Miles' attorneys and LSU will be briefed on the matter and a judge will make a final decision after a hearing on March 30.
Miles coached LSU from 2005 to 2016, winning the 2007 national title.