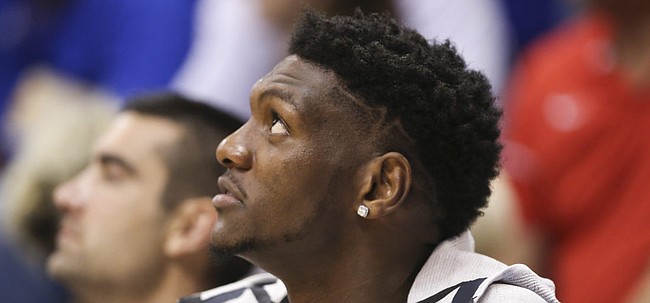 Former University of Kansas basketball player Silvio De Sousa has applied to go on diversion for a charge of aggravated battery, his attorney Hatem Chahine said Wednesday.
De Sousa appeared in Douglas County District Court on Wednesday with Chahine through an online video conference. Chahine told Judge Sally Pokorny that he and De Sousa will meet with prosecutors next month to continue discussions on a possible diversion agreement. Chahine told the Journal-World after the hearing De Sousa originally applied for the diversion in January.
A diversion is a process whereby someone accused of a crime is "diverted" from the usual legal procedures and instead completes the terms of an agreement, which may include some sort of rehabilitation program or fine. If the program is successfully completed, the criminal charges could be dropped.
"The parties are still trying to work out some options," Chahine said. "With regards to if it will be resolved by diversion, I don't have that answer yet. We have applied and the parties are still negotiating an outcome," he added.
De Sousa's next court date is scheduled for March 31. He was formally charged with aggravated battery during a hearing in December.
As the Journal-World previously reported, the probable-cause affidavit supporting the charge alleged that De Sousa struck a man who told him to "shut the (expletive) up" around 2:30 a.m. on Jan. 1, 2020, outside Brother's Bar and Grill, 1105 Massachusetts St. Despite multiple surgeries, the man lost vision in one eye after the altercation, according to the affidavit.
De Sousa, speaking with police on Oct. 15, reportedly said that while he and his friends were waiting for an Uber ride outside the bar, a man had become "verbally abusive" to one of De Sousa's friends.
De Sousa reportedly said he had "swatted" at the man but missed him the first time, then did it again and struck him in his cheek. He told the detectives that the man did not fall when he was struck and that when he left the man wasn't bleeding, according to the affidavit.
Detectives told De Sousa that other witnesses' accounts contradicted his statement; he said nothing further after that, according to the affidavit.
Allegations in affidavits have not been proven in court, and defendants in criminal cases should be presumed not guilty unless they are convicted.
As the Journal-World has reported, De Sousa announced his decision to leave the basketball team for "personal reasons" on Oct. 16.