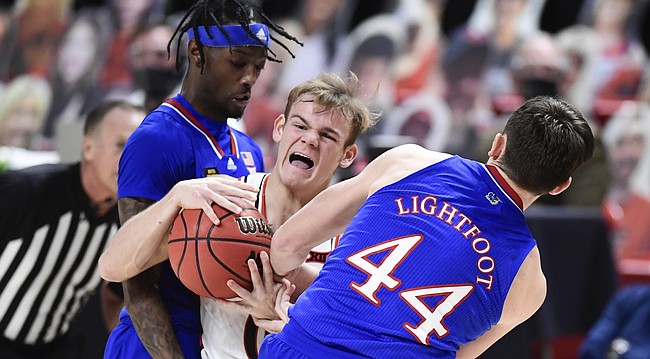 No. 23 Kansas Jayhawks (16-7 overall, 10-5 Big 12) vs. No. 15 Texas Tech Red Raiders (14-6 overall, 6-5 Big 12)
Time: 1 p.m., Saturday, Feb. 20, 2021
Location: Allen Fieldhouse, Lawrence, Kansas
TV: ESPN | Radio: IMG Jayhawk Radio Network
Log on to KUsports.com for our live game blog coverage and follow the KUsports.com staff on Twitter: @KUSports @mctait @bentonasmith & @SJacksonLJW
Keys for Kansas
1. Get easy baskets to help laboring offense
With the focus for this Kansas team being so much on the defensive end in recent weeks, the Jayhawks' offense has hit a bit of a lull.
Kansas coach Bill Self believes he knows the reason for that and it goes beyond Self's belief that this team's below-average passing ability is making offense harder.
"There's a lot of teams that labor score," Self said Friday while looking ahead to the matchup with Texas Tech. "We're one of those teams. But one reason why (we give off) the appearance that we're laboring to score (so) much is because we're not getting offensive put-backs right now. We're not scoring in transition. We're not getting things that you don't have to earn."
While a lot of those unearned points can be the result of quality defense — steals, deflections, winning the battle for loose balls — Self said the transition portion of the equation, however they can get it, is an area that needs to improve.
"We're not playing three against two or two against one," he said. "We're playing five against five, and that makes it harder."
Self's philosophy is that offensive stats can be somewhat misleading. The teams that shoot the best percentages do not get all of their baskets in half-court settings.
"If you play five against five, nobody's going to shoot 50%," Self said. "Nobody. The reason you shoot 50% is because you get some easy baskets that you don't have to earn. So we need to start generating that."
2. Be willing to win ugly
After Wednesday's victory at Kansas State, Self said he thought his team better get used to playing in some grind-it-out, low-scoring games because those are the ones KU is best suited to win.
Few teams in America present that option as well as Texas Tech, which not only plays elite defense in multiple areas, but also plays a slower tempo than most teams, which severely limits each game's total possessions and magnifies the importance of each one.
This Kansas team found that out during a 58-57 win in Lubbock, Texas, earlier this season, but both teams are a little different since that first meeting.
For starters, it's the Red Raiders who are ranked higher this time around, at No. 15 in the national polls and fresh off of a stint in the top 10.
Beyond that, Tech has sophomore guard Kevin McCullar available this time around. McCullar missed the first meeting because of an injury, but he's back for this one he'll bring his 10.4 points and 7.0 rebounds per game in Big 12 play with him.
"I think he is the glue," Self said of McCullar. "I think he is the steadying influence. He can guard anybody, he's got great size, he's a great rebounder, he's a good scorer, he can drive it, he can pass it. To me, that was a big miss for them by him not being able to play early in the season. They're definitely a better team with him out there."
Texas Tech is not afraid to score. They've scored 77 points or higher in 10 of their 20 games so far and are averaging 74.3 per game for the season. But they are stingy when it comes to the defensive side of the ball, surrendering just 62.7 points per game, nearly 12 fewer than the Kansas offense is averaging.
Given the improvement of the Jayhawks' defense of late, and the fact that both teams rank in the top 20 in KenPom.com's adjusted defensive efficiency ratings (KU 12th and Texas Tech 19th), a low-scoring grinder like these two teams played the first time around back in December is the most likely outcome in this one.
3. It's time to make shots again
These next three games present a stiff test for Kansas, and they'll tell people a lot about this team and where the Jayhawks are entering March.
But if there's one area that could illustrate a major step forward for the Kansas offense, it's outside shooting.
The Jayhawks still rank third in the conference in 3-point percentage at 35.7%. But there was a time, not long ago, when KU was much more consistent from the outside and shot it even a little bit better.
Redshirt freshman Jalen Wilson has found his shooting touch again, knocking in 6 of 13 3-pointers in KU's last three outings. But Ochai Agbaji (2 for his last 11) and Christian Braun (4 for his last 15) have fallen off a little.
In order for the Jayhawks to have success in these next three games, all three of those guards are going to have to knock down open shots.
"I don't think it's a strange formula," Self said of the team's goal of making 40% of its open looks from 3-point distances. "I don't know that we need to do anything a lot different other than make some shots."
The 3-point line is where KU's defense also factors into the equation. Even if the Jayhawks do not immediately find their rhythm again from the outside, the Kansas defense has a magic number of sorts for what it can allow.
In 15 Big 12 games so far this season, KU is 10-0 when its opponent has made eight 3-pointers or fewer and 0-5 in games when the Kansas opponent has hit nine or more.
Marquee Matchup
KU's ball screen defense vs. Texas Tech guard Mac McClung
Texas Tech guard Mac McClung scored a game-high 21 points in KU's 58-57 win in Lubbock, Texas, earlier this season, but the Jayhawks did a good job of making him work to get those points.
The Georgetown transfer was 5-of-16 from the floor and 2-of-8 from 3-point range in that one. He did, however, get to the free throw line 10 times, and he hit nine of those 10 attempts, bringing one major Self concern about defending McClung into full focus.
"One thing he does great, he comes off a ball screen (and) if he can get downhill, he'll try to attack the big," Self said. "He's very good with the ball. And he can get a shot off two feet. A good shot for him isn't a good shot for most players in our league."
By that, Self means McClung's athleticism and scorer's instincts allow him to make shots even when he's well guarded because he can use his body and jumping ability to create separation and shoot above the defender.
With that in mind, whichever Jayhawks are matched up with him throughout this one need to do a few things from start to finish.
"We've got to be there on the catch, we can't get lifted, we can't get split (on double teams) and, certainly (we have to) stay down on the shot fakes," Self said. "He's going to score. He's a scorer. So we just have to limit his good opportunities."
Agbaji, Braun, Wilson, Marcus Garrett and Dajuan Harris all got turns guarding McClung in the first matchup. And the Tech guard who ranks second in the Big 12 in scoring at 17.2 points per game, made all of them pay, scoring 13 of Tech's first 20 points and nine of the first 11.
Jayhawk Pulse
After racking up four straight wins over teams near the bottom of the Big 12 Conference standings, the Jayhawks are set to kick off a stretch of three games against ranked foes to finish the regular season.
The opportunity is a big one and it not only presents Kansas with a chance to control its own fate in the charge for a second-place finish, but it also gives the Jayhawks a chance to prove that their recent improvement can lead to quality results against better teams.
Win or lose in any of them, Self is looking for one simple thing from his team.
"I want to see us play our best ball," Self said. "I don't think we've played our best ball yet. I think that we did some good things at different times this season, but I think our best ball's still in front of us and I think we're a little bit more confident team now. So I'm just looking forward to seeing this team's ceiling on the court."
Self said anything less than that would likely cut into KU's chances of success against No. 15 Texas Tech, No. 12 Texas and No. 2 Baylor in the next seven days.
Kansas leads the all-time series with Texas Tech 38-6, including a 19-1 edge in games played at Allen Fieldhouse.
The Jayhawks, however, are just 5-2 against the Red Raiders in the last seven meetings, and the three most recent matchups have all been decided by four points or less.
Kansas opened as a 3-point favorite in Las Vegas, and KenPom lists KU with a one-point edge (67-66) and a 56% win probability.
Probable Starters
No. 23 Kansas
G – Marcus Garrett, 6-5, 195, Sr.
G – Ochai Agbaji, 6-5, 210, Jr.
G – Christian Braun, 6-6, 205, Soph.
G – Jalen Wilson, 6-7, 190, RS-Fr.
F – David McCormack, 6-10, 265, Jr.
No. 15 Texas Tech
G – Mac McClung, 6-2, 185, Jr.
G – Kyler Edwards, 6-4, 195, Jr.
G – Kevin McCullar, 6-6, 205, Soph.
G – Marcus Santos-Silva, 6-7, 245, Sr.
F – Micah Peavy, 6-7, 215, Fr.