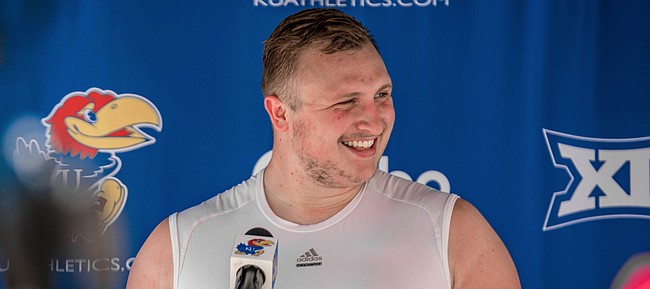 All former Buffalo starting center Mike Novitsky had to do to grab the attention of his new football teammates at the University of Kansas was introduce himself.
Before he got to campus this summer, the Jayhawks already had heard about Novitsky, a first-team All-MAC selection at UB in 2020. So when the 6-foot-5, 296-pound offensive lineman showed up and said they could call him Dirk, it caught at least a few players off guard.
"That's the first thing he told me when we met," super-senior KU receiver Kwamie Lassiter recalled. "And I was like, 'Dirk? What you mean, Dirk?'"
Novitsky shared his nickname's origin story with reporters on Wednesday, during his first interview since joining the program. It all started his freshman year at Buffalo. Novitsky had just joined the team, and one of the offensive line's veterans, Mike Kenefick, had the same first name.
To avoid confusion when a coach or player called out the name Mike, someone suggested Novitsky should be called Dirk — a reference to former Dallas Mavericks NBA superstar Dirk Nowitzki.
"It just kind of happened one day, fall camp my freshman year," a smiling Novitsky recalled. "It stuck, and I guess it stuck all the way to Kansas."
Since his arrival, many Jayhawks find themselves listening closely when Novitsky speaks. One of the six former UB players to follow head coach Lance Leipold from Buffalo to Lawrence, Novitsky immediately became a source of knowledge for his numerous new acquaintances.
After spending the previous three years — Novitsky redshirted in 2018 before becoming the Bulls' starting center — playing for Leipold and offensive coordinator Andy Kotelnicki at UB, the veteran O-lineman helped the KU football program transition into a new regime by introducing his teammates to new offensive play calls and expectations.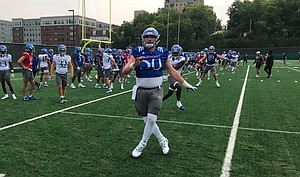 "I think we've been doing a great job of grasping the play book," said Novitsky, who found the Jayhawks receptive to what he had to share. "We started in early summer and just kind of slowly chipped away at it. And we've been getting a great hold of it, and now we're starting to execute it on the field and it's been looking pretty good."
Senior KU quarterback Miles Kendrick, one of the returning veterans who helped organize player-led practices this summer before camp began, said he discovered right away Novitsky was a valuable addition to the roster.
Kendrick said the former UB center is a great leader and teacher around KU's facilities.
"From Day 1 he's gone in and helped the O-linemen kind of get a grasp of what we're trying to do this season," Kendrick said. "I think that's big. He's an unselfish guy. He wants to help everyone in the building."
The QB said Novitsky also is the type of player who is quick to dap up a teammate, say what's up or help anyone out.
"If QBs want to go over protections and things like that he's definitely a guy who's willing to sit down and go the extra mile with you to teach you what we're trying to do," Kendrick said.
Leipold, of course, has known Novitsky since the UB staff recruited him out of Victor, N.Y., as a high school tight end.
"The great thing about Mike is how steady he is," KU's head coach said, "just in his approach each and every day, and his positive energy that he always brings."
It's because Novitsky was willing to teach his new teammates in a "good, humble" manner, Leipold shared, that helped veterans such as super-senior O-lineman Malik Clark find him to be quite helpful.
As the head coach has observed Novitsky practice in a KU uniform instead of a UB one this past week, Leipold said the center "hasn't flinched one second" about being in a new program or blocking bigger players on a daily basis after jumping from the MAC to the Big 12.
Kendrick, who has lined up behind Novitsky during both summer reps and preseason camp, is excited to see what the center can do for the offense.
"You can tell he's a guy who can move around, has some strength," Kendrick said, "and he'll be an asset for us this season, for sure."
In what ended up being his final season with the Bulls, Novitsky was one of the better centers in college football in 2020. According to Pro Football Focus, he had an overall grade of 88.3 for the season and was the top-graded center from a non-Power Five program.
Novitsky, who is now entering his third year under the tutelage of former UB and current KU O-line coach Scott Fuchs, said his desire to continue playing for Leipold, Kotelnicki and Fuchs was just one factor in his decision to leave a successful Buffalo program behind.
"Another big thing is I want to make a change here and I want to be a part of something real special," Novitsky said. "In the locker room, we've got a great group of guys who want to get better, who want to win, who want to attack every day. And I want to be a part of that, and I want to be a part of the change."