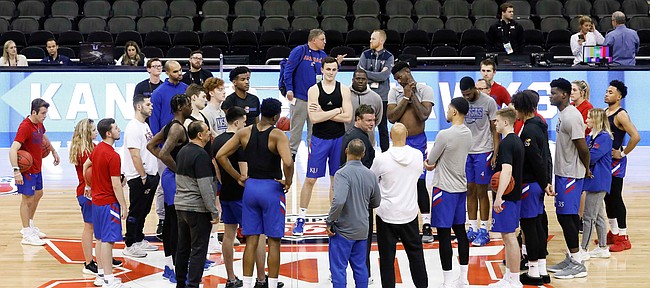 Like their fall and spring sports counterparts before them, all NCAA Division I winter sports athletes have been granted an additional year of eligibility and an extra year in which to use it.
The NCAA's Division I Council voted Wednesday to pass a proposal for relief for winter sports athletes facing the prospects of starting their seasons amidst the uncertainty of the COVID-19 pandemic.
"The pandemic will continue to impact winter sports seasons in ways we can't predict," NCAA Division I Council chair and M. Grace Calhoun said in a statement released Wednesday afternoon. "The actions today ensure the continuation of local decision-making in the best interest of each institution and its student-athletes."
At Kansas, Wednesday's vote could impact athletes in men's and women's basketball along with men's and women's indoor track and field and women's swimming and diving. The extra year of eligibility will be available to all athletes regardless of how many games, matches or meets they compete in during the 2020-21 season.
The move is particularly important for seniors, who no longer are facing the start of their final seasons of college athletics, but extends to all other classes, as well.
It remains to be seen how rules for scholarship and roster limits will be tweaked to accommodate those athletes who utilize the extra season, but Kansas men's basketball coach Bill Self said he was happy to hear the proposal passed.
"It's a good ruling, I believe," Self told the Journal-World on Wednesday evening. "If the NCAA did it for fall sports, they must also do it for winter sports, too. Everyone has the same COVID issues."
Let the season begin
The Kansas men's basketball program will host the first official practice of the 2020-21 season on Thursday afternoon.
KU coach Bill Self told the Journal-World on Wednesday that the Jayhawks would get things started at 3:45 p.m. Thursday.
After weeks of limiting the amount of time the coaching staff could spend with the players to eight hours per week, Self and company now will have the full allotment of 20 hours per week to work with this year's bunch.
While there are restrictions in place for how many hours a day coaches can work with their teams and how many days off per week a team needs, KU essentially will have the next 41 days before the season opener — Nov. 25 against Boise State in Orlando — to practice 30 times.
Name, image, likeness movement
The NCAA on Wednesday also moved a step closer to changing its name, image and likeness rules when the Division I Council introduced concepts providing more opportunities for student-athletes into the 2020-21 legislative cycle.
Per an NCAA news release, if adopted, the measures would:
• Allow student-athletes to use their name, image and likeness to promote camps and clinics, private lessons, their own products and services, and commercial products or services.
• Allow student-athletes to be paid for their autographs and personal appearances.
• Allow student-athletes to crowdfund for nonprofits or charitable organizations, catastrophic events and family hardships, as well as for educational expenses not covered by cost of attendance.
• Allow student-athletes the opportunity to use professional advice and marketing assistance regarding name, image and likeness activities, as well as professional representation in contract negotiations related to name, image and likeness activities, with some restrictions.
• Prohibit schools from being involved in the development, operation or promotion of a student-athlete's business activity, unless the activity is developed as part of a student's coursework or academic program.
• Prohibit schools from arranging or securing endorsement opportunities for student-athletes.
• Student-athletes would not be permitted to use their school's marks in any advertisements, endorsements, personal appearances or promotions.
The NIL issue is supposed to be revisited, and perhaps voted on as several individual proposals, in January.
More tourney fun in KCMO
The NCAA on Wednesday also announced the selection of more than 450 future sites for Division I, II and III postseason events, with most of them coming between the 2022-23 and 2025-26 seasons.
Kansas City, Mo., which has hosted more NCAA men's basketball tournament games (134) than any other city to date, will be one of four regional host sites during the 2023 NCAA Tournament.
Kansas City last hosted NCAA Tournament basketball competition in 2019, when the Jayhawks were knocked out in the second round in Salt Lake City.
Other cities within easy driving distance of Lawrence that are slated to host first-and-second round games or regionals in the near future include Des Moines, Iowa (2023 first- and second-round games), Omaha, Neb. (2024 first- and second-round games), Wichita (2025 first- and second-round games), Oklahoma City (2026 first- and second-round games) and St. Louis (2026 first- and second-round games).
Wichita also is slated to host first- and second-round games during the upcoming 2021 NCAA Tournament.