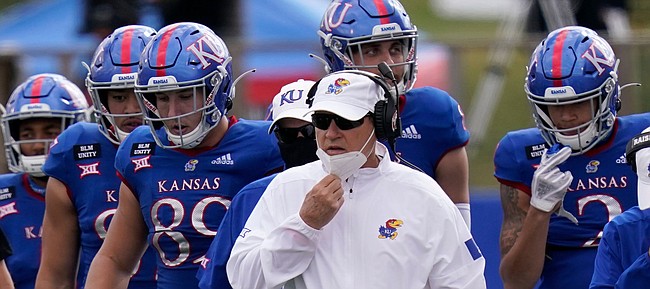 There has been plenty of chatter this week about how it even would be possible for Kansas football coach Les Miles to coach on Saturday at West Virginia after testing positive for COVID-19 late last week, but it's CDC guidelines and not Big 12 or NCAA rules that will determine his availability.
As such, Miles appears to be on track to be in West Virginia this weekend for KU's 11 a.m. kickoff against the Mountaineers, provided he is feeling good enough to travel and gets clearance from Kansas Team Health officials to make the trip.
Though Miles did not make an appearance on his weekly "Hawk Talk" radio show on Wednesday night, KU Athletic Director Jeff Long filled in for a couple of segments and provided an update on the 66-year-old football coach.
According to Long, who said he was on a video call with Miles earlier in the day, KU's head coach is doing well and his symptoms have been "minor."
"He's upbeat, he's strong, he's ready to get back," Long said, "and we believe he will have a chance to come back and be a part of the game this weekend."
Per KU's agreement with Kansas Team Health, which went into effect in May of 2019, it's the medical professionals who oversee Kansas Team Health, in conjunction with the CDC, who have the final say in all medical issues relating to Kansas Athletics.
"We're not cutting any corners or anything," Long said Wednesday night. "It's a medical decision. It won't be coach's. It won't be mine. But his personal physician with our (Kansas Team Health) doctors. We believe that everything is on course and he will be able to join the team on the team plane going out Friday."
Here's why Miles may be in the clear.
According to the Centers for Disease Control and Prevention website, cdc.gov, the recommendation for adults who test positive for COVID-19 is to isolate for 10 days after symptoms first appear.
It also references the following:
• For most persons with COVID-19, isolation and precautions can generally be discontinued 10 days after symptom onset and resolution of fever for at least 24 hours, without the use of fever-reducing medications, and with improvement of other symptoms.
• For persons who never develop symptoms, isolation and other precautions can be discontinued 10 days after the date of their first positive.
"Available data indicate that persons with mild to moderate COVID-19 remain infectious no longer than 10 days after symptom onset," the website notes.
In Miles' case, Friday is the 10-day mark from when his symptoms first presented themselves and his positive test was administered.
A Kansas Athletics official told the Journal-World on Wednesday that Sundays, Tuesdays and Fridays are the standard testing days for the KU football program throughout the current season. Big 12 teams only use the rapid antigen tests that produce results in roughly 15 minutes on the day before a game.
The CDC website also indicates there has been no evidence that the small but detectable amounts of the COVID-19 virus that may linger after the 10-day infection period have been transmitted to others.
"These findings strengthen the justification for relying on a symptom-based, rather than test-based strategy for ending isolation of these patients," the website notes, "so that persons who are by current evidence no longer infectious are not kept unnecessarily isolated and excluded from work or other responsibilities."
If Miles can't go …
Just as KU's coordinators earlier in the week didn't reveal what the team's backup plan would be if Miles isn't cleared to travel and coach at WVU, Long didn't indicate who would serve as KU's head coach — if it came to that.
"I might pull a Barry Alvarez and assume control and just kind of take over for one game," Long joked, referencing an approach taken at Wisconsin by Alvarez, the A.D. and former Badgers head coach, a few years back. "I'm joking, people. Don't want any of our listeners to think I'm serious."
Hanni sits out 'Hawk Talk'
Because Brian Hanni , KU's director of broadcasting and play-by-play voice of the Jayhawks, hosted "Hawk Talk" on Oct. 7 with Miles, he has remained in isolation, too.
KU football radio analyst David Lawrence, who filled in for Hanni on Wednesday night, reported that Hanni has tested negative for the virus twice since then. But Hanni is following protocols and skipped this week's broadcast.