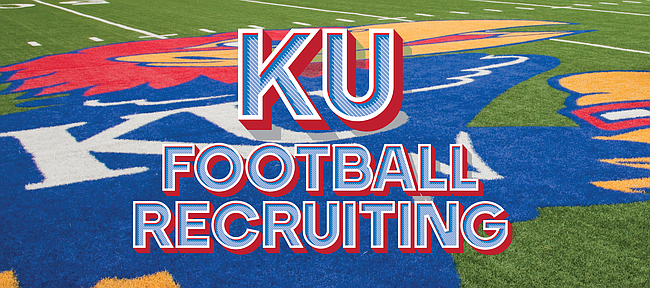 Three-star linebacker Trey Staley announced his commitment to Kansas on Saturday and in doing so spoke of a challenging road ahead.
"They say you have to go outside your comfort zone to get where you want to be in life," Staley wrote in a note on Twitter. "And this decision definitely will force that upon me."
A 6-foot-3, 200-pound linebacker from Brookwood High in Snellville, Ga., Staley is ranked as the No. 92 player in the 2021 class in his home state.
Before announcing his commitment, Staley got in touch with the Kansas coaching staff to tell them of his decision.
That phone call, according to Jon Kirby of JayhawkSlant.com, came two days after Staley made a virtual visit to KU.
A first-team all-state selection in Georgia's 7A class following his junior season, Staley is known for his speed and ability to play in space and on the outside.
Kirby wrote that KU was the first Power 5 program to offer Staley a scholarship, and, from there, his bond with KU outside linebackers coach Chidera Uzo-Diribe played a huge role in him picking Kansas.
"I really like him," Staley said of Uzo-Diribe. "He's a good dude to talk to. He understands a lot that I tell him. ... I just feel like I've known him for years."
Staley chose KU over offers from Bowling Green, Central Michigan, Kent State and Toledo.
He still plans to make an official visit to KU when the pandemic is no longer an obstacle, and he wants to pursue forensics and psychology as his academic areas of focus.
Right now, his focus is on exhaling after putting the recruiting process behind him.
"It's a lot of stress off of my shoulders," he told Kirby of his decision to pick Kansas. "I feel like I was taking a big chance committing right now because I really haven't been on campus at Kansas or any other schools. But I have a good vibe about my decision, and I feel like it's the best decision for me."
Staley becomes the 11th commitment in KU's current recruiting class, joining Little Rock, Ark., defensive end Deldrick Withers and three-star linebacker Andrew Simpson, from St. John Bosco High in Southern California, as the only three defensive players on the list to date.
The rest of KU's 2021 class includes Lawrence High running back Devin Neal; Brownsburg (Ind.) High quarterback Ben Easters; Mena, Ark., tight end Mason Brotherton and Jaddai Henry, Majik Rector and Kelan Robinson, who are all wide receivers from Texas.