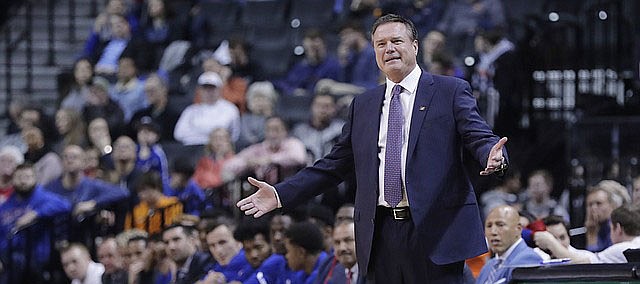 The Wild West can wait. But not for too long.
That was the message sent to college athletics on Wednesday by the NCAA's Division I Council, which essentially tabled until January the proposed one-time waiver exception for student-athletes who transfer in men's and women's basketball, football, baseball and men's hockey.
To this point, athletes in those five sports who have transferred to another school have had to sit out a season until becoming eligible again.
In April, in response to a request for changes to the waiver process for transfers, the NCAA's Board of Directors said that they preferred a more permanent solution that did not require a waiver.
Thus, the Division I Council on Wednesday said it would not tweak the waiver guidelines today and instead would commit to changing the transfer rules by January.
According to an NCAA news release, the resolution called the waiver process "an unsustainable method to achieve lasting stability, consistency and transparency within the transfer environment."
The details are expected to be worked out in the coming months, and the wording and dates outlined in whatever rule change is adopted will determine when college basketball will be affected.
Most believe the changes will not impact the sport until the 2021-22 season.
Kansas basketball coach Bill Self, in an appearance on the Nick Bahe Podcast in late April, explained that he was against the idea of allowing a one-time waiver exemption for Division I men's basketball players to transfer and become eligible immediately.
"It's still a terrible rule even if they transfer for the right reasons," Self said on the podcast. "It's setting up wild, Wild West free agency. Why do you need to go out and recruit a high school kid when you can just wait and recruit a college kid with some experience?"
Self also said he preferred the system to stay the way it is.
"If you choose to go to another school, you just sit out a year. It should be that way with everybody," he said. "People can say, 'Well, there are exceptions.' And, yes, there are. But you can't have exceptions for everybody. Where do you draw the line?"
In recent years, men's college basketball players have begun to move from team to team a little more freely through the graduate transfer rule. That rule allows players who have graduated to use their final seasons of eligibility at another school without sitting out a season.

Although KU has added a few graduate transfers to its roster during the past decade — Tarik Black, Jack Whitman and Isaiah Moss — Self has never viewed that route as a good way to build or fill a roster.
"The grad transfer rule I thought was a bad rule," Self said during his discussion with Bahe. "Now there's talk that a kid could transfer and be eligible immediately as an undergrad and if they graduate they can transfer and be eligible immediately, too. So theoretically a guy could play for three different schools and never sit out. I think it's a bad rule. I think it's going to create more animosity (in) our sports."
Part of Self's criticism of the proposed rule change may be exactly what the NCAA plans to study in the coming months.
During his podcast appearance with Bahe, Self asked a handful of hypothetical questions that he believes need to be answered.
"What's the drop-dead date when you can transfer," Self asked. "Can you transfer the first day before classes? Can you just leave universities and programs, leave them high and dry because somebody else on another team transferred and a scholarship became open?"
"It's going to be different, and it's not going to be positive," he added. "I think there's cases where it could be positive, don't get me wrong. But as a whole, I don't think it's good."