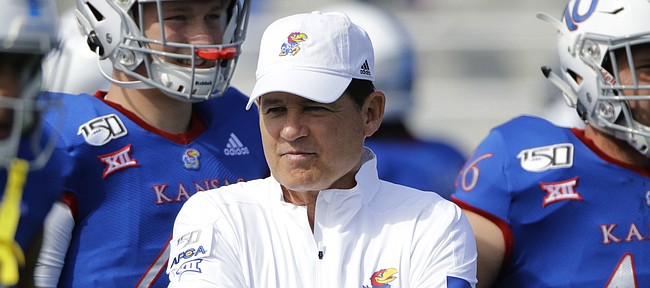 Each of the three newest assistant coaches hired earlier this year to join Les Miles' University of Kansas football staff signed a six-year contract, with only the first two years guaranteed.
The deals for running backs coach and special teams coordinator Jonathan Wallace, tight ends coach and recruiting coordinator Josh Eargle and outside linebackers coach Chidera Uzo-Diribe also were all structured similarly to the one put together for the first addition to Miles' staff, safeties coach Jordan Peterson.
According to records obtained by the Journal-World, all four of the program's new assistants for 2020 have guaranteed contracts through the 2021 season, and KU has yearly options for each of their contracts that could keep any given assistant on board through the 2025 season.
Wallace, a former colleague of KU offensive coordinator Brent Dearmon, is due to make $225,000 a year. Wallace joined KU after coaching tight ends at Air Force in 2019.
Eargle, promoted by Miles after working the previous year as a senior analyst for KU's offense, will make $185,00 a year now that he's a position coach.
Uzo-Diribe, who served in a quality control position for the KU football defense the year prior to his promotion, will earn $120,000 per year.
According to each contract, KU can terminate a deal at any time, but would owe an assistant his remaining salary if that were the case — not the entire six years, but whatever was guaranteed at the time of dismissal.
If an assistant opted to leave KU at any point during the first two years of his contract, which are guaranteed, the exit would cost him (or the team luring him away) two years worth of his salary.
What's more, KU would be owed that same two years salary in any of the option years on an assistant's deal, if KU had exercised a given option year and he wanted to leave before that year of the contract expired.
Wallace's buyout price is $450,000, Eargle's is $370,000 and Uzo-Diribe's is $240,000.
Their contracts, just like Peterson's, come with incentives tied to the football program's success.
An assistant is eligible to receive those incentive payments (a percentage of his yearly base salary) as long as he's coaching in any of the postseason games detailed in his contract. For hypothetical bowl game berths, an assistant would receive the percentage for the greatest of the incentives achieved, not multiple incentives.
The incentive percentages are the same for every assistant:
• Selected for any bowl game: 5%
• Win any bowl game: 7.5%
• Selected for a New Year's Six bowl game: 10%
• Win a New Year's Six bowl game: 15%
• Make the College Football Playoff: 15%
• Win one game in the CFP: 20%
• Win the national championship: 25%
Additionally, an assistant gets another 5% bonus if KU plays in the Big 12 title game, per the contracts.