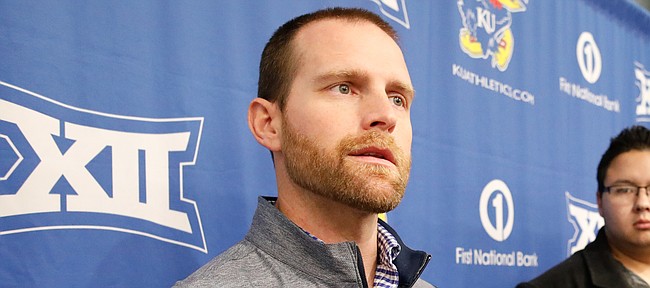 It began with Kansas football offensive coordinator and quarterbacks coach Brent Dearmon, barefoot in his basement, standing next to a white board and saying, "Hello, Twitter."
The video featuring Dearmon, posted to the team's Twitter account this past week, served as an introduction to the KU coaching staff's latest way of navigating social distancing in the midst of the COVID-19 pandemic.
After bringing KU to recruits virtually a few days earlier, members of Les Miles' staff began reaching out to high school coaches and recruits that are interested in the program by sharing some insight on football drills and techniques that might prove helpful. The videos became a type of "online clinic," as KU offensive line coach Luke Meadows described them, in the days that followed, allowing assistant coaches to engage with interested parties. And before long a Hall of Fame QB was even chiming in.
Dearmon kicked things off with quarterback drills, addressing the importance of mechanics, QBs working on their base in the pocket, hip movements for RPOs and hot routes and the timing of actions. The man in charge of KU's offense then explained how he sets up his "trash can" drill to simulate pass-rushing lanes and put a QB under stress in the pocket.
"This QB has to feel the lanes that are closing around him and find the open hole to drive the pocket up," Dearmon explained, also providing practice footage of the drill from last season, "and make a throw to the target."
It was after Dearmon posted his second video that retired one-time Super Bowl champion QB Kurt Warner joined the conversation.
In his followup video tutorial, Dearmon highlighted how he helps QBs work on their movement in the pocket with what's called the Garcia drill. Dearmon noted he asks his QBs to lead with their back foot.
"Curious why the back foot lead," Warner replied on Twitter.
"Any knowledge that the legend can share," Dearmon responded, "I will take it."
The back and forth led to Warner sharing his thoughts on how QBs can best stay "loaded" and ready to throw while moving and why Warner thinks QBs should lead with their front foot.
The next time Dearmon returned to his basement for another installment, he did so donned in an "iron sharpens iron" T-shirt.
"I loved the way our quarterback guys across the country are chiming in," Dearmon said, "and we're all helping each other become better QB coaches."
KU's offensive coordinator wasn't the only assistant involved with the series. To date, defensive coordinator D.J. Eliot, O-line coach Meadows, running backs coach Jonathan Wallace and outside linebackers coach Chidera Uzo-Diribe have posted videos, too.
Eliot also set up in his basement amid the stay-at-home order, and had his son, Dawson, help him teach about technique while going for a sack.
"The proper way to sack the quarterback from his blindside is to reach with your outside hand first and pin the throwing hand," Eliot described, while displaying the action and using his son as the QB. "Then drape your body on him so that he can't duck and avoid you."
Eliot wrapped up the session by showing video highlights of the Pittsburgh Steelers' Bud Dupree, who played for Eliot at Kentucky before becoming a first-round pick in 2015, as well as a clip of one of the D.C.'s KU pupils, Azur Kamara.
Meadows geared his video toward players in particular, to give O-linemen some ideas that would be helpful when they aren't having practices.
For footwork, Meadows showed how O-linemen could use a crack in the sidewalk to step over instead of a board like they might use in practice settings.
Then Meadows got creative to address contact.
"It can be difficult walking around the house and blocking everybody that you see, so instead what we do when we're not allowed to hit quite as much, is at practice we might go hit the sled. I don't have a sled," Meadows said. "But I do have a Ford pickup and I do have someone to drive."
The clip that follows shows Meadows behind his truck, with him pushing it forward, using his O-lineman footwork. And just for fun with the help of some editing, Meadows jokes that it's his youngest child at the steering wheel while he pushes.
Uzo-Diribe coaches up pass-rushers in his video, giving tips on counter moves that can help them reach the QB.
"The only way to make these counter moves work is to sell speed up the field," Uzo-Diribe advised. "As rushers we have to do a good job of threatening the offensive lineman's face with speed to open up his gait and allow for a variety of our moves, like the counter club, the counter spin and the counter swim."
For examples, Uzo-Diribe showed some 2019 practice clips from before he became an assistant, with former KU players Jelani Brown and Darrius Moragne, and current Jayhawk Marcus Harris featured.
One of KU's newest assistants, Wallace, who was hired to replace Tony Hull, took his drills outside to a yard in order to "talk some ball" with high school coaches.
With the help of Dearmon's son, Carter, Wallace showed some drills he will use every day with KU's running backs, while discussing the importance of holding the ball "nice and tight" and ball carriers keeping their eyes up, and providing examples of footwork and explosion.
The series even includes some tips from KU football's dietician, Stacey Potter.
She advises athletes in how they can continue to reach their goals while following social distancing guidelines. Potter reminded players of what they should be eating depending on the types of workouts they're able to do.
"Is what I'm eating going to help my performance when I return from this quarantine?" Potter also reminded football players.