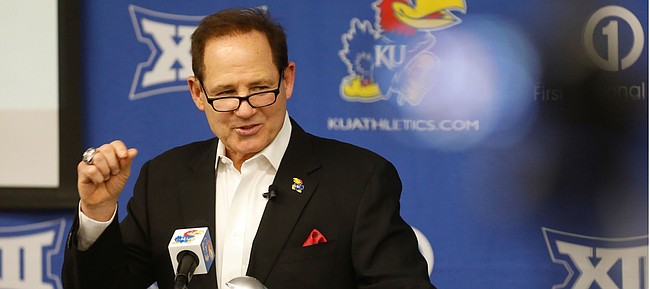 Like college coaches in every sport throughout the country, the Kansas football staff quickly figured out in the past week or so that all of its recruiting plans for the immediate future would have to be scrapped.
Instead of holding back, the Jayhawks pivoted and innovated.
For head coach Les Miles and his assistants, the coronavirus pandemic didn't just wipe out the start of spring practice, it also nixed the program's junior day, originally scheduled for this Saturday.
Class of 2021 recruits from all over would have had the chance to visit Lawrence, see KU's facilities and meet staff members and potential future teammates in person.
When that became impossible, the KU coaches, with the help of the recruiting staff, decided to get creative and do their best to bring junior day to the recruits — at least as best as they could given current social distancing constraints.
Miles first teased the new plan of attack earlier this week, when he tweeted out a graphic accompanied by the hashtag #KUComesToYou.
Though it would have to be experienced through a screen on a smartphone instead of in the flesh, an indirect junior day kicked off Thursday morning, with the help of KU's Twitter account. Throughout the day, the program shared tweets with graphics, photos and videos intended to familiarize recruits with the campus and what KU football has to offer.
Plus, top targets could have FaceTime conversations with Miles and other assistants.
Jon Kirby, KU football recruiting expert for Jayhawk Slant, said this "virtual junior day" created buzz in recruiting circles.
The way the staff leaned into phone communication and social media possibilities — there's even a "Jayhawk TikTok Challenge" tournament involving assistant coaches and staff members — has helped KU stand out during a time when many normal recruiting avenues are closed.
"They're not shutting down," Kirby said. "It's obvious they're not going, 'OK, everything's on hold, we're on hold.' They're going, 'No, everything's on hold, but we're not on hold. We're going to continue to get offers out and build relationships with recruits through phone calls and whatever is the best way to get a hold of a a recruit.' So that's where I think they're at right now in terms of saying, 'Hey, we're not pushing the pause button.' And they really can't."
Even before the calendar turned to 2020, Miles' staff already had secured four verbal commitments for the 2021 class, from receivers Majik Rector, Jaddai Henry and Kelan Robinson, and quarterback Ben Easters — all rated as three-star prospects by Rivals.
The traditional junior day for this weekend could've led to more commitments. The planning and evaluating for the event had been in the works for some time.
"The bottom line is," Kirby said, "when you've got four new (assistant) coaches coming in on a staff who's really only been together for one full season, and they put the work in that they did to line some of these junior visitors up, it's rough news to find out that you're not going to be able to hold a junior day, because, I don't want to say they're working from behind, but still they've only been together one full year. So this would have been a great way to get some kids up and they have worked extremely hard and done a good job at building that list of kids that was coming."
As long as in-person recruiting is off limits due to the threat of COVID-19, all contact KU coaches have with recruits will have to come through mobile communication. If there's a positive in the current restrictions for KU, Kirby thinks it might be in the way the staff already has connected with potential players over the phone.
"All of the recruits that I'm talking to right now speak very highly of just the communication and early relationships they're building," Kirby said. "And I've even heard a lot of very positive comments about a lot of the new coaches who just recently joined the staff. So I think there's a lot of positive things to take from it. Obviously this current situation with the coronavirus is hard to read, but these guys have been really good in terms of just overall numbers (of offers) and communication they've had with building relationships with recruits."