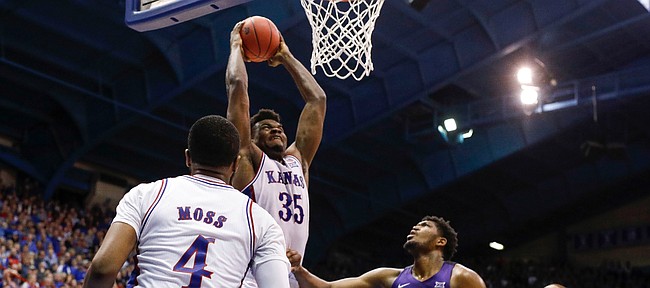 After spending a year watching two other teams celebrate a Big 12 title, the top-ranked Kansas Jayhawks jumped back into their familiar spot as the kings of the Big 12 Conference with a 75-66 victory over TCU on Wednesday night at Allen Fieldhouse.
The win, which came after the Jayhawks trailed by 2 at halftime, gives Kansas (27-3 overall, 16-1 Big 12) at least a share of the conference title, their 15th in the last 16 seasons.
KU can win the crown outright if it wins on Saturday at Texas Tech or if Baylor loses to West Virginia.
"Last year, we took a step sideways because we couldn't bring home the title," KU coach Bill Self told the sellout crowd after the victory. "But this year, these guys grinded, played every game and almost every possession when there was no margin for error, and they came through."
Photo Gallery
Kansas basketball v. TCU (Senior Night)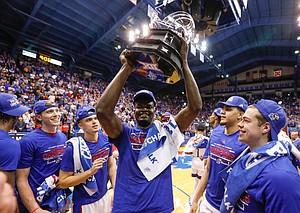 View a gallery of images from Wednesday night's game between the Jayhawks and Horned Frogs at Allen Fieldhouse.
Self said this team held one distinction above all others who have won the Big 12 title during his time in Lawrence.
"I'm more proud of this one than any one we've ever had," Self said.

Wednesday's senior night victory came like so many others before it this season — with KU's two All-America candidates leading the way.
Senior center Udoka Azubuike dropped his 14th double-double of the season with a career-high 31 points and 14 rebounds. He made 13 of 14 shots from the floor and even hit 5-of-13 from the free throw line.
"He's a warrior," sophomore point guard Devon Dotson said after the victory. "Senior night, he went out with a bang."
Azubuike's 31-point night was the best by a KU senior on senior night since Danny Manning scored 31 against Oklahoma State on March 5, 1988.
"I was a part of that one, too," joked Self, who played his college ball at OSU from 1981-85 and was on the Oklahoma State bench as an assistant coach for Manning's outburst. "Tonight was probably better just because the game was closer. That night, Danny's senior night, we weren't very good at Okie State and I didn't have a lot of confidence coming into that one."
Dotson, meanwhile, finished with 18 points of his own and played through a left ankle injury during the final five minutes of the game.
Ankle injuries were a theme of the night, as the Jayhawks spent the days leading up to Wednesday night wondering if Azubuike's right ankle would be healthy enough for him to play his final home game.
It wasn't a problem. Four days after injuring the ankle in a win at Kansas State, Azubuike was his usual menacing self in Wednesday's opening minutes. He ran the floor hard and fought for position with the urgency of a man playing his final game in KU's historic basketball arena.
Azubuike's teammates fed him constantly throughout the first eight minutes of the game. He scored KU's first 10 points and recorded his Big 12-leading 14th double-double of the season with 12 minutes still to play.
Wednesday featured a few more reasons for the home crowd to celebrate. In addition to yet another win in a home finale — that's 37 in a row dating back to the 1983-84 season — the victory was the 500th of Self's career at KU. The Kansas coach is currently is averaging 29.4 victories per season since coming to Lawrence in 2003.
After a slow start, TCU did its best to crash the senior night fun, knocking in 9 of 15 first-half 3-pointers, including their final six attempts of the half.
That left TCU with a 37-35 lead at halftime. KU hadn't trailed at the half since Feb. 12 at West Virginia.
The deficit did not last long.
KU reclaimed the lead at the 14:08 mark of the second half. And by the 11-minute mark, the Jayhawks' lead was up to nine points, 56-47, thanks to a sequence that featured five consecutive points by Dotson and two vicious blocks by Azubuike.
The strong second half — KU outscored TCU 40-29 in the final 20 minutes — came in large part because of yet another strong defensive effort by the Jayhawks.
With Kansas leading by 2 and threatening to pull away, Marcus Garrett forced a tie-up near midcourt. Azubuike responded with a focused stare and said "Let's go, let's go, let's go."
The Jayhawks did just that, creating the curtain call moment for Azubuike and fellow-senior Isaiah Moss, who finished his last game at Allen Fieldhouse with 5 points in 37 minutes.
After the victory, the Big 12 title trophy was presented to the Jayhawks in front of the KU bench, where the players wore blue Big 12 title hats and celebrated with fans and teammates.
Silvio De Sousa, who missed the last 12 games with a suspension, was on the floor for the celebration.
"How about these Jayhawks," Self said. "It's been a great year, obviously, and the guys handled themselves so well considering some of the things we've had to go through. They played their butts off every night for each other and for you."
Kansas will close the regular season with a road game at Texas Tech on Saturday before turning its attention to the postseason. KU and Tech tip off at 1 p.m. Saturday on ESPN.