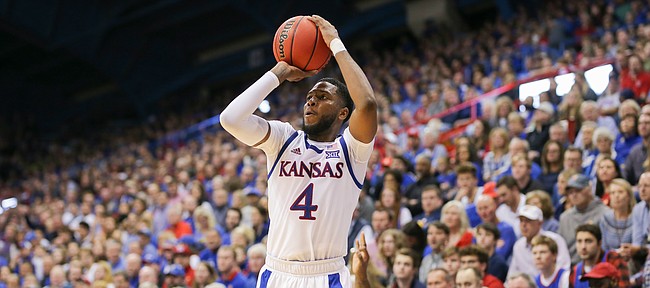 When Kansas began recruiting Isaiah Moss, he was expected to bring the kind of 3-point shooting that the Jayhawks simply did not have on their roster entering the 2019-20 season.
And the plan worked.
With Moss slated to play his final game at Allen Fieldhouse on Wednesday night against TCU — 7 p.m. tip on ESPN+ — the 6-foot-5 senior grad transfer from Chicago, who came to KU after a three-year stint at Iowa, leads the top-ranked Jayhawks with 47 3-point makes and also is tops in 3-point percentage among KU's high-volume shooters.
Three Kansas players, including Moss, have attempted more than 100 3-pointers this season. And Moss' clip of 36.4% (47-of-129) is the best of all of them.
The only KU regular who has a better percentage from behind the 3-point line than Moss is freshman guard Christian Braun, who has hit 32 of 70 3-point attempts for a 45.7% mark.
"Obviously we need (Moss) to make shots," Kansas coach Bill Self said recently. "But he's doing more than just making shots."
• • •
After missing summer workouts to finish an internship in Chicago, Moss reported to campus in August and got off to a rocky start. An early hamstring injury he suffered in practice kept him from going full speed for weeks and delayed the impact Moss could have on his new team.
"He didn't practice the entire preseason," Self said. "He was out for six weeks or whatever. … If he hadn't had that situation, I think we probably could've seen some more consistency early."
Instead, during the first several weeks of the season, Moss offered only glimpses of what he might be able to offer.
Take, for example, the first seven games of the season. After the injury kept him off the floor against Duke in the opener, Moss scored 8 points against UNC Greensboro and exploded for 21 points (on 5-of-6 shooting from 3-point range) against Monmouth. He followed that up with a 2-point game against East Tennessee State, scored 13 points against Chaminade in Maui and combined for 5 points against BYU and Dayton in the Maui Invitational semifinals and title game.
And it's not like he wasn't playing enough to make an impact. During those six games, Moss averaged 24 minutes per game.
From there, the roller coaster ride continued. Moss had a 17-point outburst in a road win over Stanford, but it was surrounded by two scoreless outings. Then in mid-January, he recorded back-to-back games of 15 and 20 points against Baylor and Oklahoma early in Big 12 play.
"It's definitely been a journey," Moss said Tuesday. "But I can definitely say it's been worth it."
Moss started at Oklahoma and again against Tennessee and has been in the starting lineup for the Jayhawks' last five games. His impact has evened out and become more reliable, too — on both ends of the floor.
"I think he's done quite well," Self said. "He's become a really good defensive guard. He's trying."
Moss also has become a more consistent scoring threat, scoring at least 8 points in six of KU's last seven contests while serving as KU's fifth starter and looking more sure of his role and what's being asked of him each time out.
"I think we should wait and rate (him) after the year," Self said recently when asked if he got what he expected from Moss this season. "But I think he's been good. He's been a little inconsistent, but he also wasn't comfortable."
• • •
Moss, who expects to have eight or nine family members in the stands for senior night, has not been quite the scorer he was at Iowa, largely because of the presence of better options ahead of him in the Kansas lineup. But he's not exactly far off the pace either.
During his three seasons and 102 games at Iowa, Moss averaged 8.9 points in 22 minutes per game. This year, in 28 games for the Jayhawks, Moss holds averages of 8.2 points and 24 minutes per game.
Beyond that, the sharpshooter has recorded 230 points so far this season, putting him within striking distance of matching the totals he had at Iowa during his second (365) and third (321) seasons with the Hawkeyes.
No. 1 Kansas has two regular-season games and the postseason remaining. That means Moss' KU career has anywhere from four to 11 games left in it.
If KU were to reach the Big 12 and national title games, Moss would need to average 8.3 points per game the rest of the way to surpass his 2018-19 total and 12.3 points per game to eclipse his highest-scoring season. The numbers Moss would need for his best scoring season in college go up if KU plays fewer games.
But none of that matters much to Moss. He came to KU to play on the biggest stage possible, and he said he got exactly that, whether he's scoring a lot or not.
"Coming to Kansas is one of the best experiences I've had since I've been in college, on and off the court," Moss said. "I came here to win, and I definitely got what I was looking for."