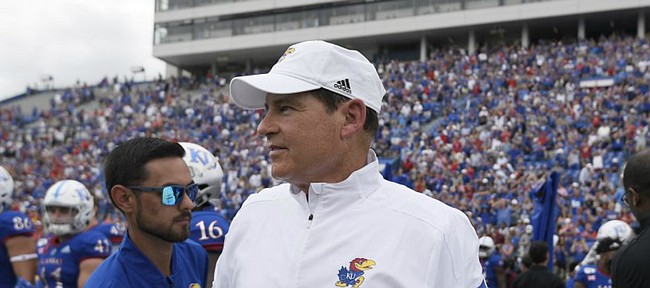 The Kansas football program has a new start date for the 2020 season and a new first opponent.
KU on Saturday announced an agreement with Southern Illinois to open the season Aug. 29 at David Booth Kansas Memorial Stadium. The Jayhawks had previously been scheduled to open the season against New Hampshire on Sept. 5, but UNH pulled out of all fall sports competitions on July 17 because of the COVID-19 pandemic.
The "Week Zero" game was granted after a recent NCAA waiver request, and KU officials said a kickoff time and broadcast details would be announced at a later date.
In a news release, KU Athletic Director Jeff Long said KU's search for a replacement for UNH began with potential regional foes first and followed the recommendations and advice of Kansas Team Health medical professionals and campus leaders in looking for "a quality opponent."
According to Saturday's announcement from Southern Illinois, KU will pay SIU $300,000 for the game, helping the Salukis recoup some of their lost revenue from a $500,000 game Sept. 19 at Wisconsin that was called off when the Big Ten canceled all nonconference games this season.
The status of the newly scheduled game may still be up in the air, however. The Salukis play in the Missouri Valley Football Conference at the Division I FCS level, and the conference's school presidents are expected to address their football season in the coming week, the Associated Press has reported. Other FCS leagues, such as the Ivy and MEAC, have canceled fall football amid the pandemic.
Long said in the release that a key part of the arrangement was SIU agreeing to follow Big 12 testing protocols, which have yet to be finalized.
The new start date to the season also pushes the start of KU's preseason camp from Aug. 7 to Friday, July 31.
The Aug. 29 season opener will mark the earliest Kansas has played a football game since the 1999 season, when KU played at Notre Dame on Aug. 28. The Jayhawks are 73-50-7 in season-openers all-time.
"We are excited for the opportunity to start fall camp practices and prepare to take on a good Southern Illinois football team," KU coach Les Miles said in a statement Saturday. "We feel that playing this game will prove beneficial for both programs for many reasons, especially due to SIU's proximity to Lawrence."
SIU's campus, in Carbondale, Ill., sits roughly 390 miles southeast of Lawrence.
Kansas leads the all-time series with Southern Illinois, 3-0, and the teams last met in 2000. SIU is coming off of a 7-5 2019 season, in which it won five of its last six games.
"We appreciate our administration finding another game and giving us this opportunity," said SIU head coach Nick Hill in a news release Saturday. "I was excited when I got the news. It gave us a shot in the arm that we needed, because it gives you something on the calendar to shoot for, plan for."
Added Miles: "Coach Hill will have his team prepared to play and we look forward to the challenge."
After returning to campus for the start of voluntary workouts in mid-June, KU suspended summer activities on July 3 after 12 players tested positive for COVID-19. That triggered a 14-day self-quarantine period for all players and staff members, and despite several more positive test results last week, KU resumed workouts on Wednesday.
As allowed by NCAA rules, the KU coaching staff began to have more of a hands-on role in the workouts on Friday.
That same day, NCAA President Mark Emmert announced that the organization's Board of Governors had decided to continue its discussions about the fall seasons, and specifically hosting fall sports championships, into August.
"The health and well-being of college athletes is the highest priority in deciding whether to proceed with our 22 NCAA championships beginning in late November," Emmert said in a statement. "We all remain deeply concerned about the infection trend lines we see. It is clear that the format of our championships will have to change if they are to be conducted in a safe and fair manner."