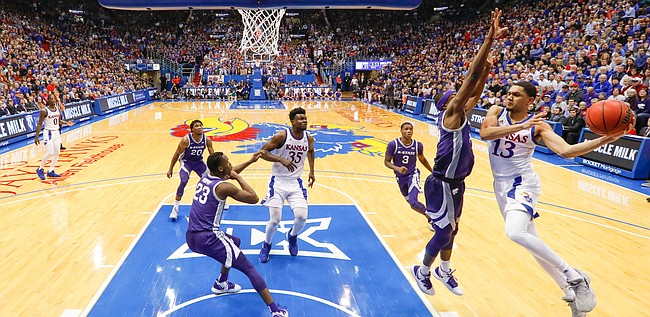 The Wednesday suspensions of Kansas basketball forwards Silvio De Sousa (12 games) and David McCormack (2 games) will have a significant impact on the KU lineup in the week ahead.
McCormack, a 6-foot-10, 265-pound sophomore from Norfolk, Va., has been in the Jayhawks' starting lineup for 17 of their 18 games so far this season.
He will miss the next two games after his role in the ugly brawl that unfolded at the end of KU's Tuesday night victory over Kansas State in which benches cleared and players from both programs threw punches and shoved each other in a section reserved for handicap seating at Allen Fieldhouse.
Photo Gallery
Kansas basketball v. Kansas State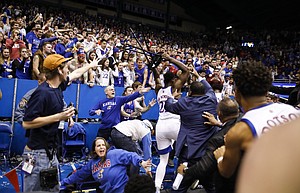 View a gallery of images from Tuesday night's game between the Jayhawks and Wildcats at Allen Fieldhouse.
Prior to Tuesday's 292nd Sunflower Showdown, which third-ranked Kansas won, 81-60, McCormack was asked what the in-state rivalry with Kansas State meant to him.
"It's more than spoken words," McCormack said Monday. "You know, Sunflower Showdown, just go respect every opponent and play as hard as we can like we do every day."
No players from either team were made available to the media following Tuesday's game.
During the one game McCormack did not start this season, it was De Sousa who took his place at the 4 position. But the 6-9, 245-pound junior from Angola, who drew the biggest suspension from the Big 12 Conference after he was seen holding a stool high above his head during the fracas, has not played much of a consistent role since then, averaging just 8.2 minutes per game while appearing in all 18 games for the Jayhawks.
This, during his first season back from a suspension stemming from his guardian's involvement in the recent FBI investigation into corruption in college basketball recruiting.
Kansas coach Bill Self said Monday, one day before the incident, that he had been considering going to a smaller starting lineup during recent weeks because of the success the third-ranked Jayhawks (15-3 overall, 5-1 Big 12) have had — especially offensively — with four guards playing next to senior center Udoka Azubuike.
Now, at least for the next couple of games, Self will have no choice. Kansas is expected to have just seven scholarship players available for its next two games, Saturday versus Tennessee and Monday at Oklahoma State.
The only other big man on the KU roster is senior forward Mitch Lightfoot. But Lightfoot has been redshirting the 2019-20 season in order to save his final year of eligibility for next season, when it is expected that there would be more minutes available for him in KU's front court rotation.
It is not yet known whether Self or Lightfoot and his family would consider taking off the redshirt to allow Lightfoot to play during the stretch run this season. But with McCormack's suspension only slated for two games, that move is unlikely.
One thing that could help the Jayhawks' lineup in the near future is the potential return of freshman forward Jalen Wilson, a 6-8, 215-pound wing from Denton, Texas, who has missed nearly all of the season so far after breaking his left ankle in KU's second game.
Self said this week that Wilson had returned to practice and was closing in on a decision about whether he wanted to try to crack KU's rotation or redshirt this season.
And while McCormack's two-game suspension likely won't have much of an impact on that decision, having De Sousa's spot available, where Wilson could potentially play a small 4 role if his ankle proves to be healthy enough for action, could make his return a more intriguing option.
Junior Marcus Garrett also has played plenty of minutes at the 4 during his KU career and freshmen guards Christian Braun and Tristan Enaruna, who combined for 41 minutes in Tuesday's win over K-State, also figure to receive more playing time on the perimeter in the coming weeks.
Regardless of what happens with Lightfoot and Wilson, the Jayhawks almost certainly will slide senior guard Isaiah Moss into the starting lineup for the next couple of games, playing small nearly the entire time and going really small when Azubuike needs a break. Azubuike enters Saturday's 3 p.m. clash with Tennessee at Allen Fieldhouse averaging 28 minutes per game overall and 31 minutes per game during the past six outings.
Moss started in Devon Dotson's place during last week's win at Oklahoma and scored a game-high 20 points while draining six 3-pointers.
"We know that our five most productive players on the floor is with Isaiah in the lineup," Self said. "We know that. Stats (and) analytics prove that out. But still, though, even with that being said, I think there's some things that David brings, from a chemistry standpoint, I think (that it's) still been best for us to go that way because you're still going to have ample opportunities to have that other lineup on the floor."
Self said the puzzle of trying to piece together a starting lineup, both before and now after the suspensions, had nothing to do with providing players with the rush of hearing their name called during starting introductions.
"It has everything to do with how are we able to be successful playing two bigs, because we're going to some," he said before Wednesday's suspensions were announced. "And then how do we maximize the opportunity to play small, which we have to the majority of the time. We're still going through a process of trying to figure that out."