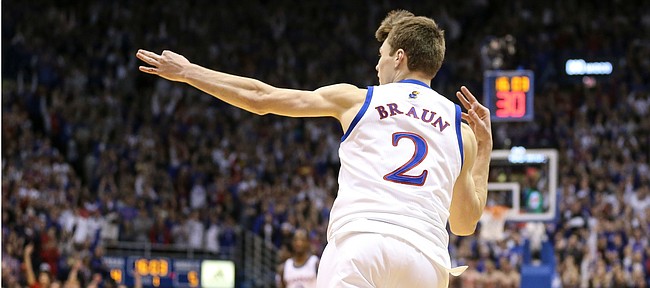 An outstanding offensive night for the third-ranked Kansas basketball team ended with an ugly fight inside Allen Fieldhouse following the Jayhawks' 81-60 win over Kansas State on Tuesday night.
Freshman Christian Braun exploded for a career-high 20 points off the bench and added a career-best six 3-pointers in the process, but a brawl that came just after the final horn sounded and spilled into the handicap seating behind the venue's south goal overshadowed anything and everything that happened on the court.
"We should be in here talking about Christian Braun," KU coach Bill Self said after the victory. "And selfishness definitely created a situation where that's not going to be the storyline whatsoever."
Instead, words like "embarrassing," "inexcusable" and "disappointing," were the primary talking points used by the two coaches who were the only representatives from either team to talk to the media after Tuesday's game.
"What happened is absolutely zero signs of toughness," Self said during his postgame meeting with the media. "It's a sign of immaturity and selfishness more so than it is toughness."
Asked what he thought the fan reaction would be to the latest incident surrounding his high-profile program, Self, who grew noticeably angry and disturbed when talking about how the brawl spilled into the stands, made no attempt to try to persuade people to look past it.
"If I was a fan watching, depending on what your perspective is, there would be nothing about that that would intrigue me to want to watch more," he said.
Photo Gallery
Kansas basketball v. Kansas State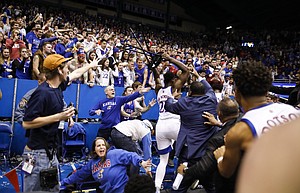 View a gallery of images from Tuesday night's game between the Jayhawks and Wildcats at Allen Fieldhouse.
K-State coach Bruce Weber, who said he did not see the brawl because he was shaking hands with Self, said simply, "It's disappointing it ended that way. Credit to them. They kicked our butt in so many ways."
Weber also referred to Braun's big performance, calling it "a special night."
Leave it to one of KU's two Kansas kids to spark another win over in-state rival Kansas State.
In front of the 299th consecutive sellout crowd at Allen Fieldhouse, Braun and the third-ranked Jayhawks rolled past Kansas State from start to finish in the 292nd edition of the Sunflower Showdown.
Braun, who hails from Burlington and went to high school at Blue Valley Northwest, was one of three Jayhawks to reach double figures on Tuesday.
In his first 6 minutes on the floor, Braun, who played just 4 minutes in last weekend's win at Texas, scored 11 points, dished an assist and forced a pair of KSU turnovers to help the Jayhawks (15-3 overall, 5-1 Big 12) roar out to a 26-9 lead.
Braun entered the game at the 16:37 mark, taking the place of Isaiah Moss, who had been on the floor for less than 90 seconds after replacing starter David McCormack 2 minutes into the game.
Braun was far from the only Jayhawk to play well on Tuesday night. But he was the first.
In a first half dominated by the home team, Kansas hit five of its first nine 3-point shots, shot 46% overall and scored 18 of its 39 first-half points off of 11 Kansas State turnovers.
That included seven KU steals, two each from Braun and Devon Dotson and one apiece for Moss, Ochai Agbaji and Marcus Garrett.
Kansas State, meanwhile, shot 40% from the floor in the first half, was 3 of 10 from the behind 3-point line and forced just four KU turnovers.
The Jayhawks' biggest lead of the half came just before the buzzer — at 39-21 — and the 39 first-half points were KU's second most this season (46 at Iowa State) and broke a string of three consecutive first-half totals in the 20s.
Any hope the Wildcats (8-10, 1-5) had of a comeback were quickly dashed in the second half when the Jayhawks, again led by Braun, ripped off an 8-0 during the first 1:59 of the second half.
That run was sparked by Braun's fourth 3-pointer of the night — after another Agbaji offensive rebound — and an easy put-back by Azubuike (10 points and 14 rebounds) and old-fashioned 3-point play from Dotson (18 points in 28 minutes), who fell hard to the floor after finishing the tough reverse layup.
That quick spurt to open the second half proved to be key for Kansas. After opening up a 47-23 lead just 2 minutes into the second half, the Jayhawks were hit by a 13-2 Kansas State run that forced Self to call a timeout with 14:03 to play.
Instead of the 11-point run pulling the Wildcats within striking distance, however, they still trailed by 13 at that point. The lead went right back to 15 out of the timeout when Moss (7 points on 3-of-7 shooting) hit a smooth jumper from the wing after a shoulder fake got his man in the air above the 3-point line.
Said Self of Braun's performance on Tuesday: "He was the best player in the game."
"Going back over time, our kids from Kansas and kids from Kansas who have played at K-State have taken great pride in this game, maybe more so than some out-of-staters do."