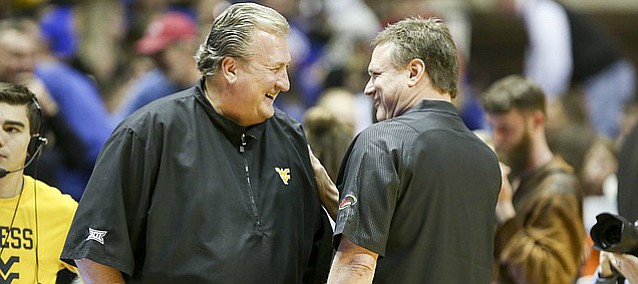 With nonconference play now behind them, the third-ranked Kansas Jayhawks are gearing up for an intense matchup with West Virginia — one that KU coach Bill Self described as a "fistfight."
And if the game (3 p.m. Saturday at Allen Fieldhouse, available for streaming on ESPN+) is a thriller, it won't be the first KU-WVU game to turn out that way.
From the time Bob Huggins' program first joined the conference in 2012, through last year, when the Mountaineers found a way to split the regular season series with the Jayhawks despite finishing just 4-14 in conference play, KU and WVU have waged some classic battles.
Marked as much by eye-popping finishes as outright physicality, the stakes always seem greater and the intensity a bit higher when Jayhawks and Mountaineers get together.
The reason?
At a press conference on Thursday, Self said the culture Huggins has created is the biggest reason for the spirited rivalry between KU and West Virginia during the past eight seasons.
"Huggs is the fourth winningest coach in college basketball," Self said. "He's really good. And — I don't know if you know this — he's kind of a colorful fellow. That also creates some interest that makes it fun. So I think West Virginia coming into our league ... was really good for basketball.
"And then, of course, he's had really good players and really good teams, and he gets them to play his way and do it his way," Self added. "This is not an infomercial for him, but I'm a fan. I mean, I totally respect everything that he does and how he goes about his business."
That began well before Huggins returned to coach his alma mater in the 2007-08 season, Self said. During the 2006-07 season, Huggins was the coach for another of Kansas' Big 12 rivals: Kansas State.
"When Huggs went to K-State, I think ... that got everybody thinking that K-State would become even a bigger rival," Self said of Huggins' one season in Manhattan. "And what he started, and what Frank (Martin) and Bruce (Weber) have done since, it is a bigger rivalry than what it was before they got there, in my mind; there's no question."
Self said the steady play of former WVU point guards Juwan Staten and Jevon Carter from 2012 to 2018 also played a big part in making the Mountaineers' matchups with Kansas some of the most memorable games of those seasons.
"When you've got guys like that," Self said, "that's the equivalent of having Frank (Mason III) and Devonte' (Graham)."
Self said last season that the Mountaineers' rough run in 2018-19 would be little more than a bump in the road. West Virginia's 11-1 start and No. 16 ranking this season makes it look like Self was right.
"They got good at the end of the season last year, and a lot of their pieces are returning," Self said Thursday. "They're back to playing like West Virginia played a couple of years ago, without question."