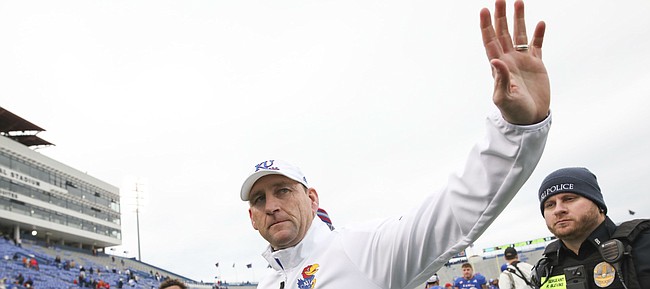 Lawyers for former Kansas football coach David Beaty aim to get their hands on communications college basketball recruiting fixer T.J. Gassnola had with KU, a notice of intent to serve Gassnola with a subpoena revealed.
In a memo filed Wednesday, according to U.S. District Court records, Beaty's law team requested a list of documents belonging to the former Adidas consultant, who was a key government witness in the college basketball corruption trial in October of 2018.
The memo detailed the subpoena will request communication Gassnola had with KU basketball coach Bill Self, one of his assistants, Kurtis Townsend, and KU Athletic Director Jeff Long, among others.
Gassnola testified that he paid the families of players to steer them to KU, including $90,000 to the mother of former KU player Billy Preston and $2,500 to the guardian of current KU player Silvio De Sousa. Gassnola testified that he never told Self about the payments.
Beaty's lawyers have argued since filing a lawsuit in March of 2019 that Kansas Athletics officials "immediately began discussing what it would take to avoid the $3 million payout" owed to Beaty per his contract, after firing Beaty in November of 2018, and allowing him to finish out the season.
Earlier this month, a U.S. District Court judge ruled that Kansas Athletics will have to turn over evidence requested by Beaty's lawyers, which included evidence that would show how the KU athletic department handled NCAA violations by head coaches.
Gassnola, whose testimony preceded the NCAA hitting KU with a Notice of Allegations, was sentenced in September of 2019 to a year of probation, including two months of home detention.