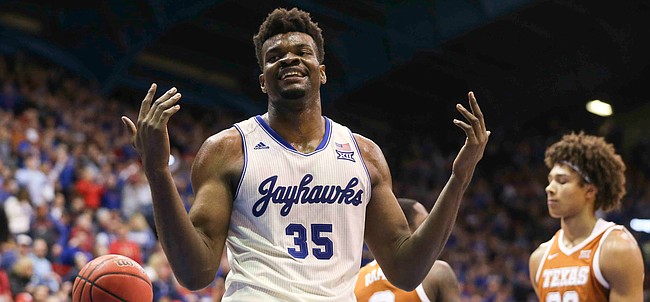 With March and all of its looming madness just days away, Kansas has emerged as the best team in college basketball. And the Jayhawks have one giant human who wears No. 35 leading their ascent.
No one else in a KU uniform impacts the outcome on both ends of the court quite like Udoka Azubuike.
On a team with exceptional chemistry, an elite defense and an offense that revolves around the senior center from Nigeria, Azubuike is the most influential and valuable player on KU's roster. He's a 7-footer whom opponents have to devise their game plans around in order to stand a chance versus the talented Jayhawks.
Azubuike's 13.4 points per game, 10.4 rebounds and 2.6 blocks as a senior hardly do justice to his significant footprint.
Head coach Bill Self and his assistants have told the big man for years that he possesses the ability to affect the game regardless of how often he gets the ball on offense. Now in his fourth season of hearing those types of prompts, Azubuike has finally realized his potential.
Self's not one to flatter his players, but earlier this week he called Azubuike "the best" defensive center he has coached during his 17 seasons at KU.
This type of praise didn't seem possible for Azubuike earlier in his career. But he has shed the tendencies of his youth and transformed himself into a paint-protecting defensive force. This better-than-ever version of Azubuike moves his feet to impede opponents' progress on the perimeter and inside. He's more mobile than ever — defending ball screens, swatting and altering shots at the rim and beyond, going after rebounds instead of waiting for them to come to him.
When Azubuike subs out — every KU opponent tries to send him to the bench by drawing fouls on him — foes must be practically throwing a party, because the path to high-percentage shots opens up immediately.
It takes just a quick mental review of KU's 2018-19 season to get a true sense of what Azubuike's presence means to the Jayhawks.
They were 12-1 and ranked No. 5 in the country before a wrist injury ended Azubuike's junior season in January 2019. What followed was a spiral through the remainder of the schedule. KU went 14-9 without Azubuike, only won three true road games and exited the NCAA Tournament with a feeble showing in the second round against Auburn. Azubuike only played in nine games as a junior because of a pair of injuries. You can probably guess KU's record in his appearances. That's right — 9-0.
And that was before he got into the best shape of his life over the past offseason.
For the love of points in the paint, this 20-year-old is college basketball's all-time leader in career field goal percentage. He heads into the final three games of the regular season having converted 74.4% of his shots in a KU uniform. That's also the exact percentage he has made during his breakout senior season.
Azubuike is 160-for-215 through 28 games this year and has scored on 129 of his 152 attempts (84.9%) at the rim, per hoop-math.com. Since the season began, Azubuike, according to BartTorvik.com, has racked up 93 dunks on 100 cracks at wrecking the rim versus Division 1 opponents (he also went 4-for-4 on slams against Chaminade at the Maui Invitational).
A force in the paint and a nightmare for KU's adversaries, Azubuike's unique brand of supremacy can't be matched in college basketball this season. The Jayhawks wouldn't be a favorite for the 2020 national championship without him.
More MVP chatter from KUsports.com
— Vote here to make your choice known.