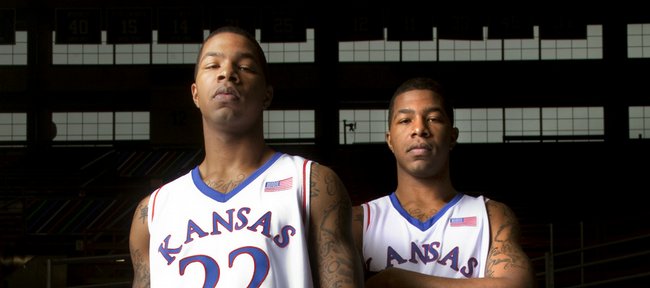 As honored as former Jayhawk Marcus Morris is to have his No. 22 jersey retired Monday at Allen Fieldhouse, he would love nothing more than to tweak the name on the banner that will be raised into the rafters next to some of the greatest names ever to play at the University of Kansas.
Specifically, he would like to find a way to have the jersey honor both him and his twin brother, former KU teammate Markieff Morris.
"You know, if it was up to me that jersey would say Morris Twins and not just Morris because he deserves it just as much as I do," Marcus Morris said during a conference call with local reporters Friday afternoon. "I feel as though this is an honor for us both because without Keef there's no me. We took this journey together."
It won't happen. The 4- by 5-foot blue nylon banner with white letters and numbers and white trim is already made and ready for hanging.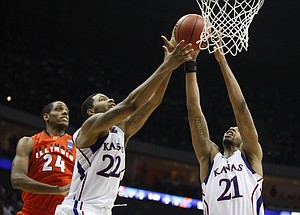 But Monday's ceremony, at which Markieff will be in attendance, will still be the latest chapter in the basketball journey of the two brothers from Philadelphia.
From their early playing days back home, through AAU basketball, into their careers and Kansas and even for a few seasons in Phoenix in the NBA, Marcus and Markieff Morris have been side by side for nearly all of their biggest basketball moments.
And Monday night will certainly be no exception to that.
In addition to Markieff, Marcus' 1-year-old son and girlfriend, his mother, Angel, and a couple of his closest friends, will be in Lawrence for the big moment. Marcus still describes it as "surreal," even though it's been a few weeks since he first got the call from Kansas coach Bill Self that this was the year that he, the 2010-11 Big 12 Conference Player of the Year, would have his name and number memorialized forever inside Allen Fieldhouse.
"You couldn't have told me that when I was younger," Marcus said Friday. "I probably wouldn't have believed you. The history there means so much, and it takes you back to arguably the greatest player in basketball history in Wilt (Chamberlain). Just to be able to share something like that with him and to be up there in the rafters is very special to me."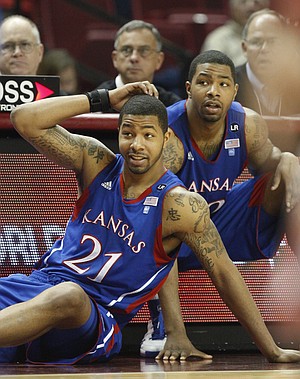 The decision to include him also was a no-brainer to Self.
"There's not an exact (criteria) on who goes up there," Self said Friday. "But if you're the MVP of a Final Four or you're the Big 12 Player of the Year, you're a lock. Or you're a first-team All-American. So Marcus was a lock."
Marcus still holds everything about his time at Kansas near and dear to his heart.
From the time he and his brother told Self they wanted to transfer and were subsequently laughed at and told to get back to work, to the countless highlights on game nights, Marcus said Friday that the basketball education he got at KU still serves him well to this day, in his ninth NBA season as the newest member of the Los Angeles Clippers.
"When I'm doing training camps in the NBA, I always revert back to my college mentality because we had the hardest camps ever," Morris said of Self's famed preseason boot camp. "Nothing could ever beat that."
He also said the adjustment to playing on a different team than his brother has been most parts bitter and some parts sweet.
"Yeah, it has been," he said. "I mean, we got used to it and I think it made us grow into our own men. … If we were still together, who knows, man. But it's definitely great that we got that opportunity to play together and I hope that still is a possibility before our career ends in the NBA."
The 30 NBA arenas around the country are not the only venues in which Marcus would like to have one more run with Markieff.
"If we could go back one more time and play a game together in Kansas, I'd do it in a heartbeat," he said.
There will be no sweating or swing passes for the Morris twins on Monday night. So the jersey retirement ceremony will have to do. But the fact that it will give both Morris twins the opportunity to stand at center court at Allen Fieldhouse together one more time had Marcus emotional even three days out.
"Oh, man. What can I say," Morris said. "The Fieldhouse is a historical building, the fans are great and just to be able to get back up there one more time and get my jersey retired is amazing. … I think it'll seem real Monday. Just because when I first got there and (was) able to look up in the rafters and see those names up there and now to be part of it seems surreal."