Although Monday's 69-58 Kansas victory over Texas marked KU's ninth consecutive win over the Longhorns inside Allen Fieldhouse, this particular game had a much different feel than the others.
For the first time since leaving KU in the offseason to join Shaka Smart's Texas staff, former KU strength coach Andrea Hudy made her return to Lawrence, this time as member of the visiting team, suiting up in a different locker room and sitting at the opposite end of James Naismith Court.
Hudy and the Jayhawks had a mini-reunion in Austin, Texas, last month. But that paled in comparison to her return to the place she called home for nearly two decades.
Prior to the game, the Journal-World caught up with Hudy, who said the overwhelming emotion surrounding her return to Allen Fieldhouse was one of excitement.
During the pregame handshakes between coaches, KU coach Bill Self went all the way to the end of the UT bench to find Hudy and give his old friend a hug.
"Lawrence, Kansas, will always have a piece of my heart as it has been such a large part of my life," Hudy told the Journal-World. "I miss Coach Self, the basketball staff, players and community. And I'm excited to be back in Lawrence."
Photo Gallery
Kansas basketball v. Texas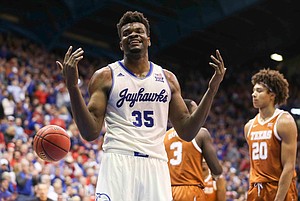 View a photo gallery from Monday night's game between the Jayhawks and Longhorns at Allen Fieldhouse.
Decked out in a black Texas warmup suit with the orange longhorn on the jacket, Hudy mingled with old friends before Monday's game.
Sitting behind the KU bench, near where the Longhorns warmed up, Hudy said she had never even been inside the visiting locker room before.
Hudy's return was about much more than just stepping back into Allen Fieldhouse or seeing her old work haunts.
"Having embraced living and working in the community for 15 years, I've really been looking forward to seeing and reconnecting with so many people I love, who mean so much to me and are like family to me."
Hudy, who now oversees the strength and conditioning program for all of Texas basketball, men and women, officially left KU last August.
At the time of her departure, she made it clear that her time at KU meant the world to her, saying, "I have had the most amazing experience during my time as a Jayhawk and will always be grateful for the people I had the opportunity to work alongside."
Dotson honored again
Sophomore guard Devon Dotson on Monday was named the Big 12 player of the week for the third time this season.
Dotson's 21-point performance in a home win over Texas Tech was the highlight of the point guard's week, and he entered this week still on top of the Big 12 Conference's scoring leaders list at 18.2 points per game.
The Charlotte, N.C., native who averaged 16 points, four rebounds and three assists last week, has scored 20 or more points in a game seven times this season.
Also on Monday, Dotson was named as one of 10 finalists for the annual Bob Cousy Award, given out to the best point guard in college basketball.
Monday marked the fourth time this season that a Kansas player had earned the weekly award. Dotson has done it three times (Dec. 2, Dec. 16 and Feb. 3) and center Udoka Azubuike was the recipient on Jan. 27.
KU senior Isaiah Moss also has been honored by the Big 12's weekly awards, earning newcomer of the week honors on Jan. 12.
KU still 3rd in AP poll
The Kansas men's basketball team held its spot at No. 3 in the latest Associated Press Top 25 poll on Monday, and the Jayhawks also held on to their lone first-place vote.
No. 1 Baylor, meanwhile, extended its lead over KU and No. 2 Gonzaga at the top of the poll.
The Bears received 49 of 65 first-place votes in Monday's poll, up from 44 first-place votes from the previous week, with the Bears securing a third consecutive week atop the rankings.
Nos. 1-4 remained unchanged a week after the top seven teams held their rankings from the previous week, providing stability in a season that has seen a record-tying seven different teams reaching No. 1 in the poll.
The Zags – who earned 15 first-place votes after having 19 a week earlier – spent four weeks atop the poll and went 7-0 during their stint at No. 1 before the Bears jumped them.
Before that, Michigan State, Kentucky, Duke, Louisville and Kansas had had stints at No. 1.
KU, which knocked off Oklahoma State on the road and Texas Tech at home last week, now has been ranked in 214 consecutive AP Top 25 polls, bringing the Jayhawks closer to eclipsing UCLA's all-time record of 221 consecutive weeks in the AP Top 25.
This and that...
KU now leads the all-time series with Texas, 35-9, including an 18-1 mark in Lawrence and a 16-1 record at Allen Fieldhouse... KU is now 8-1 or better in Big 12 play for the 10th time in the Self era and the first time since starting 8-1 in 2016-17... The Jayhawks are 11-1 in home games this season, including a 10-1 mark at Allen Fieldhouse... KU football coach Les Miles, PGA golfer and KU grad Gary Woodland and all kinds of Kansas City Chiefs gear were in attendance for this one... Monday's win was the 699th of Self's career... Provided his 700th victory comes relatively soon, the 17-year KU coach, at 57 years and 1 month, will become the second youngest coach in NCAA history to record 700 wins. Bobby Knight was 56 years and 4 months old when he reached the 700-win mark... Kansas now has won 16 ESPN Big Monday games in a row and has a 71-18 all-time record on the showcase event since the inception of the Big 12 in 1996-97. That includes a 52-12 record under Self.