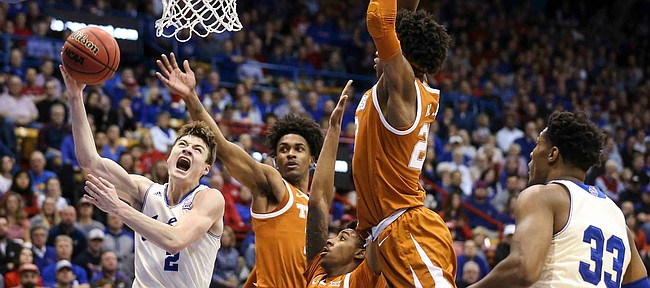 It was barely more than two weeks ago that Christian Braun couldn't stay on the floor against the athletic, long arms and legs of the Texas Longhorns.
The University of Kansas freshman guard looked out of his depth, and, as a sub, watched the entire second half from the bench.
At the time, KU basketball coach Bill Self lumped Braun in with some of the team's other reserves, calling the group "so timid" on Jan. 18, in Austin, Texas, when Self only played Braun four minutes because of how the young guard approached the early Big 12 road game.
What a difference a couple of weeks makes.
Same as he's been ever since that odd day when he was a non-factor at UT, Braun proved to be an integral part of the No. 3 Jayhawks' 69-58 victory in the rematch Monday night at Allen Fieldhouse.
Photo Gallery
Kansas basketball v. Texas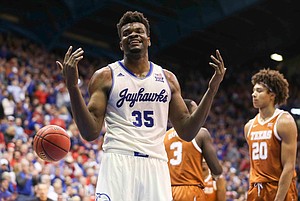 View a photo gallery from Monday night's game between the Jayhawks and Longhorns at Allen Fieldhouse.
No one can accuse Braun anymore of looking apprehensive. He was bold as ever on Big Monday, displaying the characteristics that have made him a trustworthy starter when a lesser player could have taken that benching at Texas the wrong way and turned it into a prolonged slump.
Even against a UT team that isn't a great matchup for him, Braun was an energy giver who looked confident in his high profile role as a first-year starter at KU.
Even when he wasn't perfect.
One drive Braun took into the paint in the first half versus the Longhorns failed to culminate with the type of hard-nosed finish that's become his standard. And UT's Donovan Williams promptly smacked his soft layup attempt out of the air.
Braun was too smart and proud to let that happen again. The ball was back in his hands seconds later at the top of the key, and Braun didn't think twice about righting that wrong that remained fresh in his mind.
He attacked off the bounce and protected the ball while slicing past three closing defenders to finish past all of them for a layup, his first bucket of the night.
His assertive mindset with the ball in his hands has become a key component of KU's offensive success. It used to be that guards Devon Dotson and Marcus Garrett were the only Jayhawks who could reliably attack off the dribble and get to the heart of the paint. Now Braun's just as likely to do the same to attack a defensive closeout.
Braun shoots 3-pointers when his looks are good and lowers his shoulders to get to the paint when that's the wiser play. He's always ready to catch and shoot on the wing when he's open. But even though he's one of the best 3-point shooters on the roster, Braun isn't content to stand in the corner or on the wing and fire.
During one of the many lulls in a first half that had some fans reminiscing about the previous night's Super Bowl result with little to get excited about on the court in front of them, Braun again turned into the aggressor. The Longhorns were pressing and when the Jayhawks got the ball across half court and into the hands of Braun on the left wing, he didn't wait for the rest of his teammates to catch up so they could run some half-court offense.
Boy, did KU need some sort of energetic spark. So Braun attacked the basket immediately, going right at the 6-foot-11 forward he spent much of the night defending, UT freshman Kai Jones. Braun's two made free throws provided KU with some easy points when even the most routine offensive plays looked painfully off-kilter.
And because KU is winning this season with defense, the freshman's execution on that end is a must, too.
Braun had some defensive miscues late against Texas Tech this past weekend, but he was switching ball screens on the perimeter and holding his own much of the evening against UT.
When KU needs a jolt out of Braun, he's welcome to provide it, as he showed in wins over Kansas State and Oklahoma State. And when he can blend in as a complementary role player he gladly does that, too.
Braun was more glue guy than four-year star in the making against Texas, finishing with four points, five rebounds and one steal in his 23 minutes.
But remember: 16 days earlier, Self couldn't play him at all in the second half against this same team.
Now the Jayhawks, in the middle of conference play and in constant pursuit of ever-winning No. 1 Baylor, need Braun out there as a vital piece on both ends of the court.
He's always learning, always adapting and always eager to give the Jayhawks whatever they need out of him.