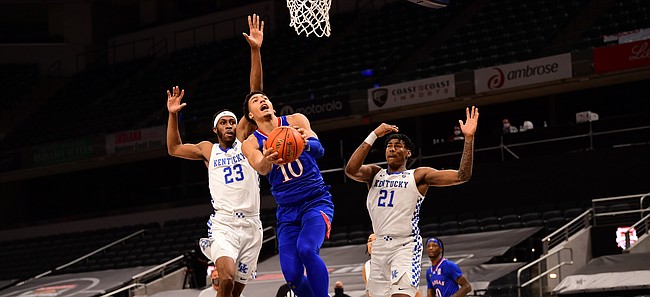 No. 7 Kansas Jayhawks (2-1) vs. Washburn Ichabods (3-0)
Time: 7 p.m., Thursday, Dec. 3, 2020
Location: Allen Fieldhouse, Lawrence, Kan.
TV: Big 12 Now via ESPN+ | Radio: IMG Jayhawk Radio Network
Log on to KUsports.com for our live game blog coverage and follow the KUsports.com staff on Twitter: @KUSports @mctait @bentonasmith & @SJacksonLJW
Keys for Kansas
1. Adjust to the atmosphere
Most seasons, the home opener at Allen Fieldhouse brings a certain amount of buzz with it, as Kansas fans are fired up to see their team back in action and the players themselves are ready to put on a show.
This season, there will be no fans at the fieldhouse, only cardboard cutouts, a handful of media members and coaches, players and staff members from each team.
Playing in an empty gym won't be entirely new, of course, as Kansas played in a vacant Bankers Life Fieldhouse in Indianapolis on Tuesday night and competed in front of just 300 fans in Fort Myers, Fla., last week. But those were on the road.
Playing inside an empty Allen Fieldhouse will take some getting used to, not only for the feel of it all but because these players are so used to getting a lift from the home crowd every time they suit up in Lawrence.
"It's going to be different," KU coach Bill Self said after Tuesday's win over Kentucky. "But it's gonna be different all year long and we might as well just roll with it."
2. Defend the 3
Former KU guard Brett Ballard's Ichabods enter this one shooting 42% from 3-point range on the season, knocking in 31 of 74 attempts in their three games — all victories — so far this season.
"We've got to guard and get to shooters," Self said of the defensive game plan versus the Ichabods.
Three of the four Washburn players with double-digit 3-point attempts so far this season are shooting above 40%, with Tyler Nelson's 8-of-14 clip (57%) leading the way.
Nelson hit seven of eight shots from 3-point range in the Bods' most recent victory.
Jet-quick guard Jalen Lewis (7-of-15) is next at 47% and leading scorers Drew Maschoff (18 points per game, 5-of-12 3-point shooting) and Tyler Geiman (17, 5-of-16) round out Washburn's 3-point attack.
Kansas, so far this season, has held its opponents to 34.5% shooting from behind the arc. That mark was helped greatly by KU holding Kentucky to 3-of-21 shooting from 3-point range on Tuesday night.
3. Let the small-ball lineup blossom
Typically when the Jayhawks' face in-state programs like Washburn in exhibition play, it's KU's size that sets them apart and makes it nearly impossible for the opponent to match up.
While that figures to be a factor in this one, as well — and it could be just the game junior forward David McCormack needs to get out of his early-season funk — the Jayhawks also should get ample opportunity to continue to fine-tune their small-ball lineup.
Guarding shooters on the perimeter will require Kansas to play small for large chunks of this one, and that can only be viewed as good news for the Jayhawks.
The smaller lineups, with Jalen Wilson at the 5 and Dajuan Harris on the floor as a second point guard, have been KU's best this season, producing a plus-33 plus/minus number during the first three games.
That's plus-33 despite the Jayhawks' scoring differential being just plus-13 in its first three games.
McCormack and Mitch Lightfoot should get the chance to build some confidence against the Ichabods, who have just two players taller than 6-foot-7 and no one bigger than 6-9, but this also will be a great, low-pressure opportunity for KU's perimeter players to continue to build chemistry.
Marquee Matchup
Kansas offense vs. itself in the turnover department
The Jayhawks have struggled to take care of the ball during the first 10 minutes of all three of their games so far this season.
Against Kentucky on Tuesday night, KU turned it over eight times in the first half, with many of those coming in the first 5-10 minutes, which allowed UK to build a lead of as many as 13 points before KU clawed back.
Prior to that, it was 10 first-half turnovers and a decent-sized hole against Saint Joseph's and four turnovers in the opening couple of minutes and another double-digit deficit in the first half of the loss to Gonzaga.
In short, the Jayhawks have to start taking better care of the ball early so they don't have to crawl out of these double-digit holes late in the first half and at the start of the second half.
Somewhat surprisingly, senior point guard Marcus Garrett, who led the Big 12 in assist-to-turnover ratio last season, has been one of the Jayhawks' biggest offenders in the turnover department.
Garrett turned it over four times against the Zags and three more times against Kentucky on Tuesday night and he and McCormack lead the team with 15 combined turnovers.

Jayhawk Pulse
Unlike most matchups with Washburn, which typically are played during the exhibition portion of the schedule, this one will count on Kansas' official win/loss record.
Fun fact: The will not count for Washburn, which competes at the NCAA Division II level in the MIAA Conference.
That should create an interesting dynamic between the two teams, but probably won't do much to change the competitive nature of this one. The Ichabods will still be fired up for the opportunity to take on one of college basketball's best. And the Jayhawks figure to be locked in on fixing the things that need improvement.
When asked about the unique opportunity to play an exhibition game in the middle of the regular season, Ballard, who is 65-31 in his fourth season at WU after both working and playing for Self at the outset of his coaching career, joked: "(It) means I don't have to put this on my official coaching record."
He added: "It's a great opportunity for everyone involved in our program to play in the best venue in all of sports against one of the best teams in the country. Our players are excited and we look forward to competing against an elite team."
Kansas leads the all-time series with WU, 38-3. That includes a 9-0 mark in exhbition games. The game between the two that was played on Nov. 15, 2007, was the last time the game played out like it will in this one, with KU playing a regular season game and the Ichabods playing an exhibition.
The Jayhawks have won 47 consecutive home openers dating back to the 1973-74 season and will be playing for the second time in an eight-day stretch that includes four games.
KU will play host to North Dakota State at 3 p.m. On Saturday and welcome No. 9 Creighton to town for a 4 p.m. top-10 clash on Tuesday.
Probable Starters
No. 7 Kansas
G – Marcus Garrett, 6-5, 195, Sr.
G – Ochai Agbaji, 6-5, 210, Jr.
G – Christian Braun, 6-6, 205, Soph.
G – Jalen Wilson, 6-7, 190, RS-Fr.
F – David McCormack, 6-10, 265, Jr.
Washburn
G – Tyler Geiman, 6-1, 175, Sr.
G – Jalen Lewis, 5-11, 170, Jr.
G – Tyler Nelson, 6-3, 195, Soph.
F – Will McKee, 6-7, 195, Jr.
F – Jonny Clausing, 6-9, 220, Jr.