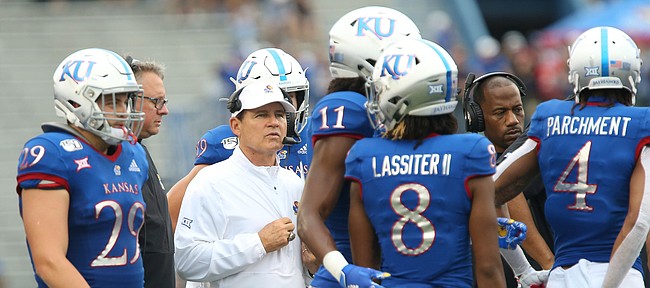 If Les Miles has a specific No. 2 quarterback on his depth chart — and if that player is his oldest son, Manny Miles — the Kansas football coach is keeping that information within the walls of the team's facility.
When Carter Stanley's helmet came off on a play in the third quarter last weekend against West Virginia, the Jayhawks' starting QB, by rule, had to leave the field for one snap.
When that happened, it was Manny Miles who entered to handle the position and not junior reserve QB Thomas MacVittie.
KU's published depth chart lists Stanley's backup as either Manny Miles "or" MacVittie.
So is Manny Miles KU's second string quarterback?
"He's the guy that went in on that play, period," Les Miles replied Monday during his weekly press conference. "Had a nice pitch, turned and got a block. To be honest with you, for one play, spectacular."
With Stanley on the sideline standing next to MacVittie, who wasn't wearing a helmet at the moment, Manny Miles was under center promptly. The graduate transfer from North Carolina turned to pitch the ball to Pooka Williams Jr. for a 12-yard gain.
Stanley came right back in for the next snap, as well as the remainder of the 29-24 home loss.
"I wondered if Manny paid Carter for that," Les Miles joked. "'Hey, if your helmet comes off, I'll be right there. What do you think? Couple bucks?'"
Stanley, asked about that possibility, laughed it off.
"I could see him saying that," a smiling Stanley said of his head coach. "But, no. No money this time."
Sosinski expected back this week
One of five Jayhawks so far this season who has caught a touchdown pass from Stanley, senior tight end James Sosinski could be back in the lineup for KU's Big 12 road opener at TCU on Saturday.
Out each of the past two weeks due to an unspecified injury, Sosinski is expected to return to practice "early this week," his head coach said.
"We plan on taking him to Dallas and plan on his pieces being added to the game plan," Les Miles said of Sosinski, who caught five passes for 61 yards and a TD in the first two weeks.
No news on Prox
Miles, however, provided no such update on KU's leading tackler, junior linebacker Dru Prox, who appeared to injure his shoulder during Saturday's loss.
"I am told that it is not a terribly serious issue," Miles said, "and I can't comment extensively."
The coach said HIPAA prevents him from sharing such medical information about his players. Miles then took a lighthearted moment to ask if anyone knew the words that spell out the acronym, HIPAA.
"HIPAA, it's the hospitality… intervention… protocol. I think that's it, by jove," Miles joked.
HIPAA is the Health Insurance Portability and Accountability Act, a piece of U.S. legislation passed in 1996 that helps safeguard medical information.
Stanley moves into KU top 10s
Stanley's 275 passing yards against WVU on Saturday moved him to ninth in KU football's record books in career passing yards, with 3,232.
That wasn't the only KU list on which the fifth-year senior from Vero Beach, Fla., moved up either.
By completing 19 passes, Stanley is now tied for ninth with Jordan Webb in career pass completions at KU (300).
Plus, Stanley's three touchdown passes gave him 21 for his career, pushing him to 10th all-time at KU in that category.
Through four starts this season, Stanley is completing 72% of his passes (72-for-100) and has thrown for 861 yards and eight touchdowns, with four interceptions.
KU-OU time, TV announced
KU's next home game, an Oct. 5 matchup with Oklahoma, will kick off at 11 a.m. at David Booth Kansas Memorial Stadium, the Big 12 announced Monday.
The game will be available nationally on either ABC or ESPN.
The Sooners (3-0) are currently ranked No. 6 in the country.