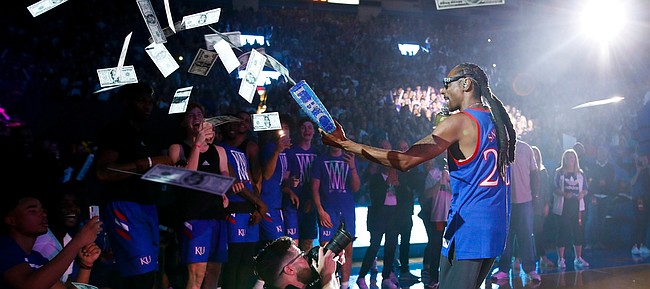 Kansas basketball coach Bill Self said Wednesday that it was not his intent to taunt the NCAA or anyone else with the promotional video and performance by Snoop Dogg at Late Night last week.
The rapper's performance, which featured pole dancers, profanity-laced lyrics and fake $100 bills shot from a money gun into the crowd toward players and recruits, has been a hot topic nationally since last Friday. But so too was a promotional video days prior to the show, which featured Self wearing a chain with a dollar bill sign attached to it while also wearing Adidas apparel.
Representatives from Adidas have been convicted in federal court of paying family members or guardians of recruits in order to get the recruits to attend KU, which has led to the allegations that the NCAA has leveled against the men's basketball program.
Self said he didn't know how having an entertainer perform could be construed as "sticking it to anybody, including the NCAA."
"That has actually been a narrative that some people have used since this. … If you've followed us, I do stuff for Late Night every year. This year was no different," Self said. "I just happened to be wearing an Adidas shirt (in the pre-Late Night video), who just happens to be our sponsor for our next 14 years that helped sponsor the event. It was innocently given to me and I just put it on.
"I do not like the narrative that has been said with that concerning me. But I also understand that I can't control what the media writes or their opinions. I do know and people who know me know that that's not factually true in any way, shape or form."
KU Athletic Director Jeff Long issued an apology for the racy nature of the Friday night performance shortly after the show. And Self, who was the only one from KU who spoke with the media after Late Night, said the performance was more than he expected.
On Wednesday, several KU players got their chance to respond, and the collective opinion was that they were done talking about what happened in the past.
"I mean, it was five days ago," junior guard Marcus Garrett said. "We've had a lot of practices since then and that's what we're focused on. We had a great Late Night. I was happy to be out in front of the fans, being able to play the game I love."
Sophomore point guard Devon Dotson called the decision to bring Snoop Dogg in for Late Night, "above my pay grade," and he agreed with Garrett's stance.
"I didn't really get into that," Dotson said. "As a whole, Late Night was a great night for all of us, so we try not to focus on all that. We've moved on from that. We're not trying to focus on what happened in the past. I'm looking to play basketball here and try to get wins."
The response to the Snoop Dogg concert is the latest cloud to pass over a program facing serious allegations and potentially severe punishment from the NCAA over a lack of institutional control as it relates to a recent federal case over corruption in college basketball recruiting.
Adidas and its connections to KU and Self sat at the core of that case and Self said there was no development in KU's response to the notice of allegations sent by the NCAA to KU in late September.
"We are aligned as a university, athletic department and certainly our basketball program," Self said Wednesday. "There is still a story that hasn't been told and that would be our story. And that will be told in a way that is consistent with the NCAA process and when it's the right timing to do that. I very much look forward to that day. But right now we're locked up as we wait for that opportunity."
After responding to a question about the general timeline of KU laying out its defense, Self said he believed that "late spring, early summer" was the earliest that the case could be resolved.
Self also was asked directly if he thought the looming allegations could have any impact on the current season.
"No," he responded. "My concern with this team is preparing them to have the best season we can possibly have and play as deep into March as we possibly can. That's my focus. That's our players' focus. There's been nothing that has been stated to me by anybody that would temper that motivation or excitement to do that."
On a day typically reserved for predictions and a look at the upcoming season, focusing on what's ahead was also the universal goal of the Kansas players, who juggled as many questions about off-the-court issues as those about lineup looks, team goals and player performance.
"There's countless reasons we should go even harder this year," Dotson said. "We're as motivated as ever, as motivated as any team in the country and we're looking to beat anybody in front of us."
Junior forward Silvio De Sousa, who missed all of last season to serve a suspension for his guardian's role in the recruiting scandal but is eligible for the upcoming season, wholeheartedly agreed.
"Right now, I just think we are so motivated," De Sousa said Wednesday. "I have been a part of so many teams, and I have never seen something like this."