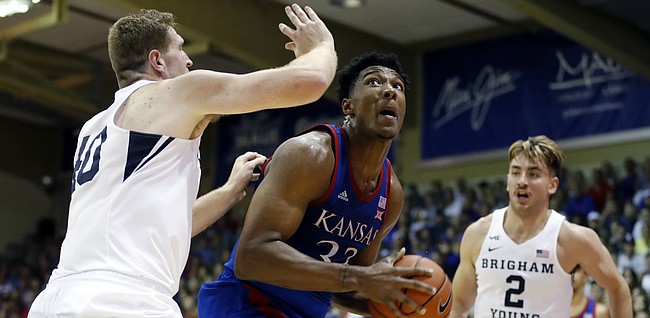 No. 4 Kansas Jayhawks (5-1) vs. Dayton Flyers (5-0)
Time: 4 p.m. | Location: Lahaina Civic Center, Lahaina, Hawaii
TV:ESPN | Radio: IMG Jayhawk Radio Network
Sign up for ESPN+ and watch your Hawks on the go.
Log on to KUsports.com for our live game blog coverage and follow the KUsports.com staff on Twitter: @KUSports @mctait @bentonasmith @SJacksonLJW & @ByBradenShaw
Keys for Kansas
1. Defense wins
Lahaina, Hawaii — That slogan is one of the oldest in sports, but it also happens to be proven true as often as people say it.
That certainly was the case for Kansas on Tuesday, when the Jayhawks locked down BYU and forced the Cougars completely out of everything they wanted to do offensively in the 71-56 Kansas victory.
While BYU is an efficient and disciplined offensive team, the animal the Jayhawks are facing against Dayton today is on a whole different level.
The unbeaten Flyers entered Maui ranked first nationally in field goal percentage (55.7%), tied for first with Texas Tech in assists per game (22) and eighth in the country in both scoring (89.7 ppg) and assist-to-turnover ration (1.78).
Dayton ranks sixth nationally in the KenPom.com ratings in adjusted offensive efficiency and Kansas ranks fifth nationally in adjusted defensive efficiency.
That sets up a colossal clash in which both teams enter the game on the heels of doing what they do best just one night earlier.
Dayton was lights out offensively against Virginia Tech and never gave the Hokies a reason to believe they were in that game. And Kansas did the same thing to BYU with its defense from the midway point of the first half to the end.
2. Energy a must
It likely goes without saying in a championship game of any kind, but KU will need to match Dayton's energy right out of the gate to find its footing in this one.
Good energy early hasn't really been a problem for the Jayhawks so far this season, save for the first five minutes of the Round 1 over Chaminade.
But the Jayhawks will need as much as they can muster, from all five spots on the floor, to match what's expected from Dayton.
Consider the following comments from Virginia Tech players following the beating they took by Dayton in Tuesday's first semifinal in Maui.
"We just came out with bad energy," Wabissa Bede said. "I kind of felt it from like the layup line, our energy was kind of low, we weren't as upbeat as (Monday vs. Michigan State). We knew how good they were and we knew they were a great team and they came out with fight from the first media timeout. You could tell the energy was high, the fans were in it, it was like a home game for them."
Said Hunter Cattoor of the Flyers: "Great team. Came out with more energy than us and we never matched it."
Knowing a team is good and bringing the right mindset to compete against that team — matching possession for possession, hustle play for hustle play, defensive stop for defensive stop — are two completely different things. And it starts with energy.
KU doesn't have to play fast and sped up, nor does it have to constantly attack. But the Jayhawks do have to be intentional about being turned up and matching — or exceeding — the kind of juice the Flyers bring to the floor.
If the first two days of the tournament are any indication, that's going to be a lot. And it's likely to be even more than anything we've seen to date because of the stakes of Wednesday's clash with Kansas and the lofty ranking next to the Jayhawks' name.
3. Tough at the rim
The Jayhawks have known what they're going to get from senior center Udoka Azubuike since the opening minute of the opening game of the 2019-20 season.
But the adventure with fellow bigs David McCormack and Silvio De Sousa has been a different story.
While both have shown quality flashes throughout the season — including McCormack's strong 16-point outing against BYU in the semifinal victory Tuesday — neither has consistently played with the type of toughness KU coach Bill Self would like.
Put another way, if you're going to be a labeled a big man, you might as well play big.
Kansas will certainly need all three players to do just that in this one against a Dayton team that recorded a whopping 20 dunks in its semifinal win over Virginia Tech.
The Flyers got a lot of those from star forward Obi Toppin, but he had help and Dayton, as a team, shot 64% for the game.
It doesn't have to be pretty, but it better be effective or else Dayton and the 48 points in the paint it got against Va. Tech on Tuesday could be a big part of today's final against Kansas.
Marquee Matchup
Dayton sophomore Obi Toppin vs. the Kansas Defense
Asked after Tuesday's 71-56 win over BYU in the Maui Invitational semifinals how his team would guard Dayton standout Obi Toppin, Kansas coach Bill Self was dead honest.
"I don't know," Self said.
That no doubt changed in the hours that followed Self's conversation with two reporters on his way the team bus, but it could be the biggest factor in deciding the outcome of today's title game.
Toppin, who has exploded onto the scene this season, and is now widely regarded as a future NBA lottery pick, is a matchup nightmare in the mold of NBA superstar Kawhi Leonard.
Big enough at 6-foot-9, 220 pounds to do damage against smaller players in the post, but also athletic and skilled enough to take big guys outside on the perimeter, Toppin has scored 49 points so far in Maui on 19-of-25 shooting and has been far and away the tournament's most consistent and talented player.
Although the game plan was far from set, Self had at least an inkling of how Kansas might try to guard Toppin in hopes of slowing him down.
"I think Dok will a lot," Self said of 7-foot center Udoka Azubuike. "Are you going to play where Marcus (Garrett) guards him some? We're going to switch enough so there'll be different guys guarding him."
Those two players, along with KU sophomore David McCormack figure to get their turns on the talented Dayton sophomore. But if they don't prove to be any more successful at slowing him down than Georgia and Virginia Tech were, it could be a rough final for the Jayhawks.
Jayhawk Pulse
Kansas coach Bill Self is thrilled to be back in the Maui Invitational title game for the third consecutive trip.
But at this point, the Kansas coach is hoping things end up like they did in 2015 (with a trophy and a win over Vanderbilt) as opposed to the way they finished in 2011, when KU fell to Duke in a hard-fought title game.
"Any time you win two, you want to win the third," Self said after Tuesday's victory over BYU. "But the key to these three-game tournaments (is) you've got to go home with two. And so tomorrow I bet that both teams play a little bit more relaxed knowing that."
Both teams already have two wins, of course, and the worst either program will walk away from its trip to Maui with is a 2-1 record and a runner-up finish. That's not bad after traveling more 3,800 miles. And Self will take that over the alternative of being 1-1 and needing a win in the third-place game to make the trip worthwhile.
"When you play in a tournament like this and you lose in the semis and you got to flip it and play a third-place game with somebody that's, you know, your equal or possibly better, I mean, that makes it hard. So I look for both teams to play very well tomorrow."
The KU-Dayton series is tied at one win apiece, with the Flyers winning the first meeting between the two clubs in 1968 and Kansas winning the most recent meeting, a 2009 NCAA Tournament victory that featured Cole Alrdich recording a triple-double.
Kansas is gunning for its third Maui Invitational title (1996 and 2015) and Dayton its second (2003).
Probable Starters
No. 4 Kansas
G – Devon Dotson, 6-2, 185, Soph.
G – Ochai Agbaji, 6-5, 210, Soph.
G – Marcus Garrett, 6-5, 195, Jr.
F – David McCormack, 6-10, 245, Soph.
C – Udoka Azubuike, 7-0, 265, Sr.
Dayton
G – Jalen Crutcher, 6-1, 175, Jr.
G – Trey Landers, 6-5, 221, Sr.
G – Rodney Chatman, 6-1, 178, Jr.
F – Ryan Mikesell 6-7, 217, Sr.
F – Obi Toppin, 6-9, 220, RS-Soph.