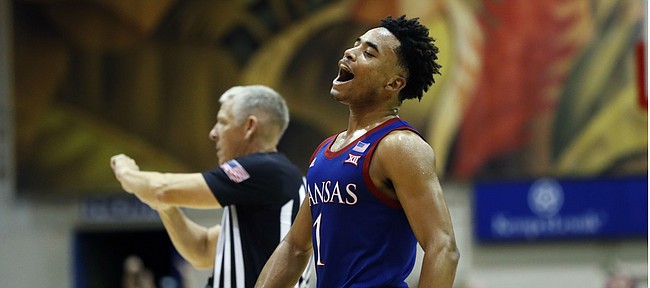 Lahaina, Hawaii — It was as if they had rehearsed it.
After three dribbles, two steps and the biggest rumbling the island of Maui has heard since its last severe thunderstorm, Kansas big man Udoka Azubuike threw down the dunk of the tournament to date during the fourth-ranked Jayhawks' 71-56 semifinal win over BYU at the Maui Invitational.
In unison, the loud and proud Kansas fans who turned Lahaina Civic Center into Allen Fieldhouse South Pacific again on Tuesday night let out a roaring, "Boom!" as Azubuike punished the rim.
The bucket was only worth two points, but in a grind-it-out game full of tough baskets, it meant something. Particularly because it proved to be the catalyst that pushed the Jayhawks (5-1) to a 42-29 second-half advantage and into today's championship game versus Dayton.
"Any time we see Dok go coast to coast and dunk it, that's definitely going to spark our team," KU big man David McCormack said after Tuesday's win. "It was definitely a kick-starter for our team. We got energized behind him and started playing with a lot more energy after that."
Azubuike, who smiled sheepishly in the postgame press conference when asked to describe the dunk, said he did not think he was going to get a chance to try it.
"I thought the ref was going to call a foul or something," Azubuike admitted. "But he didn't. Every day in practice we work on dribbling the ball and all that stuff so that kind of helped me a little bit. I just saw the front of the rim and I just dunked it."
To put it that simply would be akin to saying the Jayhawks just played defense in this one.
According to Self, Azubuike and McCormack, the Jayhawks' effort on the defensive end against BYU was worthy of some big time praise.
"We didn't guard one time like that last year," Self said on his way to the team bus. "That was a hard team to guard. And early in the game they had us on our heels the first 10 minutes. But after about the 10-minute mark, I don't know if I can remember us locking in and being any better defensively."
One night after shooting 62% in a win over UCLA, BYU (4-3) shot just 39% against the Jayhawks.
What's more, Kansas forced 20 turnovers and suffocated the BYU guards with bigger, stronger, longer bodies on the perimeter.
"Well I think we're pretty athletic on the perimeter," Self said. "And we wanted to play to our athletic ability. And we thought it was really important against them to pressure the ball and then maybe not deny as much just because they back cut so much. But I think we got beat on one back cut. That was in the second half. So I thought the guys did a good job, in a short amount of time, of kind of knowing what their end game was offensively."
Six Jayhawks recorded steals, several got on the floor for loose balls or raced in front of passes to get deflections.
"Making all hustle plays, diving on the floor, getting a hand on deflections, those little things cause bigger plays to happen," McCormack said. "We just got hit in the mouth first at the start of the game and then we realized what we needed to do, really defend and stick to our principles, and that's what we did. That's how we forced those turnovers and got steals (that) translated to our offensive game."
Self compared the contest to a Big Ten game.
"It was a grind-it-out, bad, no-offensive-flow, really for both
teams, and you just trying to steal some extra possessions and don't give up any easy baskets," explained Self, who coached three seasons in the Big Ten while at Illinois. "A ton of Big Ten games, when I was in the league, were like that. The game was played fast enough that you could think both teams could score 80 or 90 to start. And then you look at the score at halftime and it's 29-27. So it's one of those games where you don't play great and you look up and you're still ahead."
After watching a hard-earned lead of six points trimmed to two by halftime, the Jayhawks opened the second half on a 15-6 run to take command.
"Kansas is a really good team," BYU's Kolby Lee said after the loss. "And, defensively, they make it really hard for an offense to run their stuff. They're really good at keeping it on one side of the floor."
Added BYU coach Mark Pope: "We actually had a really tough time passing against their length. You're sitting there and you have an open roll (man) and you can't just quite get it to them. Our guys really struggled with that."
And Self loved every second of it. After the victory, the Kansas coach called Tuesday's outing "fun for me to watch from a defensive standpoint."
"When you shoot it inconsistently like we do, it's going to be nights like that," Self said of his team, which shot 41% from the floor and 22% from 3-point range. "You've got to have something to hang your hat on, and hopefully (the type of defense we played tonight will) be what we hang our hat on."
KU's victory moved the Jayhawks into today's 4 p.m. title game against unbeaten Dayton, which rolled past Virginia Tech into the title tilt, 89-62, behind 24 points and eight rebounds from stellar redshirt sophomore Obi Toppin.
Toppin, a 6-foot-9, 220-pound matchup nightmare, has scored 49 points on 19-of-25 shooting in two games in Maui.
Self spent time around Dayton coach Anthony Grant, when Grant was on his USA Basketball staff two summers ago.
"Anthony is one of the classiest guys in our business," Self said. "Unbelievable human being. And he's got a terrific team. And it will be a fun, competitive big-boy game tomorrow, from a physicality standpoint. I really like his team and I know he does too. It should be a fun game."