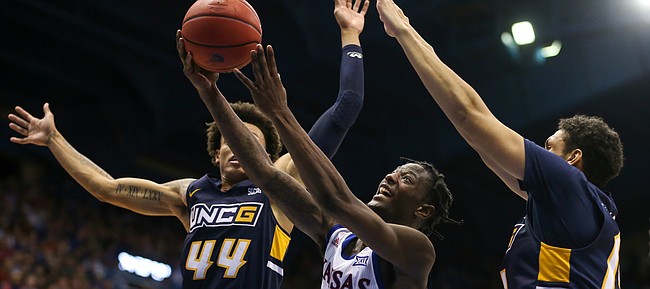 Year after year, for as long as Bill Self has been the head coach at Kansas, the Jayhawks have scheduled the toughest nonconference teams they can find.
While that often has included dates with Kentucky, Duke, Villanova, Arizona and Michigan State, it also has been true outside of the power conferences, where KU continually has welcomed to Allen Fieldhouse the top teams in several mid-major conferences.
That was the case again on Friday night, when the Jayhawks knocked off UNC Greensboro, 74-62 at Allen Fieldhouse. UNCG entered the season picked to finish second in the Southern Conference.
"I was told just the other day that they were the last team not to get in (to the NCAA Tournament last March)," Self said of UNC Greensboro. "There was an upset in (another) conference tournament or they would've gotten an at-large bid. That's hard to do from a mid-major league. This is a harder game because, if you win the game against Duke, obviously there's some adrenaline and if you don't there's the loss thereof."
Photo Gallery
Kansas basketball v UNC Greensboro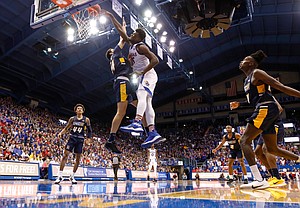 View a gallery of images from Friday night's game between the Jayhawks and Spartans at Allen Fieldhouse.
Although he always has prided himself on the idea that playing tough teams makes his team tougher, Self has not always been a huge fan of this idea of seeking out the toughest schedule.
"Unfortunately we do," Self said. "Dumb. But that's what we've always done."
With about a third of KU's 13-game nonconference schedule locked in with tough games at the Champions Classic (Duke), the Big 12/SEC Challenge (Tennessee) and the Maui Invitational (possibly matchups with UCLA and Michigan State), the rest of the lineup features five teams picked to finish fourth or better in their conferences, including Southern Conference preseason favorite East Tennessee State, which comes to Lawrence on Nov. 19.
Colorado (second in the Pac-12), Villanova (second in the Big East) and Monmouth (fourth in the Metro Atlantic) all represent tough nonconference matchups in the weeks ahead.
Special guest
Nearly 70 years after her first attempt to get into Allen Fieldhouse, Donna Dilsaver, 87, of Lee's Summit, Mo., was on hand for Friday's home opener.
For five years in the 1950s, Dilsaver was a sports reporter at The Wichita Eagle. Believed to be the first women's sportswriter at the Eagle, she began working at the paper during her time at Goddard High and worked there until she was recruited away to be in public relations for the Girl Scouts of America.
At age 19, while still at the paper, her editor requested a credential for her to cover a game in Allen Fieldhouse, but the request was denied on the basis that a female's presence on press row would be "too much of a distraction."
"I'd have taken any game I could get," Dilsaver said Friday night. "But I decided if they didn't want me, I didn't need them."
All these years later, the lifelong member of the National Federation of Press Women, decided to give it another try. This time, Dilsaver and her son and daughter-in-law purchased tickets. But before the game, she received a tour of the facility and had her picture taken on press row.
"This is a very exciting night for me," Dilsaver said. "I've had it on my list for over a year and I decided I was going to keep it on my bucket list before I kicked it and here I am. I just want to be at that press table and say, 'I made it.'"
Thompson in town
Five-star, class of 2020 guard Bryce Thompson was at Allen Fieldhouse on Friday night for one last unofficial visit before decision day.
The No. 19-ranked player in the 2020 class per Rivals.com who hails from Booker T. Washington High in Tulsa, Okla., is down to a final four of KU, Oklahoma, Oklahoma State and North Carolina.
He has made trips to all four schools on both official and unofficial visits and is expected to announce his decision Tuesday morning during a ceremony at his high school.
Home sweet home
KU's victory over UNC Greensboro improved the Jayhawks' stretch of consecutive victories in home openers to a whopping 47 games, dating back to the 1973-74 season.
Kansas, at 22 in a row, is currently riding the fourth-longest home winning streak in NCAA Division I men's basketball. The Jayhawks won the last four Allen Fieldhouse games of the 2017-18 season and were 17-0 at home a season ago. Those victories, combined with Friday's win over UNC Greensboro, pushed the current home-court winning streak to 22, with 21 of those games coming at Allen Fieldhouse and one win at Sprint Center counting, as well.
KU's last home loss came during the 2017-18 season, when Oklahoma State beat the Jayhawks on Feb. 3, 2018.
Last season's perfect mark gave Kansas its 20th undefeated season at Allen Fieldhouse all-time.
The program record for longest home-court winning streak is 69 games, which stretched from Feb. 7, 2007, to Jan. 22, 2011. That streak is a Big 12 record and the 11th longest in NCAA DI history.
This and that...
Kansas now leads the all-time series with UNCG 2-0, with the only other matchup being a 105-66 win by the Jayhawks in 2002... KU is now 14-0 all-time against Southern Conference foes and will face another on Nov. 19, when East Tennessee State comes to town... The Jayhawks are now 94-13 in games immediately following a loss during Self's 17 seasons in charge of the program. That .877 clip is the best winning percentage in NCAA Division I during that time, topping Gonzaga (.828) by 17 more victories and three fewer losses. KU is 43-5 in games after losses in the past six seasons and was 8-1 in those games a season ago... The Jayhawks are now 789-113 all-time in Allen Fieldhouse, including a 250-14 mark under Self.... KU, which ranks second in NCAA history in victories, now has an all-time record 2,275-860. Kentucky, which topped Michigan State in its season opener in New York, is in first at 2,294 wins. North Carolina (2,262), Duke (2,177) and Temple (1,926) round out the Top 5.