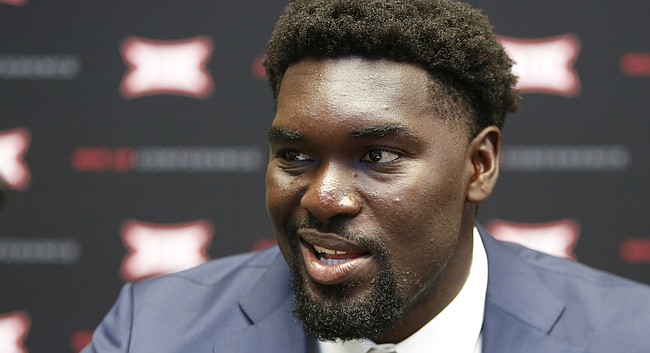 The bye week came with some good news for Kansas football offensive lineman Hakeem Adeniji, who discovered Thursday he will have a chance to showcase his skills to NFL draft coaches and evaluators in January.
His head coach, Les Miles, had a little fun, too, in delivering the word to Adeniji.

"Certainly I'm the older guy, and they could call me a senior, but I don't think that this is for me," Miles said while holding an invitation to the Reese's Senior Bowl, as a grinning Adeniji rubbed his hands in anticipation.
"I think this is for you. I think it's got your name on it," Miles added, in a video posted to KU football's social media accounts.
A 6-foot-5, 300-pound left tackle, Adeniji hugged and embraced his head coach while accepting the invite.
Adeniji read aloud a penned message from Reese's Senior Bowl's executive director, Jim Nagy, in the video: "Hakeem, congrats on the great college career at Kansas. Be ready to move inside (to play guard or center) during practice week if the participating coaching staff asks you to. Look forward to seeing you in January."
A native of Garland, Texas, Adeniji was one of 81 players from 45 programs nationwide to receive a Senior Bowl invitation.
"This moment is so crazy," Adeniji, a KU captain, said in the video, "because it's kind of like everything I've worked for my whole life. To get invited to this, one of the biggest NFL scouting grounds, it's like the premier all-star game. It's crazy to even think about. I'm just so grateful for the opportunity."
With three games remaining in his college career, Adeniji hasn't missed a start since arriving in Lawrence, and his streak currently stands at 45.
The 2020 Senior Bowl is scheduled for Jan. 25, in Mobile, Ala., and will air live on NFL Network.
Now in its 71st season, the showcase for draft hopefuls annually splits its two rosters into prospects from the north and south, and the players are coached in the Senior Bowl and its practices by the entire coaching staffs from two NFL teams.