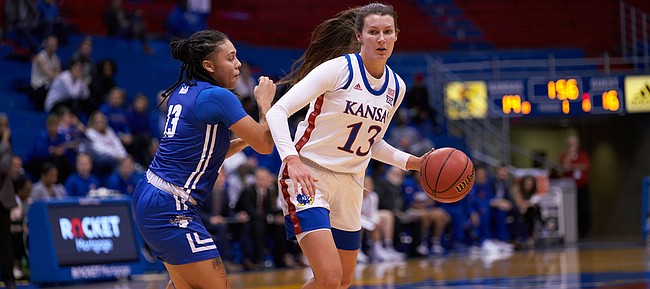 Needing an offensive spark in the second quarter, freshman guard Holly Kersgieter found herself open on the wing. Fellow freshman guard Zakiyah Franklin promptly dished to Kersgieter for a 3-pointer to regain the lead for Kansas.
"Shooting the ball was something that I'm very encouraged, if not yelled at, to do," Kersgieter said. "So I did it, and it worked."
Amid a sloppy first half for both sides, the duo of Franklin (16 points) and Kersgieter (24 points, 10 rebounds) pushed KU women's basketball to a 84-72 victory over Indiana State in the Jayhawks' home opener Thursday.
Document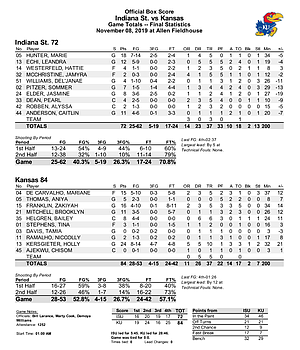 "It's nice to win a game where there's a lot of valuable lessons to be learned," KU coach Brandon Schneider said. "Both [Franklin and Kersgieter] contributed heavily to a winning effort. But I also think they learned a lot as well."
Coming in Franklin and Kersgieter pointed to veteran advice from their teammates of taking their first game one possession at a time and having a next play mentality.
"We've just got to have each other's backs," Kersgieter said. "We're all going to be nervous, especially since we're young."
Finally out on the floor, it didn't take long for the aforementioned sloppy play and fouls to rack up, as KU was in the bonus less than three minutes into the game. At the under-five minute timeout, Indiana State committed eight fouls.
By the end of the first half, the Sycamores were called for 17.
But while the opportunity for free points was there for the Jayhawks, KU shot just 6-of-16 from the charity stripe in the first quarter.
On top of that, sophomore guard Aniya Thomas was called for two quick fouls less than 30 seconds into the game. The Jayhawks committed 11 fouls in the first half as well.
"The whole team, we did a poor job adjusting to the whistle," Schneider said. "It was a tight whistle and we didn't adjust quick enough and found ourselves in significant foul trouble."
This forced others to step up offensively, and thanks to Kersgieter's 7 points off the bench, KU held onto a slim 19-16 lead at the end of the first quarter.
But Indiana State fired back out of the break, shooting 3-for-3 from beyond the arc to start the second quarter. Once again, Kersgieter was there to respond.
"When you get in the rhythm like that, it's nice to keep going," Kersgieter said. "They didn't adjust, so why stop?"
The 3-pointer kept momentum with KU, but it was also her work on defense and her ball movement that kept the Jayhawks afloat. Whether it was a steal and fast break layup in transition or hitting outside shots, Kersgieter was the go-to option in the first half.
Kersgieter led the way with 15 points on 3-of-5 shooting from 3-point range, and KU led 43-36 at halftime.
Franklin was close behind with 9 points and the Jayhawks shot 16-of-27 from the floor as a team, showing a bit more of an offensive spark near the end of the second quarter.
Coming out of the break, Kersgieter continued to make hustle plays on both ends of the floor, but it was sophomore guard Brooklyn Mitchell leading the way on offense with 6 points in the third quarter. Mitchell finished with 11 points in the game.
However, turnovers (five) and more missed free throws (4-for-9) kept KU from pulling away from Indiana State. The Sycamores — led by guards Marie Hunter (18 points) and LeAndra Echi (12 points) — lingered within striking distance, as KU led 59-55 at the end of the third quarter.
As if the rest of the game wasn't already a slugfest, both the Sycamores and Jayhawks traded baskets to start the fourth quarter. Even with Indiana State continuing to hit shots, KU found an answer thanks to junior forward Bailey Helgren hitting a trio of wide-open layups.
It also didn't help Indiana State that Echi fouled out with 4:32 left to play. The Sycamores finished with 33 team fouls.
Schneider said, even with the high foul count for Indiana State, the Sycamores' aggressive play proved to be a significant challenge. They hedged ball screens and disrupted passing lanes causing difficulties for the Jayhawks throughout the night.
"We didn't handle their aggressiveness," Schneider said. "It really wasn't the freshmen that didn't adjust, it was our veterans. And our veterans are sophomores."
Shortly after, Thomas fouled out for KU.
"That's a good lesson for her," Schneider said. "We all know that's frustrating and she wants to be in the game. She'll learn from that."
And even with Thomas fouling out, Kersgieter hit another 3 to extend the lead to 79-72 with just over a minute to play. Franklin also went 4-for-4 at the free throw line down the stretch to effectively ice the game.
"For me, losses are devastating and wins are a relief," Schneider said. "I wish there was more joy in what we do, but it's very short-lived, and it's (soon to get) ready for a 1 p.m. tip on Sunday."
KU will next host UIC at 1 p.m. Sunday.