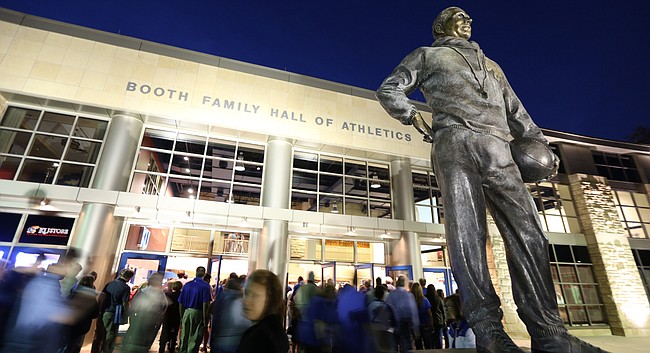 The University of Kansas says in its ticket broker agreement that it wants every men's basketball game at Allen Fieldhouse "completely sold out for the highest amount of revenue."
How much money is KU's exclusive ticket broker paying the university to secure the deal? For how many years? And how many tickets in which sections does the broker get?
Only KU and the chosen broker know.
But those specifics are the subject of a legal fight in Douglas County District Court, prompted by a competing ticket company's attempt to get them. A judge is weighing whether the details qualify as trade secrets, or whether KU must disclose them under the Kansas Open Records Act.
"Only 16,300 tickets are available at each of the roughly 18 home games played at Allen Fieldhouse each year," the exclusive broker, Overland Park-based Tickets for Less LLC, said in legal filings attempting to keep the specifics secret. "Needless to say, these tickets and the information surrounding their marketing and sale are highly valuable commodities in this small, yet hotly contested marketplace."
Tickets for Less sued Kansas Athletics Inc. in December to prevent KU from releasing what the company argues are its own "trade secrets" — to its competition or anyone else from the public.
Judge Amy Hanley granted a temporary injunction blocking KU from releasing an unredacted copy of its exclusive ticket broker agreement until she has looked at the hidden details herself, heard arguments and weighed the law, according to court records.
The case remains pending, with the next hearing set for August.
The dispute that led to the lawsuit started last year. A rival ticket broker that tried unsuccessfully to get the deal with KU, Overland Park-based Goody Tickets LLC, filed an open records request for KU's exclusive ticket broker agreement with Tickets for Less.
•••
According to filings in the case so far, obtained and reviewed by the Journal-World:
KU provided the document to Goody, but with redactions. Blacked out were specifics such as dollar figures, numbers of tickets, what sections they're in and how many years the agreement is in effect.
Company owner Jeff Goodman pushed back, demanding the unredacted version and making an open records complaint to the Kansas Attorney General's Office.
KU notified Tickets for Less that it planned to release the unredacted agreement barring a court order telling it not to, and that's when Tickets for Less took legal action.
The company argued that the redacted details are trade secrets.
Tickets for Less said the redacted information includes "the specific and unique means, methods and techniques TFL developed to acquire its inventory and service Kansas Athletics." The amount paid to an account, the cost of inventory and forecasting and revenue-maximizing methods are all involved, the company said.
Tickets for Less said releasing that information publicly would "render its proprietary knowledge and techniques useless as common knowledge," potentially cause it to lose its agreement with KU and threaten the company's viability.
Tickets for Less also argued that releasing the details publicly would harm members of the public who want tickets to KU basketball games.
"This would equally open a window for all to see Kansas Athletics' business practices, negotiating prerogatives, and relationship building preferences," Tickets for Less attorneys wrote. "... Kansans who wish to purchase the highly sought after tickets at issue also benefit from the exclusive nature of the Agreement, which results in the availability of tickets in a controlled market."
•••
Goody — which contends the terms in the agreement are not trade secrets — petitioned to intervene and be added as a third party to the lawsuit.
At a hearing earlier this month, the judge denied that request.
Essentially, the matter at hand is determining whether the redacted information constitutes trade secrets, and since Goody isn't part of the agreement and doesn't have access to the information, the company can't well speak to it, KU and Tickets for Less both argued in court filings.
In the meantime, the AG's office has put Goodman's open records complaint on hold pending findings by the Douglas County judge, according to an email included in Goody's court filings.
Goodman, obviously, will continue watching what happens.
"We still have an interest in it," he told the Journal-World last week.
In court filings, Goody contends the public has an interest in the matter, too.
"It relates to a public records request generally and because the requested Agreement relates to tickets distributed by the publicly funded Kansas Athletics to its donors," Goody's attorneys wrote.
"Several Kansas taxpayers and Kansas Athletics' donors are Goody's clientele. Therefore, each have a vested interest in matters relating to the operation of Kansas Athletics, specifically basketball ticket distribution and the seating made available for donations made."
•••
Goodman said he thinks KU is giving Tickets for Less an unfair advantage.
He claims in an affidavit filed in the case that Kansas Athletics made "representations" to Goody that men's basketball season ticket holders weren't allowed to sell their season tickets and questions how Tickets for Less obtained seats in certain sections of Allen Fieldhouse. Goodman claims some of his clients were "threatened" with forfeiture of their season tickets should they sell seats back to Goody, but he believes they were allowed to sell them back to other brokers, including Tickets for Less.
Goodman's filings include summer 2018 screenshots from an online message board where Williams Education Fund members are complaining about being asked to increase their donations yet getting worse seat options in the annual Select-A-Seat process.
"My seats were much worse than I expected and I know a number of alumni that have already reached out saying they are getting worse seats and in some cases where they even increased their giving," Goodman said in an email to KU that was also filed in the case.
Neither KU nor Tickets for Less addresses those complaints in their filings in the lawsuit.
The Journal-World was unable to reach an attorney for Tickets for Less on Friday. Jim Marchiony, KU associate athletics director for public affairs, said he was unable to answer questions about the lawsuit or selling back season tickets on Friday.
Small print on the back of a 2018-19 season ticket says this: "Unless specifically authorized in advance by Kansas Athletics, this ticket may not be offered for commercial purposes (including sweepstakes, giveaways, or contests)."
•••
As for KU, it's been "put in the middle" by two competitive clients, university attorney Megan Walawender said at a recent hearing, according to a transcript filed in the lawsuit.
Walawender said KU does not know to what extent the information falls under trade secret law, because the university isn't privy to details about what steps Tickets for Less has taken to protect that information.
"Our interests are not aligned with either party," Walawender said. "We are looking to do what the law requires us to do... We're here really looking for guidance from the court."
KU said it's seeking to comply both with its obligations under the Kansas Open Records Act as well as the Kansas Uniform Trade Secrets Act.
The university does not object to the temporary injunction, at least. In one of its filings the university says, "during the pendency of an action under the Uniform Trade Secrets Act, the court must preserve the secrecy of an alleged trade secret by reasonable means."
---
The ticket agreement
The current "Exclusive Ticket Broker Agreement" between Kansas Athletics Inc. and Tickets for Less LLC was entered in July 2017 but the terms commenced in May 2017, according to a redacted copy of the agreement included in court filings in a pending lawsuit.
The number of years the agreement is in effect is redacted.
The agreement says that KU desires to ensure Allen Fieldhouse "is completely sold out for the highest amount of revenue." KU gives the broker the opportunity to purchase season tickets to help achieve that goal.
As for the terms, the agreement says:
• The broker agrees to pay KU a certain amount of money. The amount of the payment is redacted.
• That payment is considered a donation to KU's Williams Education Fund, and gets points pursuant to KU's priority point policy.
• In exchange, the broker can buy a certain number of tickets in certain seating sections, plus a certain number of season tickets. The number of seats and specific sections are redacted, as well as other passages regarding that matter.
• If KU has seats left after the annual Select-A-Seat process, where season ticket holders choose their seats, the broker "shall have the exclusive opportunity to purchase any Tickets for the remaining seat locations." KU makes no guarantees but anticipates there should be "approximately [redacted] and [redacted] seats available each year of the Agreement."
• KU agrees to "use its best efforts" to provide a minimum number of seats in certain sections. Those specific numbers and sections are redacted.
• The broker also can purchase parking passes, specifics about which are redacted.
Regarding postseason play and the unpredictable nature of postseason ticket availability, allocation of tickets is "guaranteed as a [redacted] donor under this Agreement and locations shall be determined solely by Athletics." The broker has "the exclusive opportunity" to buy any remaining unsold seat locations.