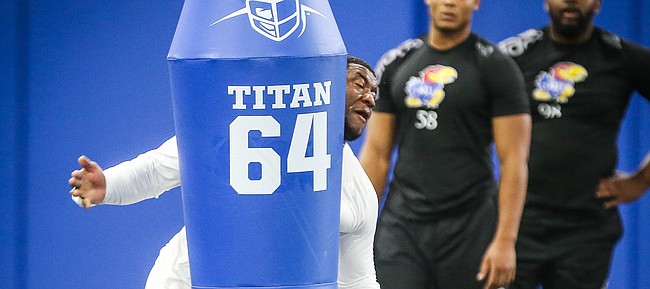 Daniel Wise arrived Wednesday at the Kansas football team's indoor practice facility with one very specific goal in mind.
Sure, the 6-foot-2, 279-pound NFL hopeful wanted to impress scouts with his position drill work, too, but Wise resolved long before KU's pro day to use the showcase as an opportunity to prove he was faster than he showed at the NFL Scouting Combine.
After finishing the 40-yard dash in 5.28 seconds at the combine a little more than three weeks earlier, Wise on Wednesday morning was clocked at 5.16 in the sprint. And for the defensive lineman from Lewisville, Texas, that made the entire day a success.
"I think it went well. I got the 40 time down, a lot better than what I did at the combine," Wise said, upon wrapping up his morning workout in front of scouts who traveled to Lawrence representing NFL franchises. "So I'm pleased with what I got. I think I did well in the drills, so I think I looked good overall today."
Photo Gallery
Kansas football Pro Day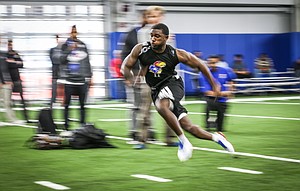 View a gallery of images as former KU football players work out for NFL representatives.
According to Wise, who has been doing pre-draft work down in Texas, he spent a lot of time over the past few weeks addressing his sprint technique. Plus, he felt "a lot less nervous" at KU's pro day than he did at the combine in Indianapolis.
"A little bit more prepared. Done it already. Kind of knew what was going on," Wise said of some factors, before adding it also helped that he felt at home with so many former teammates around.
A first-team All-Big 12 defensive lineman during his redshirt senior year at KU, in 2018, Wise further made a name for himself in January, at the East-West Shrine Game, where scouts were able to watch him practice and play.
"It probably helped me move up in a lot of guys' books. I was able to get inside and play true three (technique)," Wise said, "and a lot of guys liked the explosion, the hands, quickness and everything I was doing out there. So they thought I did well."
At this stage of the pre-draft process, Wise said he didn't want to "put a ceiling" on his projected status, but said he had heard some scouts and such think he will be a "mid-round" pick, when the NFL draft rolls around at the end of April.
Wise left KU's indoor facility feeling as though he had improved his draft stock. And he did so with his older brother, New England Patriots defensive end Deatrich Wise Jr., watching it all from the sideline.
The elder Wise, drafted in the fourth round in 2017, had coached his younger brother to "relax" and rely on his training. Having a Super Bowl champion of a brother there might have been a good luck charm.
"I think so," Wise said. "That's my guy. He's my brother. He brings the energy. I felt it from over there (on the sideline)."
Dineen hurts hamstring
Uninvited to the NFL combine, linebacker Joe Dineen eyed KU's pro day as a crucial step in chasing his dream to play on Sundays.
But his day was cut short when, near the 30-yard mark of one of his attempts at the 40-yard dash, Dineen hurt his right hamstring.
"It's stressful, for sure. It's tough. I was happy with one of the times I posted," Dineen said of a 4.6 showing in the 40. "I thought I was going to run a little bit faster than that, but overall I'm happy with the time I posted."
The 6-2, 231-pound Lawrence native and Free State High graduate entered the day planning to compete in other shuttle and position drills, as well. And he thought those might be areas where he could separate himself a little.
Now, Dineen, who redshirted in 2016 after severely injuring his right hamstring, will get right to rehab work.
While Dineen thought it was too early to tell how long this hamstring injury may slow him down, he felt confident that he only "tweaked" it.
"I didn't feel like a pop or anything. It just got tight to where I felt like it would probably hurt me if I went back out and tried to run on it," Dineen said. "It sucks. But it's a part of it. I'll be all right."
In April, Dineen has a workout scheduled with the Kansas City Chiefs. But on Wednesday on KU's campus, the prospect's day was ruined.
While sticking around to watch his former teammates and support them, Dineen spoke with Dorance Armstrong Jr., a fourth-round pick of the Dallas Cowboys a year ago. The feedback Dineen received was that he shouldn't sweat the timing of his setback.
"Kind of the thing I've heard is, this is just window dressing. Just to put numbers with a guy," Dineen said. "You know, what they're going to look at is the film and numbers that I put up in college, which fortunately for me, I think, are pretty good."
The 2018 first-team All-Big 12 linebacker led all FBS players in solo tackles per game each of the past two seasons — 9.0 per game in 2018, and 7.8 in 2017.
"Hopefully, if they just go look back at the film and they see that I can run somewhat fast, they'll take a chance on me," Dineen said.
The hometown linebacker has heard he could be a late-round draft pick or sign with a team as an undrafted free agent.
Taylor fastest Jayhawk
No one ran faster in the 40-yard dash at KU than cornerback Shakial Taylor.
According to the consensus times gathered by the program's strength staff with the help of the scouts in attendance, Taylor's 4.39 40 helped the 5-11, 175-pound defensive back stand out.
"I wish it was a little lower," Taylor said, sharing that he posted a 4.35 and 4.31 while training.
Taylor, who played his final two seasons at KU after transferring from Mesa Community College (Ariz.) and began his college career at South Dakota State, felt as though he accomplished something at the pro day by exhibiting his strengths.
"I feel like I'm under the radar," Taylor said. "I jumped good, did good in the drills and I ran a nice 40 time. I just wanted to come out here and show them my capabilities."
Once all the measuring and timing wrapped up, Taylor, as the only defensive back at the showcase, got the turf all to himself for position work.
"Even though I was the only one out there, I still fought through it, catching the ball and moving my hips well," Taylor said of having the spotlight. "It felt good until the end, when your legs get tired. Overall, it felt great, though. I felt like I came out here and did what I had to do."
Top Jayhawks, by category
While not every one of the 18 Jayhawks participating took part in every pro day event, wide receiver Jeremiah Booker emerged as the top performer on a number of occasions.
The 6-2, 206-pound receiver had the highest recorded vertical (39 inches), longest broad jump (10-7), fastest long shuttle time (11.25 seconds) and tied for first in the 3-cone drill (6.94 seconds).
Receiver Ryan Schadler tied Booker in the 3-cone drill, while posting the best time in the 5-10-5 shuttle (4.2 seconds).
Center Alex Fontana was tops in the bench press, lifting 225 pounds 29 times.