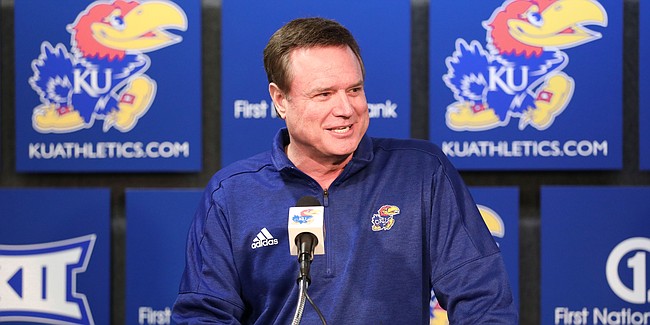 Kansas basketball coach Bill Self's first thought when the 2019 NCAA Tournament bracket was revealed Sunday evening could be boiled down to a single word.
"Hard," Self said during a meeting with the media at Allen Fieldhouse following the unveiling of this year's field.
Moments later, Self needed just two words to share his reaction to seeing his fourth-seeded Jayhawks placed in the Midwest region, where, if things go well, they would play a Sweet 16 and/or Elite Eight game at Sprint Center in nearby Kansas City, Mo.
"Almost shocked," Self said.
But forget about the fact that the Jayhawks could face No. 1 seed North Carolina or No. 2 seed Kentucky in the latter rounds of the Midwest regional if the ball bounces KU's way in Rounds 1 and 2.
Self's emphasis during his first glance at this year's bracket was on this week's more immediate challenges — KU's opening-round game against No. 13 seed Northeastern at approximately 3 p.m. on Thursday in Salt Lake City and a Round 2 matchup with the winner of No. 5 Auburn vs. No. 12 New Mexico State if the Jayhawks are fortunate enough to get past Thursday.
"I like that we're in the Midwest," Self admitted. "It'd be nice if we would've driven to Des Moines (or) Tulsa (for the first weekend) also, but usually when you're a 4 seed you don't get everything catered to you like we have sometimes in the past because we've been a 1. I like the fact that we're in the Midwest, but if favorites win, according to the seed line, having Carolina and Kentucky in one regional, that sounds more like a Final Four than a regional. But a lot of things have to happen for all teams for that to occur. We're just focused on a two-game tournament and have to put all our emphasis on that and don't even think past that."
Seeded outside of the top two slots for the first time in a decade — KU was a No. 3 seed and reached the Sweet 16 in 2009 — Kansas' path in this year's tournament stands to be very different than the one Self, his coaching staff and Jayhawk fans are used to.
But for a young team, with so many players experiencing the NCAA Tournament for the first time, Self said playing under the radar, a little bit farther from home, could be viewed as a positive.
"With the 1 seed, whether you want to admit it or not, it comes with pressure if you haven't ever dealt with it before," Self said. "Because everybody else believes they're playing with house money and you believe you have to do something. I'll certainly look at it from that perspective, but when you're a lower seed, then obviously the competition is also greater, too, at least in the first-round game. So I'm excited for our guys, to see how they'll react."
The initial reactions were about what you'd expect and had more to do with the anticipation and experience of it all rather than the basketball.
Sure, Devon Dotson and Dedric Lawson said all the right things about KU's first-round opponent — a dangerous 13 seed that enters this week at 23-10 and shot 38.8 percent from 3-point range this season — but the time to dive into the scouting report and breakdown of the Huskies would come in the next three days.
Sunday was about sitting with their teammates in the film room, seeing their name pop up on the television screen — KU's draw was not revealed until the final region — and celebrating the idea that they, in three days, will get to do something they've spent their entire lives dreaming of doing.
"It definitely feels official now, seeing the bracket and seeing your team get a seed as part of the bracket," Lawson said of Kansas, which will be playing in its NCAA-record 30th consecutive NCAA Tournament this week. "I was just excited, like, 'OK, OK. That's who we got.' It seems like it's going to be a fun tournament. … The anticipation was definitely there; just seeing where you land and your opponent is very intriguing, and you just want to be out there and start back playing again."
It's a very different situation than the one the veteran Jayhawks rode to the Final Four a season ago. From the seed to the road to the expectations and the experience, just about everything is different with this group compared to the past few.
Because of that, people appear to be viewing the fourth-seeded Jayhawks in a very different way than that of perennial top-two seed and national title contender.
"One of the announcers I saw said we were limping home," Self recalled Sunday. "And I could see how somebody could say that if they look at the scores — the Texas Tech score and the Oklahoma score — but this team's won 8 of our last 11 and that's after going through a whole bunch of stuff. And we're close to getting it, even though we haven't quite gotten it yet. So that tells me that there's still a great opportunity for our best to still be ahead of us.
"The biggest thing is to have fun, enjoy it. It's a reward of guys doing a good job on every team throughout the season, and we need to approach it that way and try to play as free as we possibly can."