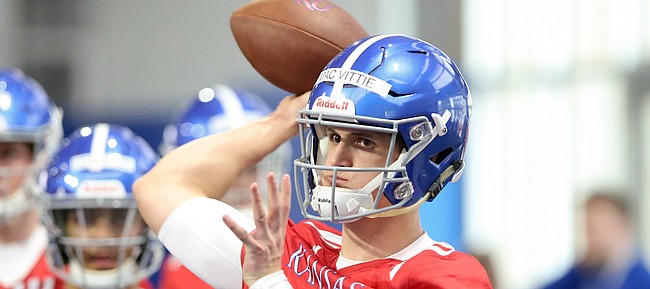 Even though the man who recruited him to the University of Kansas left before Thomas MacVittie ever had a chance to work under the assistant coach's tutelage, MacVittie wasn't afforded the time to ponder what might have been.
Les Miles made sure of that.
Once Chip Lindsey, KU football's short-term offensive coordinator and quarterbacks coach, bolted to become the head coach at Troy, Miles called MacVittie, the headlining QB of KU's 2019 signing class, at least once every couple days to keep him in the loop about everything going on with the program.
Miles would even tell the QB, who made his commitment official during the early December signing period, about other prospects KU hoped to sign.
"We're looking at this guy, we're looking at that guy. This is what they do," MacVittie related of their phone conversations before he arrived on campus in January.
Simple as the gesture was, MacVittie said this week, following his second spring practice with the Jayhawks, he got the sense immediately that Miles had faith in him, and the loyalty the QB felt from his new head coach put his mind at ease.
Photo Gallery
Kansas football practice with new coach Les Miles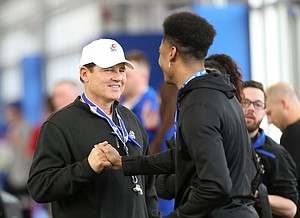 The Jayhawks practiced on Wednesday inside the new indoor practice facility with head coach Les Miles.
Oddly enough, this wasn't even the first time MacVittie, whose college career began in the ACC at Pitt, thought he would be playing for one offensive coordinator only to have another coach handling the position by the time he got to campus.
The quarterback points out that KU offensive coordinator Les Koenning — or "Coach K," as MacVittie calls him — is his 5th O.C. as he enters his fourth year as a college athlete.
Jim Chaney was the O.C. and QBs coach at Pitt in 2015, during MacVittie's recruitment. When the three-star prep QB from Archbishop Moeller (Ohio) signed with the Panthers in 2016, that job belonged to Matt Canada. Following MacVittie's redshirt season at Pitt, Shawn Watson was hired by head coach Pat Narduzzi.
After playing in just three games in 2017, on Pitt's punt return unit at that, MacVittie transferred to Mesa Community College (Ariz.), where he played for head coach and O.C. Ryan Felker.
And perhaps it's because of that array of unexpected changes that being at Kansas now feels like a chance to hit the reset button on his career as a quarterback.
MacVittie admitted he didn't know what he was getting into when he took the juco route that put him in position to get back to a Power Five program. But he said his personal faith and his willingness to trust he was doing what was best for his him made the whole ordeal feel special, once he joined the Jayhawks.
"I told the guys when I first addressed the team this is a blessing to be here," MacVittie shared. "I get a second chance. I'm not going to let it slip. I'm not going to take any day for granted."
Listed at 6-foot-5 and 215 pounds, MacVittie is easy to spot at KU football practices, looking the part of a prototypical QB who could sit in the pocket and easily survey the defense in front of him.
Conceivably, it's his stature and measurements that got him labeled as a pro style QB during his 2018 season at MCC, where he played in six games and completed 92 of his 172 passes (53.5 percent) for 1,064 yards, with 16 touchdowns and eight interceptions.
But MacVittie's Hudl highlight reel from his lone juco season also includes examples of him getting out of the pocket swiftly to make passes possible and a zone read on which he took off for a 70-yard run.
After KU's first practice on Wednesday, Miles mentioned run-pass option plays as one component of KU's offense, which sounds good to MacVittie.
"I'd definitely say the ability to extend plays is a strong suit of mine," MacVittie said. "I'd say an RPO is a perfect thing for my skill set, as well, the ability to make quick decisions and then tuck it and run it when I need to. I think I have deceptive speed. People don't think I'm too fast."
MacVittie is considered a frontrunner for the starting QB job in 2019, and he said Thursday he is taking first-team reps at practices.
But he also knows that status isn't a given. Carter Stanley is entering his fifth year with the program and has starting experience in the Big 12. Redshirt sophomore Miles Kendrick also took on a featured role as a backup in 2018, before sitting out the season's final eight games. Plus, true freshman Torry Locklin, a 6-2 lefty, might be the shiftiest and fastest QB of the bunch.
KU is only a few days into its 15-practice spring, and MacVittie said he can feel Stanley, Kendrick, Locklin and the team's walk-ons pushing him.
"Every quarterback has a strong suit and you've just got to be watching that guy, seeing what he does different than you, maybe a little bit better than you and try to add it to your game," MacVittie said.
As the competition inspires him, so too does the basic act of being on the football field. The junior QB whose complicated career arc led him to Kansas said sometimes he just takes a deep breath and thinks about what's in front of him.
"Going with the first team, that opportunity is amazing," MacVittie said. "Just the preparation that I need to have and the leadership and heart and passion that I need to have every day, that'll be shown, because I'm not going to let it slip again."