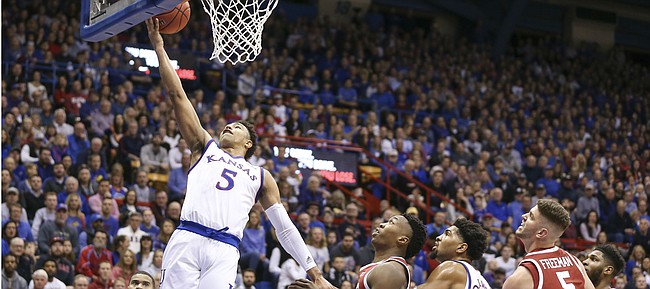 No. 13 Kansas Jayhawks (22-7 overall, 11-5 Big 12) vs. Oklahoma Sooners (18-11 overall, 6-10 Big 12)
Time: 8 p.m. Tuesday | Location: Lloyd Noble Center, Norman, Okla.
TV: ESPN2 | Radio: IMG Jayhawk Radio Network
Not going to be home for the game? Sign up for ESPN+ and watch your Hawks on the go.
Log on to KUsports.com for our live game blog coverage and follow the KUsports.com staff on Twitter: @KUSports @mctait @bentonasmith & @SJacksonLJW
Keys for Kansas
1. Fast-start focus
It's no secret that the Kansas men's basketball team has struggled on the road this season. All five of the Jayhawks' Big 12 losses have come away from home and Kansas also dropped true road games at Arizona State and Kentucky, leaving the Jayhawks with a 3-7 mark in hostile environments.
It's worth noting, however, that in each of those three victories — at Baylor, at TCU and at Oklahoma State last weekend — the Jayhawks got off to good starts, both in terms of the score on the scoreboard and the effort and energy they brought after the opening tip.
After feeling things out against TCU in the opening minutes, the Jayhawks ripped off a 12-3 run that allowed the Jayhawks to control the pace the rest of the half.
At OSU, KU looked sharp in all areas in jumping out to a 14-8 lead and had a couple of opportunities to extend that lead in the game's first 10 minutes.
And, at Baylor, back in mid-January, KU raced out to an 18-2 lead before taking a 10-point advantage into the locker room at halftime.
Those fast starts did not guarantee anything, as Kansas needed overtime to beat TCU, had to outplay OSU down the stretch to win that one and avoided a colossal collapse to hold on to beat Baylor. But those fast starts put the Jayhawks in a good head space and probably helped keep the opposing crowd under control, as well.
Oklahoma's crowd will be fiery. It always is when KU comes to town. And on this particular night, the Sooners will be honoring five seniors, so the emotions surrounding that could be even higher than normal.
There's nothing like a fast 10-2 start by the visiting team to put a damper on what the home team hopes is a big night.
2. Defense wins (again)
Following last Saturday's 72-67, grinder of a victory at Oklahoma State, Kansas coach Bill Self praised his team for the way it "really defended down the stretch" and the Jayhawks held OSU scoreless for the final 4:02 of that game.
A big part of the reason for that is pride. These Jayhawks, who still have plenty of issues and shortcomings, do have competitive pride on their side and seem to be a bunch that thrives in the tension of having to get a stop or make a play.
That mentality, if it shows up from start to finish, could be huge in this one, as the Sooners are, statistically speaking, one of the worst offensive teams in major conference basketball.
The Sooners rank 200th or worse nationally in effective field goal percentage (50.2), offensive rebound percentage (27.1), free-throw rate (32.2), 2-point percentage (49.6), free-throw percentage (68.6), 3-point shoot attempts and assists per field goals made.
Having said that, OU is coming off of one of its best offensive games of the season, recording a points-per-possession number of 1.21 against West Virginia, while hitting 10 of 21 from 3-point range and 24 of 29 from the free-throw line.
The Sooners currently average 19 percent of their points from free throws, which rank third in the Big 12, so the Jayhawks' recipe for success in this one is simple: Play aggressive, attacking defense without fouling.
Do that, and the Sooners could struggle to find enough offense to knock off Kansas.
3. Grimes' growth
After delivering arguably his strongest all-around game of the season on Saturday, when he dropped in 17 points, dished 3 assists and looked as smooth and comfortable as he has since joining the Jayhawks, Grimes has a chance to build on that and keep the momentum moving forward against the Sooners.
Confidence was the key for Grimes in both his big numbers against Oklahoma State and his ability to stay positive enough to record those numbers.
Grimes should like what he sees Tuesday against the Sooners, a team with which he matches up well and actually had some success against the first time around.
In that one, the KU freshman scored 14 points on 6-of-11 shooting and added 1 steal and 1 assist in 35 minutes.
While Saturday's 4-of-7 shooting clip from 3-point range marked the most makes for Grimes since his KU debut against Michigan State (6-of-10), the 6-foot-5 freshman actually has made 2 or more triples in 8 of his last 13 games, including 7 of 13 in the past two.
Clearly, Grimes' offensive production is headed in the right direction and the Jayhawks have not been shy about saying they need him to be at his best to reach their ceiling before the season ends.
Mega Matchup
KU sophomore Marcus Garrett vs. Oklahoma senior Christian James
The last time these two teams met it was a matchup of 11-1 squads on the opening night of Big 12 play.
Since then, the Sooners have fallen off quite a bit, winning just 6 of their last 16 games and falling into the lower level of the Big 12 standings.
But that hasn't been James' fault. The 6-4 senior, who has operated well in a lead dog role this season, still leads the Sooners in scoring and actually is one of the more impressive players in the entire conference in a couple of areas.
James ranks fifth in the Big 12 in scoring (15.1 points per game) and eighth in the conference in rebounding (6.6), while also ranking eighth in minutes played and seventh in steals.
In the first meeting with Kansas at Allen Fieldhouse, James struggled to get going and finished with just 11 points on 4-of-15 shooting. He did, however, add 12 rebounds, 2 assists and 2 steals to his final line, keeping the night from being a total waste in OU's 70-63 loss.
He should be ultramotivated in Tuesday's rematch, because of those struggles, his own Senior Night and the fact that the Sooners are still trying to solidify their resume for the postseason.
That's where KU's Marcus Garrett could come into play. In addition to being KU's best overall defender, Garrett has shown the ability to take individual matchups personally. Late in KU's win at Oklahoma State, it was Garrett who switched onto OSU's Curtis Jones and helped lock up the OSU guard who hit Kansas for 19 points on 7-of-9 shooting.
Beyond that, Garrett has the size and strength to contend with James, even if he is still coming back from that ankle injury that forced him to miss five games.
Jayhawk Pulse
Just a few days after winning early and putting a little pressure on the two teams above them in the standings, it's the Jayhawks' turn to play after Kansas State and Texas Tech, which both played Monday night.
After this, it's the season finale on Saturday against Baylor and then on to the postseason.
While the league race still means a lot to the Jayhawks — and, of course, the KU fan base — it's continuing to improve, come together, develop chemistry and find their stride that means the most to this crop of KU players and coaches.
One final road test against a hungry team that has been playing well should be a welcomed challenge for the Jayhawks, who, despite struggling all season in true road games, are in position to close the regular season by winning three of four away from home.
Dating back to its earliest days, Kansas leads the all-time series with Oklahoma, 148-67, including a 52-43 mark at games played in Norman, 19-18 at Lloyd Noble Center.
The Jayhawks have won six of the last seven meetings between these two and 19 of the last 22 since 2006.
Self is 8-4 against the Sooners in Norman, Okla., and Kansas, as a whole, is 26-8 against OU since the inception of the Big 12. OU coach Lon Kruger, a native Kansan, is 8-22 all-time against KU, including a 3-12 mark while at Oklahoma.
Las Vegas lists KU as a 1-point favorite in this one and KenPom.com gives KU a 52 percent edge in its predictive models for Tuesday's game.
Probable Starters
No. 13 Kansas
G – Devon Dotson, 6-2, 185, Fr.
G – Quentin Grimes, 6-5, 210, Fr.
G – Ochai Agbaji, 6-5, 210, Fr.
F – Dedric Lawson, 6-9, 235, Jr.
F – David McCormack, 6-10, 265, Fr.
Oklahoma
G – Jamal Bieienemy, 6-4, 181, Fr.
G – Christian James, 6-4, 213, Sr.
G – Rashard Odomes, 6-6, 217, Sr.
F – Kristian Doolittle, 6-7, 232, Jr.
F – Brady Manek, 6-9, 222, Soph.
More like this story on KUsports.com