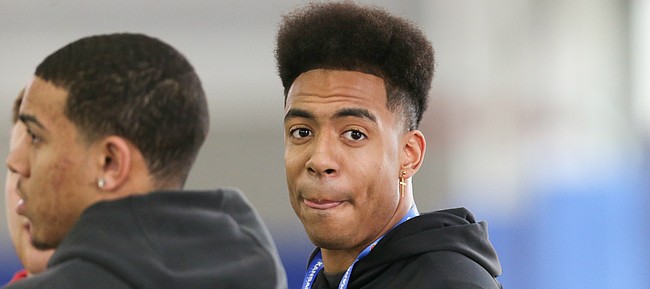 One of the first players to commit to Les Miles once he took over the University of Kansas football program late this past year, Jayden Russell won't play for the Jayhawks in Miles' first season after all.
Russell announced Monday night he was granted a release from his letter of intent with KU and that he is reopening his recruitment.
A KU spokesperson confirmed to the Journal-World that the team did grant a release to Russell, a three-star defensive back from St. Thomas Aquinas who signed this past December.
In a note Russell posted to Twitter, he wrote that the process with his ACT score initially led to a delay for him enrolling at KU this summer. What's more, Russell, who declined interviews on the matter, said that once KU coaches informed him that if the ACT process got sorted out, they wanted him to wait until the 2020 spring semester to enroll.
Russell, instead, is looking for a program that will allow him to join it immediately.
According to Russell, staff with KU informed him a 10-point increase from his second ACT to his third might get flagged, and it would be best for him to retake the test again and not report to KU until the start of preseason camp, once he received official word that he passed the ACT once again.
Per Russell's note, once KU asked him to put off enrolling until after the 2019 season, he opted to go another route. Miles declined to comment on Russell's description of the ACT processes.
Russell also thanked KU in his post for "being very understandable through this process," adding he is "grateful for everything."