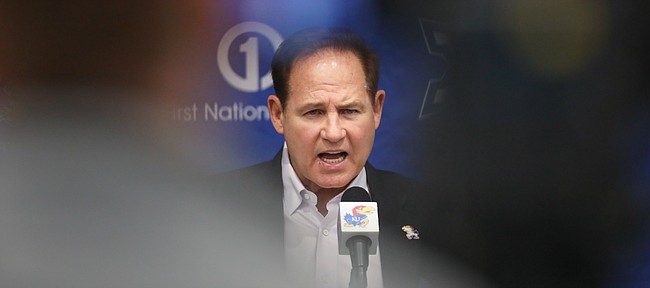 Les Miles never thought while in between head coaching jobs he'd suddenly find himself in another line of work.
But that's what happened to the up for anything football coach when, during his downtime, a friend of Miles' put him in contact with an executive producer on a small budget movie.
"I read lines for the first time," the short-term actor turned University of Kansas coach recalled of the first step in the process that led to him appearing in "The Challenger Disaster."
Miles wasn't the star of the movie that tells the story of the behind the scenes buildup to NASA's failed launch of the Challenger shuttle in 1986. But he said contributing to the movie's depiction of what went on with a "really tragic" event proved enlightening and enjoyable for him.
"That to me is something I'm really proud of," Miles said on an episode of "Hawk Talk," while discussing the experience. "Not my acting, but the story that was being told. It was really the poorest decision that NASA has made in flight in the last 50 years. And I played the bad guy that said, 'No, we're going to launch this rocket.' And all of the engineers were saying, 'No, you can't do it. It's going to be the coldest day that they've ever launched a rocket.' And that was the decision-making piece."
Miles' foray into acting became a popular topic in recent months during interview sessions with the first-year KU head coach, what with "The Challenger Disaster" releasing and a prominent Dr. Pepper commercial in which he appeared running after he took the job. Since then, another movie in which he has a small role, "The Last Whistle," also was released. Both movies are available to rent or purchase on streaming services such as iTunes.
In the Dr. Pepper ad, Miles steals college football's national championship trophy and is struck by lightning on the roof of a gas station in the process.
"I've got it at my house," Miles joked of the hardware on "Hawk Talk," taking it a step further by claiming his wife, Kathy, packed the trophy when they moved to Lawrence from Baton Rouge, La.
"I had to bring it out to the set just to — no, I didn't do any of that stuff," Miles said before apologizing for taking up so much air time during postseason college football commercials.
The trailer for "The Last Whistle," opens with Miles, as his character chides a local high school football coach.
"Well, what do you say," Miles' character begins. "Big-time football coach in my bar!"
As Miles explained on "Hawk Talk" regarding his role in the movie before it came out, the story follows the fallout after a high school football player collapses during a practice and dies.
"I play the tough guy at the bar. And I pick at the coach," Miles shared.
The wardrobe choices for the scene, KU's coach made sure to point out, were not his own.
"I have never wore a sleeveless shirt in my life," Miles said before he had to pause to laugh. "They tore the shirt off so that I could have my arms exposed. Well, let me just tell you this: it's not much to see. It's not that big a deal."
The bit parts in a few movies and commercials (he also appeared in a Dos Equis ad), filmed before Miles became the head coach at KU, helped the him kill some time more than anything.
"Acting was a passing fancy," he assured reporters in the spring.
"I always really wanted to do stuff like that, so I gave it a shot, and found that I could get a full-time job and I'd much rather do something where I get to spend time with these young men," Miles added of KU's football players, "who are trying to do something that's very difficult."
As much as the coach enjoyed the distraction while spending more than two years away from his actual career once LSU fired him four games into the 2016 season, Miles repeatedly underlined how much he prefers coaching to acting.
"Wins in the fall," he said, "are going to be a lot more important."