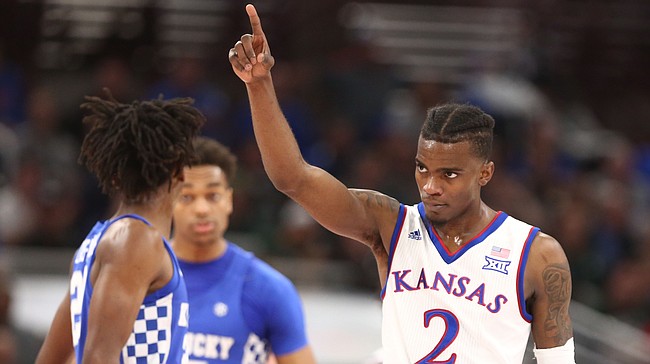 Lexington, Ky. — The 9th-ranked Kansas men's basketball team will not win or lose the Big 12 Conference, nor win or lose the 2019 national championship, based on the result of today's showdown with No. 8 Kentucky at Rupp Arena.
But how the Jayhawks handle the atmosphere and game-of-the-century buildup that comes with today's 5 p.m. tipoff in this year's SEC/Big 12 Challenge could go a long way toward determining how things play out in the days and weeks that follow this blue blood battle.
Kansas coach Bill Self knows both sides of that coin and he also has experience taking a team into Rupp Arena. But his roster is full of players who will be experiencing this for the first time — only Mitch Lightfoot (4) and Lagerald Vick (18) played in the 2017 game at Rupp — and that comes in direct contrast to the experience-laden group that took a 426-132 edge in games played into the Wildcats' home gym two years ago and came away with a 79-73 victory on a very similar stage.
ESPN's College GameDay was there. Both teams were ranked in the Top 10. And the eyes of the entire country were on the Saturday night showdown between the two winningest programs in college basketball history.
How both sides will handle that type of stage — particularly Kansas, given that the Jayhawks are the road team — is one of the bigger unknowns about this year's game.
"Our guys will be more amped up (to play Kentucky), even though those other guys (in 2017) were, too," Self said Thursday. "But those other guys were probably more prepared to control the emotion of it than these guys will be. I do agree with that. That's part of growing up, though. And it's OK. As important as this game is to people, this is just a game you just go play, have fun and let it go."
The Jayhawks (16-3 overall, 5-2 Big 12) certainly have had their share of games like that so far this season. And they've fared well in all of them.
Kansas emerged from November unbeaten with wins over Michigan State, Marquette and Tennessee on their resume.
They added to that with a home win over the defending national champs when Villanova came to Allen Fieldhouse in mid-December, but have lost 3 of their last 10 since starting the season at 10-0.
All three of those losses came on the road and all three featured the Jayhawks failing to maintain their composure all the way to the final horn.
After a 10-3 start, Kentucky has won five in a row, all against SEC competition, and appears to be hitting its stride, even though the Wildcats have lost three straight to Kansas.
None of those past results — head-to-head against each other or on this season's schedule — matter much to Self and the Jayhawks today, though.
"They are good," Self said of John Calipari's Wildcats. "They are a team that can win a national championship. I know everybody thought that before the season, (but) they've grinded their way back to where they are right now and that's being one of the best teams in the country."
While scouting report, Xs and Os, execution and players simply making plays all figure to be important in this one, Self said there's much more that the Jayhawks will need to handle than what happens when the two teams are running up and down the floor.
"This will be unique because the atmosphere is great, but it's the stuff outside of the lines (that) puts the pressure on," Self said this week. "You know, how many NBA scouts are there (ESPN's) GameDay is there, every time you turn on the TV they are going to be talking about Kentucky vs. Kansas. That'll be new for our guys, and hopefully they'll be able to handle the emotion of it. But they did pretty good (with that) in the Champions Classic."
While Self has been through dozens of games of this magnitude throughout the years, he admitted earlier this week that this matchup, Kansas vs. Kentucky and Self against Calipari, has a way of increasing his excitement level, as well.
"He's always going to be a guy that is fun to compete against," Self said of his UK counterpart. "I believe that. He may say the same thing about us, I don't know, but that's what I think makes this even more fun. The players get excited, but there's certain games that coaches get excited for, as well. This will be one of those games."
Win or lose, however, the temporary departure from the Big 12 grind won't linger past Saturday night.
"No matter what happens, you've got to turn the table in 24 hours and start preparing for someone else," Self said. "(And we have) a good Texas team next."