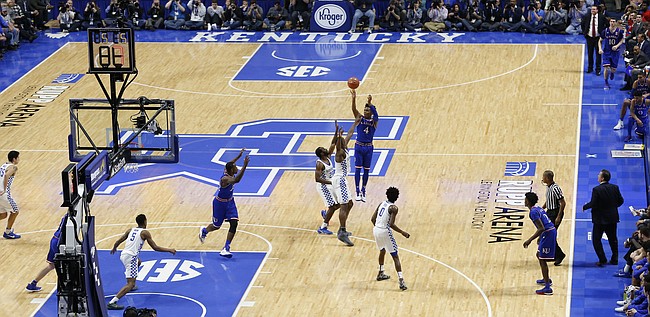 No. 9 Kansas Jayhawks (16-3 overall, 5-2 Big 12) vs. No. 8 Kentucky Wildcats (15-3 overall, 5-1 SEC)
Time: 5 p.m. | Location: Rupp Arena, Lexington, Kentucky
TV: ESPN | Radio: IMG Jayhawk Radio Network
Not going to be home for the game? Sign up for ESPN+ and watch your Hawks on the go.
Log on to KUsports.com for our live game blog coverage and follow the KUsports.com staff on Twitter: @KUSports @mctait @bentonasmith & @SJacksonLJW
Keys for Kansas
1. It's Grimes time
The last time the Kansas freshman faced a powerhouse program on a big time stage away from home, he went nuts, knocking in 6 of 10 3-point shots in his Kansas debut, scoring 21 points in 30 minutes to help the Jayhawks top Michigan State in the season opener.
That was on a neutral floor and Grimes has not come close to matching that performance since.
Maybe the juice and adrenaline that brought the best out of Grimes in that one will return in this one and the former five-star freshman who has struggled with consistency this season will use this game as the one that helps him turn the corner for good.
Kansas coach Bill Self said earlier this week that the coaching staff — and Grimes' teammates — still had complete confidence that the 6-foot-5 guard from The Woodlands, Texas, still can take his game to a much higher level. If so, it would go a long way toward helping Kansas become a serious contender and in helping the Jayhawks' chances against Kentucky.
"I see signs," Self said Thursday, a few hours after KU's early-morning practice. "Like (Thursday) in practice. For a 7 o'clock practice and how he shot the ball in competitive drills, it was terrific. We see signs of that. He needs to have some success, obviously, during a game. But I see flashes of him doing what we know he's capable of doing. But I also see periods of time when things aren't going as well and he loses all of his aggressiveness."
That last part is the key for Grimes and has been the biggest thing responsible for his inconsistent tendencies.
If it's aggressiveness that Self is looking for, hitting the glass in this one could be a great way to spark Grimes' overall play. In 19 games to date, the athletic combo guard is averaging just 2.4 rebounds per game — 1.9 defensive and 0.5 offensive — and his willingness to get on the boards not only would help KU in the rebounding battle against a bigger Kentucky team, but also could lead to easy put-backs and greater confidence.
In the two games against the two other big-name opponents Kansas faced this year — No. 1 Tennessee in New York and No. 18 Villanova at home — Grimes was essentially non-existent, shooting just 1-of-6 combined for 6 points in 15 minutes per game. Grimes also combined for four rebounds, five turnovers and one steal in those two games.
"He's got to stay aggressive at all times," Self reiterated. "Whether it goes in or not, or whether you make a good play or bad play, at least do it downhill and be aggressive. We need him to be the version of himself that we know he can be in order for us to have a chance to finish strong this year."
2. Transition trumps all
Two years ago when Kansas came to Rupp Arena, the game started out at a breakneck pace and only settled down when KU coach Bill Self elected to play zone to try to calm things down and allow his team to climb back in it.
It worked and the Jayhawks turned an early 20-7 deficit into a 10-point second-half lead before winning, 79-73.
Expect this one to at least start in a similar way, with both teams racing up and down the floor and getting caught up in the buzz and hype surrounding such a monster game between blue blood programs.
Whether it stays that way remains to be seen, but transition buckets, whether they come in bunches or in spots, will likely be a huge factor in who prevails in this one.
"I don't know how they'll guard," Self said of the Wildcats. "But I do know that we all need to be very aggressive and not play to just one guy shooting the basketball. We need to play with all five guys being threats out there and I think we go through periods of times in games when we don't do that very well."
Neither team is known for its 3-point shooting, with Kansas having just one reliable 3-point weapon in senior Lagerald Vick and Kentucky ranking 338th nationally in 3-point field goals attempted. The Wildcats shoot 35.7 percent as a team when they do pull the trigger, but just 22.9 percent of Kentucky's total points come from behind the arc (337th in the country).
The Jayhawks aren't doing much better in that department, getting just 26.5 percent of their total points from 3-point range, which ranks 300th nationally.
If there's one area where the 3-point shooting could be a factor, it's whether John Calipari's club decided to attack the Jayhawks from behind the arc or if it sticks with what it's done most of the season.
Kentucky is not going to become the Golden State Warriors overnight, but given the fact that KU's opponents have scored a whopping 38 percent of their points from the 3-point shot (24th nationally), the Wildcats could be enticed into shooting a few more against the Jayhawks.
Whether that bodes well for Kansas or not depends on whether the shots go in.
3. Free throws and foul trouble
Foul trouble is a key to every game, of course, but given the fact that KU's depth has dwindled this season, it could be incredibly important in this one. Particularly with junior forward Dedric Lawson, who has recorded just 10 total fouls (2.5 per game) in KU's four true road contests this season.
Lawson has to stay on the floor in this one for the Jayhawks to have a chance, both because of the scoring punch he provides and the fact that the Jayhawks will need his rebounding presence (10.9 per game) against the Wildcats' bigger front line led by Stanford transfer Reid Travis, super sophomore P.J. Washington and bruisers Nick Richards and E.J. Montgomery.
Of note here is the fact that the Jayhawks have fouled more than the Wildcats (319-292) and Kentucky also has drawn more fouls (361-347) than Kansas.
Taking the foul issue a step further, this matchup is a real battle of strength versus strength when it comes to free throw shooting.
Not only are the Wildcats shooting 75.1 percent from the free throw line as a team, but they also rank 27th nationally in points from the free throw line, getting nearly a quarter of their total points off of foul shots (328 of 1,440).
Kansas, meanwhile, does not send teams to the line that often, giving up just 15.5 percent of its total points allowed on foul shots (206 of 1,333), which helps offset the fact that the Jayhawks are shooting just 67.3 percent from the line as a team.
Long story short, if this one's a free throw contest, featuring a bunch of whistles, the Jayhawks could be in trouble.
Mega Matchup
KU sophomore Marcus Garrett vs. UK freshman Ashton Hagans
It's no secret that Marcus Garrett has been on a heck of a roll lately, scoring in bunches, defending like always and playing with more confidence than ever.
That fact has taken him from role player to leader and Self on Thursday called Garrett, "an acquired taste," before adding that Garrett would have cracked the starting lineup by now even if Kansas had not lost Udoka Azubuike to a season-ending injury.
Moments after talking about arguably the top guard on KU's current roster, Self dished some praise Hagans' way and it related to Garrett.
"Hagans has developed into a premier guard and maybe he is as good a defensive guard," Self said of the 6-foot-3 freshman from Cartersville, Ga. "He's their Marcus Garrett.
Hagans enters this one averaging 13.2 points and 3.7 rebounds per game, while leading the Wildcats with 34 assists in 33.2 minutes per game.
Garrett's line includes 7.7 points, 3.4 rebounds and 46 total assists in 28.8 minutes per game. But those totals have grown to 10.9 points and 32.3 minutes per game since the start of conference play.
Similar size, similar style, solid athleticism and determination that doesn't quit. Regardless of whether these two actually spend that much time guarding one another in this one or not, the reality of it is, both will play a big part in how successful their teams will be and might be the only chance each team has of slowing the other guy down.
Said Self of Garrett, who played a monster role as a freshman but still had to defer to KU's lead dogs: "He's a much-improved player because he's a year older. I don't think he's done anything different. He's coachable. He's tough. He tries hard. He's smart. He's got fast hands and he loves to compete. But we knew that when we recruited him. I don't think he's done a lot different (this year), except just be himself."
Jayhawk Pulse
Under normal circumstances, a break in Big 12 play after playing five of seven conference games decided by seven points or fewer would be a welcomed site for the Jayhawks.
However, any time Kansas and Kentucky get together, the circumstances are anything but normal.
In this case, it's a Top 10 battle in the showcase game of the day that will be watched, analyzed and scrutinized by thousands. Beyond that, at least for one team, this game will go down as another nice entry on the resume for seeding come March.
As most people know, Kentucky and Kansas are the two winningest progams in the history of college basketball — Kentucky leads with 2,278 all-time wins and KU is second with 2,264 — and their histories are deeply connected going back decades, with Adolph Rupp having graduated from KU and Calipari once working there under Ted Owens and Larry Brown.
Self and Calipari both talked this week about their displeasure with meeting up in the middle of their conference seasons. But both also made it clear that, when the ball goes up, the game will be a big time battle and a lot of fun.
Kentucky leads the all-time series with Kansas, 22-9, but the Jayhawks are riding a 3-game winning streak and the two programs have split the last 12 meetings.
Las Vegas lists Kentucky as a 6-point favorite in this one, marking just the second time this season (at Iowa State was the other) that the Jayhawks have been underdogs in the eyes of the oddsmakers.
Probable Starters
No. 9 Kansas
G – Devon Dotson, 6-2, 185, Fr.
G – Quentin Grimes, 6-5, 210, Fr.
G – Lagerald Vick, 6-5, 190, Sr.
G – Marcus Garrett, 6-5, 195, Soph.
F – Dedric Lawson, 6-9, 235, Jr.
No. 8 Kentucky
G – Ashton Hagans, 6-3, 192, Fr.
G – Keldon Johnson, 6-6, 211, Fr.
G – Tyler Herro, 6-5, 195, Fr.
F – Reid Travis, 6-8, 238, Sr.
F – P.J. Washington, 6-8, 228, Soph.