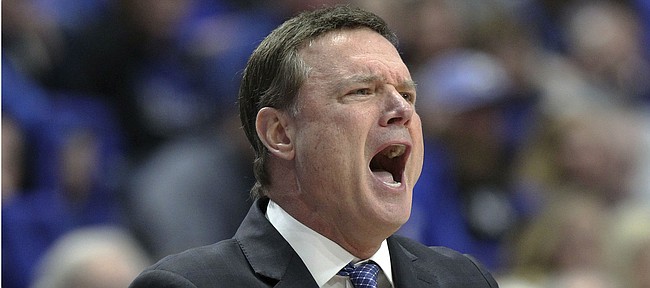 Ten days ago, after his team's road loss at Kansas State, Kansas basketball coach Bill Self was in no mood to talk about the Big 12 race and his team's pursuit of a 15th consecutive Big 12 regular season title.
Four days ago, after an overtime win at TCU, Self characterized the Jayhawks as being "way back" in the conference title race.
And on Thursday, during his weekly news conference at Allen Fieldhouse, Self doubled down on that stance, drawing a comparison between the position of Bruce Weber's first-place Wildcats and some of Self's teams of the past.
"They're in as good a driver's seat as maybe (any) that we've been in in the past with six games left," Self said of K-State, which enters the weekend at 9-2 in Big 12 play, a game and a half up on second-place KU and Texas Tech, which sit tied at 8-4. "I mean, they've put themselves in a very favorable position and their schedule really tilts to their favor in many ways."
The one area where the Wildcats could find trouble is in having to play one more game than Kansas the rest of the way. Twelve games into conference play, the Jayhawks (19-6 overall, 8-4 Big 12) have just six regular season games remaining, three at home and three on the road.
The Wildcats, however, still have seven games remaining, which, in a Big 12 season that has delivered all kinds of improbable outcomes and wild upsets, simply means one more opportunity to lose.
Give the Wildcats (19-5, 9-2) credit for avoiding any slip-ups during the past six weeks. After dropping their first two conference games of the season to Texas and Texas Tech, the Cats have rattled off nine consecutive conference wins, with their only loss in the past 40 days coming at Texas A&M; in the Big 12/SEC Challenge in late January.
Beyond that, the way Self sees it, K-State actually added to its cushion at the top of the conference by winning a pair of road games — at Baylor and at Texas — with a pair of road wins in the past week.
"We just need to win games," Self said. "But us winning one at home and us winning one on the road (last week), you know, that's great for us, but if you look at the league race, Kansas State enhanced their position even more with their two wins because they were both away from home... K-State's last two road wins put them in (control)."
Between now and the end of the regular season, the Wildcats still have home games against Iowa State (Saturday), Oklahoma State, Baylor and Oklahoma and will hit the road to face West Virginia, Kansas (Feb. 25) and TCU.
Kansas, meanwhile, gets Baylor, K-State and West Virginia at home and plays at Texas Tech, Oklahoma State and Oklahoma.
Those seven K-State opponents combine for a winning percentage of .612 entering this weekend, while KU's six remaining opponents have a winning percentage of .610.
"People could say that the schedule tilts to our favor, too," Self admitted. "But, with us, there's nothing that tilts to our favor, it seems like. You know, every game can be a one- or two-possession game for the most part. … We're not in a very favorable position at all. K-State is in the driver's seat. And Baylor and us and Iowa State and Texas Tech still control (our) own fate. But K-State has put themselves in a great position."
That control-your-own-destiny thing is the one aspect of KU's underdog position that is giving this still-young Kansas roster confidence that it can keep the Jayhawks' 14-year Big 12 title streak alive.
"We always talk about it," freshman center David McCormack said of the Big 12 race. "You always hear that in the back of your head; you don't want to be the team that ends the streak. But we know if we take it one game at a time and we do what we know we're supposed to do and handle our responsibilities, you know, we can get it done."