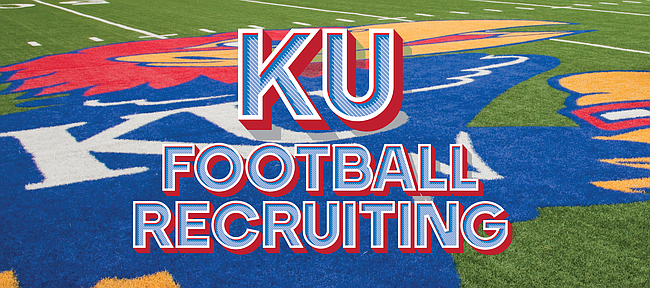 After his recruitment came down to the wire, Gavin Potter, a high school linebacker from Oklahoma, introduced himself to the Kansas football fan base in grand fashion Wednesday.
A three-star prospect who had verbally committed to Kansas State, Potter waited until National Signing Day to reveal whether he would stick with the Wildcats or choose another Big 12 program.
And when it was time for his signing ceremony at Broken Arrow High, Potter, who arrived wearing a K-State hoodie, added plenty of spectacle to his big moment.
"I would like to sign with," Potter said in a video posted by Tulsa TV station FOX 23, before pausing for dramatic effect. Next, he began removing his purple sweatshirt, only to unveil a red Texas Tech T-shirt underneath.
But Potter wasn't done there. He shed the Red Raiders garb, too, to uncloak the letters KU painted onto his chest. The linebacker proceeded to stand up and turn around so he could show the cameras and people in attendance the word Jayhawk painted on his back, as well, above a No. 12.
Afterward, the new Kansas signee was asked what it will be like playing against Oklahoma and Oklahoma State in the future.
"OU and OSU made the worst decision they've ever made letting me leave Oklahoma," Potter asserted while sporting a blue KU cap. "So I'm going to look forward to playing them. And that's what I love to do. I love to prove people wrong. So that's going to be two games that I'm going to have a lot of fun playing."
Told about the linebacker's presentation, first-year KU defensive coordinator D.J. Eliot had a three-word response: "Doesn't surprise me."
Eliot said he reached out to Potter, a 6-foot-2 linebacker, on his first day on the job, after filling out paperwork and watching video of the KU players he will soon be coaching.
Next on the agenda of the outside linebackers coach and DC was checking out footage of some possible recruits. Eliot was wowed when he watched clips of Potter.
The way Eliot tells the story, he got on the phone with Potter that night.
"Hey, man. Just watched your film," the coach recalled of his message. "You're exactly what we're looking for."
Both Eliot and head coach Les Miles talked to Potter and his family on the phone "for a long time" and set up an official visit for the next week. What's more, Eliot shared, the first home visit he made on KU's staff was to meet with the Potters.
"I just recruited him as hard as I could for the next month and a half, I guess," Eliot said, "and we were able to land him. And I think he's going to be a great asset for us."
At least while speaking with reporters, Eliot downplayed the importance of getting a K-State recruit to flip.
"I'll be honest with you. I just want to get the best players we can get," Eliot said. "I'm just gratified that Gavin Potter chose to come here. He obviously had many other options, because he's such a good player. But the fact that he chose us is a testament to this staff's recruiting."
MacVittie KU's starter?
During his signing day press conference, Miles, while discussing the three quarterbacks in KU's 2019 class, seemed to give the slightest hint about what role Thomas MacVittie could play for the Jayhawks.
"If, in fact, Thomas MacVittie is the starter," Miles said while throwing around some hypothetical situations in which one of the other QBs who signed could potentially switch to another position.
Miles spoke highly of MacVittie, a junior college transfer and former backup at Pitt, who signed with KU in December.
"We had to have a guy that could stand in there, throw, but he is also mobile," Miles said. "He's a 6-5, 220-pound quarterback that really can really sling it."
Miles pleased with first KU signing class
While highlighting the potential of the signees, Miles deemed Wednesday a "great day for Kansas football."
"There's a rare combination here between strong and thick and physical and athletic and with speed. The Kansas brand helped us tremendously. It stands for academics, it stands for great athletics, and the people that went to school here and carry the message that they had when they were students here just — it's tremendous for us," Miles said. "We use it really on a regular basis."
With 14 players entering the program from the high school ranks, Miles didn't mind setting the bar high for his first recruiting class at Kansas.
"This class," he said, "will have the ability to compete for championships. It's the style of team, the speed that will develop and develop nicely. So we're proud."