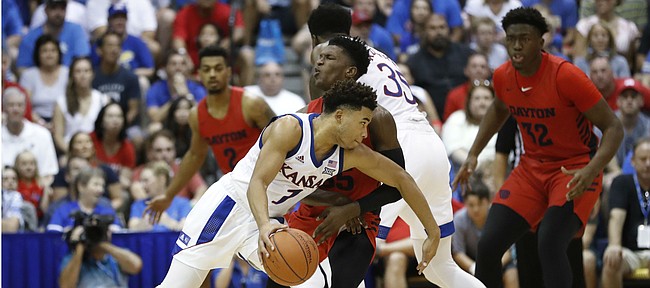 No. 2 Kansas Jayhawks (8-1) vs. Kansas City Kangaroos (5-6)
Time: 4 p.m. | Location: Sprint Center, Kansas City, Mo.
TV: Big 12 Now/ESPN+ | Radio: IMG Jayhawk Radio Network
Sign up for ESPN+ and watch your Hawks on the go.
Log on to KUsports.com for our live game blog coverage and follow the KUsports.com staff on Twitter: @KUSports @mctait @bentonasmith @SJacksonLJW & @ByBradenShaw
Keys for Kansas
1. Finish what you start
Despite leading by nearly 30 points in a game that was over long before the final buzzer, Kansas coach Bill Self had a couple of starters in at the end of the Jayhawks' 95-68 victory over Milwaukee on Tuesday night.
The reason? Self wanted to close the game on a strong note to get the sour taste of a sloppy second half out of his mouth.
"If we could have finished and started off the second half at least with a little bit more energy, I really think that I would leave here more pleased," Self said after the victory. "But I thought that we were pretty casual in the second half. … We were kind of duds energy-wise."
The emphasis on avoiding that fate and being better the next time out has carried over into the days since the Milwaukee win. And it could be a key component of KU's clash with Kansas City at Sprint Center, provided the Jayhawks are able to build a lead and keep it.
"In the start of the second half, we didn't do a very good job of just putting them away," freshman guard Christian Braun recalled of the KU-Milwaukee game. "... We've got to do better job when we get a bigger lead and just keep piling it on. Some of that's on the reserves, the backup guys' fault. We've got to give those other guys a break. They play a lot of minutes, so it's kind of our job. When we come in, the lead's supposed to expand. They're not supposed to come back on us. So we didn't do a very good job of just putting the hammer down on them, but we'll do a better job in the future."
2. Energize everybody
KU's regular-season appearances at Sprint Center have been notoriously dull, both in terms of the performances by the Jayhawks and the atmosphere in the building.
Asked to reflect on the Jayhawks 18 regular-season appearances inside the 12-year-old building that opened in 2007, Self needed just one word to describe the play that has been typical of his teams in Downtown KC.
"Sucks," Self said. "For the most part, we haven't played well in this game in my time here. We've won many of them, but even going back to Kemper (Arena) (they were) just kind of boring games and there's not as much energy. I think that's one of the challenges Saturday is to bring that energy."
Typically taking place in mid-December, just before finals and the holidays, the Jayhawks' annual nonconference test inside Sprint Center has led to a 14-4 record.
Overall, the Jayhawks are 41-10 inside Sprint Center, with most of those games coming in Big 12 and NCAA Tournament play.
"It's not that the attendance is poor, it's not that fans are bad, it's not anything like that," Self said. "It's just that, I think when you get outside your building in a neutral-site type setting, I think sometimes people want to be entertained. And when you don't play well or play boring and they're not entertained, it can become kind of a dull atmosphere. I think that's kind of what we've had over there. We haven't had that problem in the Big 12 tournament, when there's more energy and that type of stuff. But this particular game hasn't been a great game for us."
3. Take care of the ball
About the only way that Kansas City can stay in this game is if the Jayhawks make it easy and gift the Roos a bunch of free points and possessions.
And it just so happens that that hypothetical happening lines up with one of the Kangaroos' biggest strengths: turning teams over.
Kansas City ranks 93rd nationally in turnover percentage, according to KenPom.com, forcing turnovers on 21.3% of its opponents' possessions. By the measure, KU's offense gives it away on 19.8% of its possessions.
The Jayhawks have been much better at taking care of the ball since opening the season with 28 turnovers in a loss to Duke. But there have been times, and even entire halves, when the Jayhawks still have been a little careless, particularly in transition.
In its eight wins after the Duke loss, KU averaged just 13 turnovers per game. But the Jayhawks coughed it up 21 times as recently as last Saturday against Colorado — at home — so it's not as if the problem is entirely fixed.
Even when the Jayhawks give the ball away, though, they also have a tendency to find ways to get it back. KU is forcing an average of 16 turnovers per game at a rate slightly lower than Kansas City's.
Self's squad ranks 164th per KenPom at forcing opponents into turnovers 19.7% of the time, and Kansas City's offense gives it up 20.7% of the time.
These percentages are all pretty close and this particular battle likely will come down to whichever team plays with the most poise and uses its athleticism, pressure and anticipation to make the other club uncomfortable.
Marquee Matchup
Free Throw Shooting
This won't do a lot for that energy and entertainment element Self spoke about, but it could go a long way toward making sure the Jayhawks create a path to an easy victory.
And luckily for the Jayhawks, they have one of the best players in the country at getting to the free-throw line on their side in point guard Devon Dotson.
Kansas City currently allows the nation's seventh highest percentage of scoring at the free-throw line by opponents, at 26.1%, and KU should look to take advantage of that both by pounding the ball inside and driving to get fouled.
Despite KU's 66.5% free throw shooting as a team, which ranks 257th nationally but would be 73% and 89th nationally without Udoka Azubuike's 37% shooting, the Jayhawks are getting nearly 20% of their points from the charity stripe.
Dotson leads the way with 55 free throw makes on 86% shooting, and four other Jayhawks have double-digit makes at the free-throw line so far this season.
On the flip side, Kansas City's ability to get to the line is among the worst in the country, with the Roos owning a free throw rate of 45.6%, which ranks 338th nationally in terms of free throws attempted per field goals attempted.
Jayhawk Pulse
With road games looming at Villanova and at Stanford to close out the month, along with the team's traditionally sluggish performance in regular-season games at Sprint Center, Kansas is facing a tougher-than-normal task today.
The Roos are not the most formidable of foes, but the circumstances could make things more interesting than the numbers and records suggest they should be.
A lot of that will be up to how Kansas handles the outside factors and whether the Jayhawks are as locked in as they have been during their current eight-game winning streak.
Recent history suggests they will be. After a sloppy performance in a season-opening loss to Duke, the Jayhawks have played with much more intensity and purpose in the eight wins since.
And despite their early run of success, the Jayhawks, who could be poised to move into the No. 1 spot in the polls with a win in this one, seem to be a team full of players who get hungrier by the day.
While that has helped fuel Kansas, the Roos also figure to be fired up for their shot at a signature victory early in the season.
"I think that they're playing pretty well," Self said, noting that some of the Roos' losses were not as bad as the scores indicate. "They play a ton of guys. I think 10 guys all double-figure minutes, and they have balanced scoring. I think they're certainly much improved."
KU leads the all-time series with Kansas City (formerly UMKC) 7-0. The first meeting took place in 1992.
The two teams have played twice in Kansas City, Mo., and five times in Allen Fieldhouse. KU's average margin of victory in those two games in Kansas City was 50 points.
KenPom.com lists KU as a 22-point favorite in this year's meeting, and the Roos, at No. 260 in the latest KenPom rankings, are the last team on KU's 2019-20 schedule currently ranked higher than No. 78.
Probable Starters
No. 2 Kansas
G – Devon Dotson, 6-2, 185, Soph.
G – Ochai Agbaji, 6-5, 210, Soph.
G – Marcus Garrett, 6-5, 195, Jr.
F – David McCormack, 6-10, 265, Soph.
C – Udoka Azubuike, 7-0, 265, Sr.
Kansas City
G – Marvin Nesbitt Jr., 6-4, 180, Jr.
G – Rob Whitfield, 6-3, 175, Sr.
G – Jahshire Hardnett, 5-11, 193, Sr.
F – Javan White, 6-10, 230, Sr.
F – Jordan Giles, 6-7, 225, Sr.
More like this story on KUsports.com