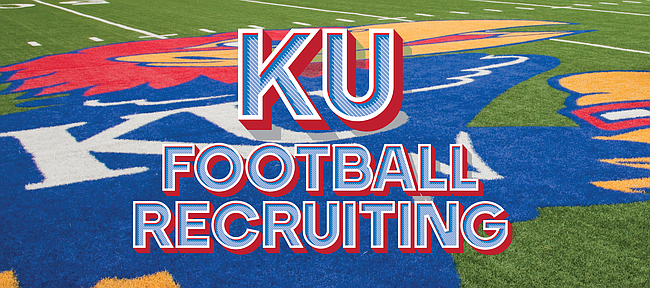 A week ahead of December's early signing period for college football, the Kansas coaching staff's 2020 recruiting class shrank by one member.
A prep cornerback from Shreveport, La., Tanner Hooker announced Wednesday he is no longer tied to the Jayhawks.
"After a long talk with my family it was best to decide that I should reopen my recruitment," Hooker wrote in a note he posted to Twitter, in which he thanked KU coaches for recruiting him.
Formerly graded as a three-star prospect by Rivals, Hooker was listed as a two-star defensive back at the time of his change. However, 247 Sports still rates Hooker, listed at 6-feet and 175 pounds, as a three-star talent.
Hooker made his nonbinding verbal commitment to the Jayhawks back in August.
With his departure, KU's 2020 class stood at 25 members as of Wednesday, a week before recruits can begin making their pledges to head coach Les Miles and his staff official by signing their letters of intent.
The early signing period runs from Dec. 18-20 next week.
- KU football 2020 verbal commitments
(Rivals recruiting rankings listed)
• Brennon Scott - 4-star LB from Texas
• Duece Mayberry - 3-star CB from Oklahoma
• Trevor Kardell - 3-star TE from Missouri
• Will Huggins - 3-star TE from Kansas
• Krishawn Brown - 3-star LB from Oklahoma
• Khari Coleman - 3-star DE from Louisiana
• Garrett Jones - 3-star OL from Michigan
• Ja'Cobee Bryant - 3-star CB from Alabama
• Malik Johnson - 3-star WR from Texas
• Caleb Taylor - 3-star DE from Missouri
• Kenean Caldwell - 3-star DT from Louisiana
• Jaylin Richardson - 3-star athlete from Kansas
• Taiwan Berryhill - 3-star LB from Louisiana
• Lawrence Arnold - 3-star WR from Texas
• Chris Jones - 3-star DE from Florida
• Alonso Person - 3-star LB from California
• Steven McBride - 3-star WR from Louisiana
• Tristan Golightly - 3-star TE from Texas
• DaVonshai Harden Jr. - 2-star QB from Kansas
• Luke Grimm - 2-star WR from Missouri
• Nicholas Martinez - 2-star OL from California
• Kyler Pearson - 2-star WR from Oklahoma
• Daniel Hishaw Jr. - 2-star athlete from Oklahoma
• Karon Prunty - 2-star CB from Virginia
• Armaj Adams-Reed - 2-star OL from Texas
- Former 2020 KU commitments
• Keith Miller III - 3-star WR from Texas (flipped to Colorado)
• Kershawn Fisher - 2-star LB from Louisiana
• Keenan Hambrick - 3-star WR from Alabama
• Jackson Stoefen - 3-star OL from Iowa
• Tommy Brandt - 2-star OL from Minnesota
• Juan Jarrett - 2-star LB from Ohio
• Tanner Hooker - 2-star CB from Louisiana