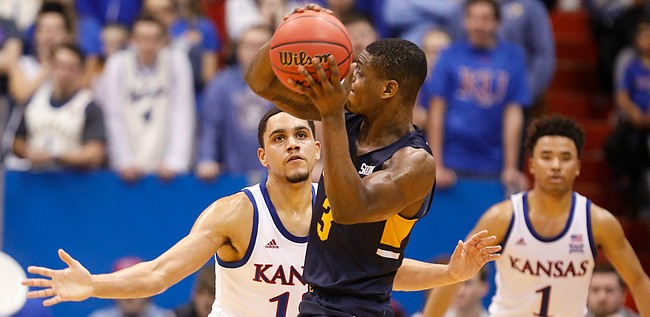 Always one to think big picture first and recognize subtle weaknesses ahead of splashy stat lines, Kansas basketball coach Bill Self on Saturday pointed to the need for better play from his bench after a 72-58 win over No. 20 Colorado at Allen Fieldhouse.
Specifically, better play defensively.
Not counting the final minute of mop-up time he gave walk-on guard Chris Teahan, Self handed out 55 minutes to four bench players against Colorado and only one of them — senior guard Isaiah Moss — drew praise from the KU coach for his play on the defensive end of the floor.
"We just have to get a little more consistent play from the perimeter," Self said. "Especially when we play Tristan (Enaruna), who had a rough day, and Christian (Braun), who I thought was better today. Isaiah had a nice game, but we have got to get a little more consistency there."
That trio, all of which can play multiple positions on both ends of the floor, played 44 of those 55 bench minutes on Saturday night, with the other 11 going to reserve forward Silvio De Sousa.
Part of the reason Self lauded Moss' performance on Saturday was the Iowa transfer's effort defensively, which has improved on an almost daily basis as Moss has moved closer to being fully healed from the injured hamstring that dogged him for the first two months of the season.
"In the last two weeks or so, I think he's sliding his feet pretty well and I think he's become a pretty solid defensive guard," Self said of Moss. "One thing that he does do well is that he's a good block-out guy. Very rarely does he miss a block-out."
That type of effort likely will keep Moss on the floor and help KU's overall defensive agenda when Self turns to the bench. But if this team is to reach peak performance on the defensive end of the floor — like its coach believes it can — Self said the rest of the bench has to at least reach the same level of play as Moss.
"There's no question that this team's better defensively than the last two teams we've had," Self said Saturday night. "Tristan and Christian have got to come through better for us to do that, though."
While Braun and Enaruna are averaging a combined 26 minutes per game for the Jayhawks through the first eight games of the season, Self hinted at the possibility of their playing time increasing.
That is particularly true for Braun, who has averaged 8.6 minutes per game thus far but continues to be talked about as a player who can help the Jayhawks with 3-point shooting and perimeter defense.
"You know, we're so much better defending the arc whenever we play four guards," Self noted. "And even though that kind of hurts Silvio (De Sousa) and David (McCormack's) minutes, that's the way it is. And we'll just continue doing that. But I do think we can get really good (defensively)."
De Sousa and McCormack, who have started at the 4 in all eight of KU's games this season — De Sousa with one start and McCormack seven — also are averaging right around 26 minutes per game combined. And, so far, the idea of playing small being better for Kansas as a whole does not appear to be affecting their impact.
McCormack opened Saturday's game by hitting three shots to jump-start the Kansas offense. And De Sousa, after receiving limited playing time in Maui, delivered one of his best games in recent weeks, more from an activity standpoint than on the stat sheet.
"I thought everybody was pretty good," Self said before going on to praise De Sousa's outing. "You know, he didn't finish any plays, but he got his hands on balls and I thought he was better and did some good things and got a couple of nice offensive rebounds and showed some strength. So yeah, I thought he did pretty well in the time that he got."
Kansas returns to the floor at 7 p.m. Tuesday, when Milwaukee comes to Allen Fieldhouse.
The Panthers were picked to finish seventh in the 10-team Horizon League in the preseason polls and are off to a 5-4 start.