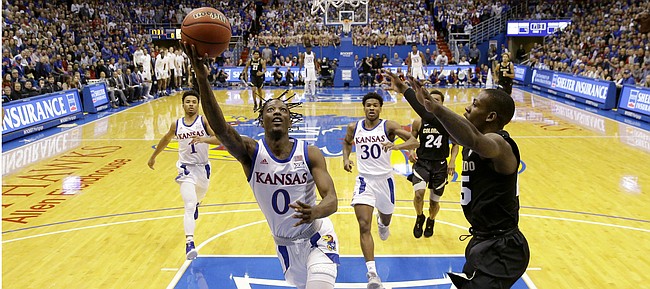 Described by a teammate as Colorado's "number one offensive weapon," junior wing Tyler Bey didn't get to show off many of his skills Saturday night at Allen Fieldhouse.
With the Jayhawks' Swiss army knife, Marcus Garrett, defending Bey and an ever-improving Kansas defense ready to take CU's leading scorer and his teammates out of their comfort zones, No. 2 KU often unsettled No. 20 Colorado in a 72-58 victory.
Bey, a 6-foot-7 veteran who had scored between 11 and 18 points in every other Colorado game this season, didn't even get a shot up until the 1:28 mark of the first half in the Buffaloes' first loss. Bey netted 5 points on 1-for-3 shooting in 25 minutes, before suffering a right leg injury with a little less than 6 minutes to play.
Garrett admitted taking some enjoyment in the first half defensive work he and his teammates put in on Bey, as CU had just 22 points at the break.
"Knowing that was their best player, that's what coach talked about," Garrett shared afterward. "If we can get him out of the game, it'll make it easier on us defensively, knowing how dominant he is in the paint."
Garrett loves studying opponents on video nearly as much as he does stopping them on the court. It was during his preparation that Garrett noticed Bey's athleticism and ability to score easily inside.
"My biggest thing was trying to make him catch the ball out by the 3-point line, make him uncomfortable," Garrett said.
It worked. Junior CU point guard McKinley Wright IV, who called Bey the team's best offensive player, said they go into every game trying to get him as many touches as possible.
"And they doubled him, denied him the ball," Wright said of Garrett and the Jayhawks, "and made it really tough on him. You've got to find ways to keep him involved, make sure he gets touches, because he's really good at the rim, can shoot the 3, makes free throws, shoot the midrange. So he's almost a complete player, and they did a really good job with denying him and doubling him, every catch he got on the block."
KU coach Bill Self made sure to credit the Jayhawks' entire defensive approach, because the way that they switched against CU actions often meant some other guard would have to keep Bey out of rhythm.
The Jayhawks were as unwelcoming to nearly every Buffalo they encountered. Sophomores Evan Battey (5-for-8 shooting) and Eli Parquet (2-for-4) were the only CU players out of the 10 who checked into the game who made 50% of their shot attempts. Colorado only hit 18 of 60 shots on the night.
Garrett might even deserve at least a smidgen of credit for KU's team defense, too. Sophomore guard Ochai Agbaji said he gets his defensive energy from watching Garrett.
"Just seeing him deflect balls, helping everybody, that just makes me want to help everybody and help him too, as much as possible," he said.
Though Agbaji joked Garrett's work on that end of the floor doesn't impress him anymore because he's seen it so often, the fact is that the junior's approach is contagious.
"I feel like he's kind of spread it throughout our whole team," Agbaji said. "Different tips and stuff, his communication, the way he talks kind of affects the way we talk, too."
Garrett only shot 2-for-7 in the win, but the defense he played was indispensable. The 6-5 stopper and disruptor from Dallas, Texas, stole the ball four times while spending the duration of the game making Bey and others uneasy.
"I know a lot about the scouting report. And I know who feels comfortable dribbling the ball and who doesn't," Garrett said of going for steals, making his gambles at the perfect times. "So if I see somebody get the ball that doesn't feel comfortable I'm trying to take it."
That infectious Garrett approach has made Agbaji and Devon Dotson better perimeter defenders, as well.
CU coach and former KU player Tad Boyle said they shoot passing lanes and blow up handoffs, and effectively took the Buffaloes out of their offense at times.
Garrett isn't the only one of the trio exposing opposing guards by playing smart defense.
"We've got three good perimeter defenders," Self said, "and Marcus can guard anybody. So it helps when you have individuals that are good defensively that kind of understand the team concept."
The KU performance received the Devonte' Graham seal of approval afterward, Garrett shared.
"He said we looked great defensively," Garrett related of the former KU point guard's postgame message.
Wouldn't you know Garrett thought even before the season began that this KU team could shine defensively.
"I feel like when we want to pressure somebody we can make them catch it further out. We can make things more difficult for our opponents," Garrett said. "If we aren't going to make shots we've got to stop the other team from scoring and being comfortable."