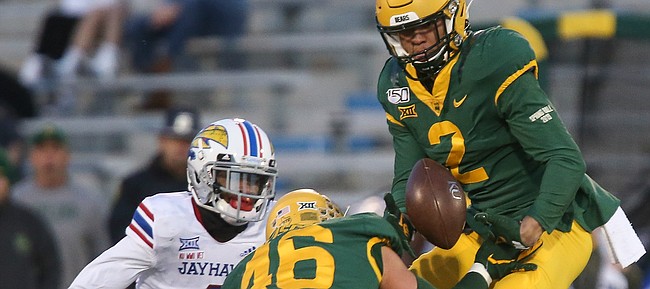 Whether the returning Jayhawks who endured the Kansas football team's worst loss of 2019 on the final Saturday of the season use that as motivation entering the offseason will vary from man to man.
Just the same, as everyone involved in the program moves past a 61-6 beating at the hands of Baylor in the finale, head coach Les Miles said in the aftermath of the thumping that it will get brought up again.
"They'll look to take this game specifically into their meeting room, into their practice schedule and look to improve," Miles said, explaining the players understand "they're a lot better" than how they played in their 12th game of the year.
Miles said he and his staff will take the mistakes KU made during its lopsided loss to Baylor and use them as teachable moments for the coming offseason, all the way through spring practices.
Photo Gallery
Kansas football v. Baylor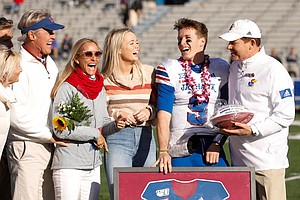 View a gallery of images from Saturday's game between the Jayhawks and Bears at Memorial Stadium.
KU quarterback Carter Stanley won't be a part of that, but he said it will be "tough" for the Jayhawks to enter the lengthy stretch between games with that type of result as their collective jumping off point.
"I certainly wanted to send those guys into next offseason feeling great," Stanley said. "I know there's still reasons to feel great about this upcoming season."
KU receiver Andrew Parchment described the fall of 2019 as a "disappointment," because the Jayhawks finished 3-9 overall and 1-8 in the Big 12.
"Almost felt like we were getting complacent with losing and stuff like that," Parchment shared.
But the senior-to-be also expects the program's returning players will be ready to put it all behind them immediately and start preparing for the future.
"It's a new team. Season's done. Now it's on to 2020," Parchment said after the loss to BU. "We've got a week off and then we come back to work. I'm excited for that."
Running back Pooka Williams echoed that sentiment, saying his mind began turning toward the offseason that night, after KU's finale.
"Get bigger, stronger, faster," Williams said. "And try to overcome a losing season."
As the Jayhawks tried to wrap their heads around a disappointing end to 2019, chatter in the locker room afterward soon shifted toward the importance of moving forward.
Parchment said the returning Jayhawks are eager to get back to work. He and fellow receiver Stephon Robinson Jr., Parchment shared, had a conversation along those lines before they left KU's football facility this past Saturday night.
"We've got to get better as receivers, as well," Parchment said. "There's some things that we've still got to clean up. So I'm looking forward to the challenge and also just becoming a leader of this football team."
The hope for KU's most crucial returning players is that they will be able to build upon the more successful moments of this past season, while also learning from the miscues that made their final win-loss total undesirable.
Williams thinks KU's offense showed it could be "unstoppable" when the Jayhawks were firing on all cylinders.
"We can put up points at any moment of the game once we're on the same page," Williams said. "That's all I feel like we need to do. We've got the talent."
After Saturday's loss, Miles told KU's non-seniors that during the next three weeks they need to set their own workout schedules and make sure they put in time in the weight room before the start of the spring semester, in January.
"We don't want to finish seasons like this," Miles said. "It's not near as much fun."
Miles thinks the freshmen, sophomores and juniors from his first season at KU want to invest in themselves in the weeks and months ahead, after the Jayhawks underperformed in their last game on the schedule and fell three wins short of their bowl game aspirations.
"There's not a guy that I practiced with that did not enjoy improving and being there," Miles said. "And I think that you will find that they'll look to do that."