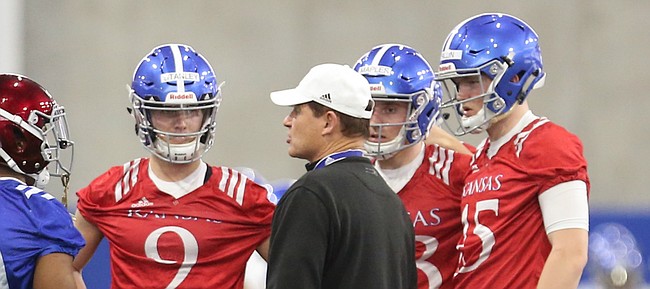 Carter Stanley's college career is over and the Kansas football program needs a starting quarterback.
While it's possible Stanley's replacement could already be on the roster, KU head coach Les Miles said following his team's finale that the QB position will be one of priority as the coaching staff turns its focus to the recruiting trail.
"Certainly we need a quarterback," Miles replied, when asked about his general plans headed into the offseason.
KU's head coach followed up that statement by making it clear the staff likes Thomas MacVittie and Miles Kendrick, who spent all of 2019 as reserves.
"But if we can find a great class, a great quarterback in this class, we'll take one," Miles added. "Although we have another — we have a pretty good quarterback that could be a part of us already."
At the moment, KU's 2020 recruiting class includes only one potential QB, Da'Vonshai Harden Jr., from Topeka High.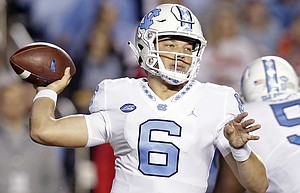 But as Miles indicated, the Jayhawks could add another. As reported by Brandon Huffman of 247Sports, KU coaches are recruiting former North Carolina quarterback Cade Fortin.
A class of 2018 signee for the Tar Heels who entered the transfer portal ahead of this season, Fortin told 247Sports that he's "concentrating on" KU, Syracuse and Vanderbilt at this stage of his recruitment.
A former UNC teammate of Manny Miles, who joined the Jayhawks as a walk-on graduate transfer, Fortin visited KU in early November. On Sunday night, KU offensive coordinator and QBs coach Brent Dearmon made an in-home visit with Fortin.
Fortin played in four games for the Tar Heels in 2018, including one start against North Carolina State. Now listed at 6-foot-3 and 220 pounds, Fortin completed 49.2% of his 65 passes at UNC, with one touchdown and one interception. He also rushed for 76 yards on 14 carries, with one TD.
The top two spots on KU's QB depth chart this season were occupied by seniors, Stanley and Manny Miles.
MacVittie, a junior whom Miles described as a "very viable" candidate to be KU's next No. 1 QB just a week ago, only played two snaps in games this year. Each time he lined up at wide receiver, and on one of those occasions he threw a pass, which was intercepted, on a trick play.
Most of the work for KU quarterbacks other than Stanley came during the team's closed practices. Stanley, who finished his final season with 2,569 passing yards, 24 TDs and eight interceptions, described recently what he witnessed from other QBs on the roster over the course of the past year.
"I mean there's a group of guys that they go to work every day, whether they're working with the ones and twos on offense or the scout team. It's a group of hardworking guys, really high-character guys. It's MacVittie, Miles Fallin, Miles Kendrick, those guys are working really hard," Stanley said. "They all definitely bring something different to the table skill-wise and technique-wise but just some high-character people."
Notably, Stanley didn't mention freshman Torry Locklin, who spent much of the previous offseason as a QB but switched over to play some running back during the season and appeared a few times in games as a Wildcat QB.
Miles recently said he wasn't sure which position Locklin, who played in four games and will use this year as a redshirt season, will be at moving forward.
Stanley obviously didn't know or couldn't say whether Locklin might return to QB for next year.
"I talked to him when he first made the change and I just wanted to tell him that he's obviously a very talented kid, extremely talented football player," Stanley said. "That dude could play quarterback, receiver, running back — he can do a lot. Whatever he goes with I think he's got a really bright future and just a great kid on top of that."
KU finished 2019 with eight QBs listed on the roster: Stanley, Miles, MacVittie, Locklin, Kendrick, and walk-ons Fallin, Jakob Ahlschwede and Jordan Preston.
Ahead of spring practices, the Jayhawks also are set to add another scholarship QB in Jordan Medley, a 6-2 athlete who was listed as part of the 2019 signing class but won't enroll at KU until next semester, as a grayshirt.