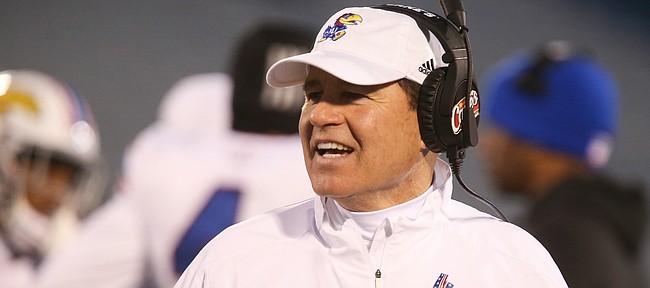 Minutes after his first season as head coach at the University of Kansas concluded, Les Miles obviously was not at all pleased with the Jayhawks' finale, a 61-6 home loss to Baylor.
"That's not the way you wanted to see this team go out," Miles said.
Still, the head coach had a different view of the past year as a whole, after returning to the sidelines out of semi-retirement to try to rebuild the KU program.
Photo Gallery
Kansas football v. Baylor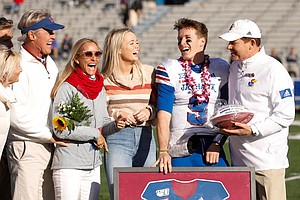 View a gallery of images from Saturday's game between the Jayhawks and Bears at Memorial Stadium.
"I enjoyed the players' work ethic, the way we took the field and how hard they played," Miles said. "And today was not that day. But those days were much more (prevalent). Our guys worked hard more than a lot of great teams I've been around."
The Jayhawks' 3-9 mark goes down as the worst record for a Miles-coached team in his 16-plus seasons as a head coach, dating back to a 4-7 debut year at Oklahoma State, in 2001, his only other losing season.
The KU players who have worked under Miles and his staff since he took over attest that the 2019 season actually was beneficial for the program.
"I still think fans and recruits have a lot to be excited for," senior safety Bryce Torneden said on the night his college career ended. "Just the way (Miles) carries himself and the way he really prepares us as a team, the way we approach everything. I would definitely play four more years with him."
Added senior quarterback Carter Stanley: "Today was by no means a reflection of where this program's heading. It's just a tough way that it ended."
The Jayhawks' optimism didn't mean they were turning blind eyes to the team's results. Sophomore running back Pooka Williams Jr. said they let fans down this year.
"But I promise," Williams added, "we're going to overcome this season next year."
The goals team leaders spoke of for the past few months centered around a winning record and reaching the program's first bowl game since 2008.
Instead, the Jayhawks finished with the same record as the 2018 team, the last one coached by David Beaty.
Asked what his message would be to fans of the program after another three-win campaign, Stanley spoke of the progress he witnessed throughout the year instead of focusing on the 12 days in the past three months that accounted for their win-loss record.
"It's so many things internally that these coaches have done that have been incredible for this program. I'm super jealous that I'm graduating and I won't be able to play here anymore. But I truly feel like there's a great foundation set. And these coaches, there's some great guys in that locker room, but they're also going to go out and recruit some great players," Stanley said. "There's a bright future for this program."
The 66-year-old Miles, who spent 2017 and 2018 out of the coaching profession after LSU fired him four games into the 2016 season, was asked if he was having fun and planning on keeping his KU job for a while.
"Yeah," Miles said. "I'm having the enjoyment of relationships. I'm enjoying the team that would go on the field prepared to play. I'm enjoying going into homes (Sunday) to talk about Kansas and talk about the future."
According to the coach, he and KU assistants, after one team meeting and one staff meeting Sunday, planned to hit the road to recruit.
"And we will be in homes right on through (the week)," Miles said of his immediate plans.