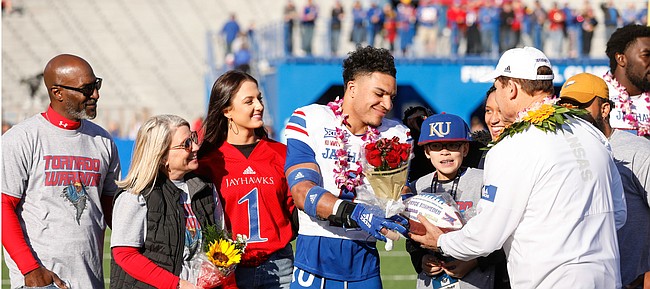 A day that ended in frustration for everyone on the Kansas football roster began with a scene that the Jayhawks who played their final college game can look back upon more fondly.
Head coach Les Miles and the program honored 23 seniors prior to kickoff at David Booth Kansas Memorial Stadium on Saturday.
Each senior gathered with family members and friends, and Miles presented every one of them with a football while they were introduced to the crowd. Every senior received a framed KU jersey and posed for photos with his coach.
The family of outgoing senior center Andru Tovi draped Hawaiian leis over the heads of each player who was honored.
"It kind of went by fast," senior safety Bryce Torneden said of the pregame ceremony. "I was trying not to be too sentimental with the game, but it was good to have all of our families out there and it means a lot to us."
Photo Gallery
Kansas football v. Baylor
View a gallery of images from Saturday's game between the Jayhawks and Bears at Memorial Stadium.
Following a 61-6 defeat against No. 11 Baylor, Torneden, a Lawrence native and Free State graduate, said as he's leaving the program he has preached "perseverance" to his younger teammates.
"I'd say the class before us really laid that foundation and we did our best to continue, keep chopping away and do our part," Torneden said. "That's really all we could do. I'm very thankful to be a part of this class and these seniors. I'm just very thankful and hope the recruits and the fans can see that."
Torneden said his advice to the younger Jayhawks he and other senior leaders will leave behind was to "keep fighting the good fight."
"Things are going to turn one day," Torneden said after KU finished the season 3-9 overall and 1-8 in the Big 12, "and we're going to be thankful that we're doing the right things before, too, to kind of make that happen."
Miles, who only spent a year around the Jayhawks' seniors, said they meant a lot to him.
"They're mine," Miles said of the seniors, adding he felt fortunate to coach the likes of Torneden, Hakeem Adeniji and others. "Just tremendous people. And I enjoy them. Enjoy them very much."
Asked whether the emotions of the Senior Day ceremony and playing their final KU game played a factor in the result, Torneden responded, "I couldn't tell you."
Starting quarterback Carter Stanley described the final game of their careers as tough.
"But I've got memories here that will last a lifetime," Stanley added, "friendships that will last a lifetime. I'm thankful for every bit of the road."
The following KU seniors were honored before the season finale:
• Hakeem Adeniji, LT, Garland, Texas
• Jelani Brown, DL, Irving, Texas
• Daylon Charlot, WR, Patterson, La.
• Codey Cole III, DT, Ypsilanti, Mich.
• Hasan Defense, CB, Jacksonville, Fla.
• Kevin Feder, RT, Ramsey, N.J.
• Kezelee Flomo, RB, Fridley, Minn.
• DeAnte Ford, DB, Houston, Texas
• Hudson Hall, FB, Austin, Texas
• Kolin Hayes, LS, Kansas City, Mo.
• Elmore Hempstead Jr., CB, Smackover, Ark.
• Azur Kamara, LB, Glendale, Ariz.
• Mike Lee, S, New Orleans, La.
• Willie McCaleb, DL, Grenada, Miss.
• Clyde McCauley III, OT, Arlington, Texas
• Jeremiah McCullough, S, Baltimore, Md.
• Manny Miles, QB, Baton Rouge, La.
• Darrius Moragne, DE, Holland, Mich.
• Shaq Richmond, S, Oklahoma City, Okla.
• Carter Stanley, QB, Vero Beach, Fla.
• Najee Stevens-McKenzie, LB, Cleveland, Ohio
• Bryce Torneden, S, Lawrence, Kan.
• Andru Tovi, C, Halawa, Hawaii
Stanley steps aside
It wasn't the KU senior quarterback many expected to see throwing KU's lone touchdown against No. 11 Baylor.
Stanley, who finished 13-for-26, with just 95 yards and three interceptions, said after his final throw he wanted to give the Jayhawks' second-string QB, Manny Miles, a shot.
Immediately after throwing his third interception in the third quarter, Stanley said he knew he wanted to bow out. So he told head coach Les Miles, Manny's father, and offensive coordinator Brent Dearmon he thought it was time for a switch at QB.
"It was just the situation of the game and situation of the moment," Stanley explained. "I just felt like I hadn't done too much in the game so far to help us, and I just wanted to give Manny that moment."
Manny Miles went on to lead an 80-yard TD drive, capped by an 11-yard score on a throw to Andrew Parchment. Stanley said he saw a smile on his teammate's face a few times during the duration of the defeat.
"I think that made it worth it," Stanley added.
The younger Miles went 3-for-6 through the air, with 24 passing yards, one TD and one interception.
"I let my team down today. I just wanted Manny to get that opportunity," Stanley said, adding he could tell it was "special" for the walk-on backup QB to play for his father this season.
"I just wanted him to have a moment there to close out his career, as well," Stanley said.
Seniors hoping for more
Although tight end James Sosinski, offensive lineman Antione Frazier and safety Nate Betts are listed on KU's roster as seniors, none were part of the team's Senior Day festivities.
The hope for each of them is that they will be able to play again in 2020.
A sixth-year waiver would have to be granted by the NCAA for Sosinski and Betts. Frazier didn't appear in any games this season and will be able to use 2019 as his redshirt year.